Hiking on Mt. Bizan #1
Tokushima city's own backyard trails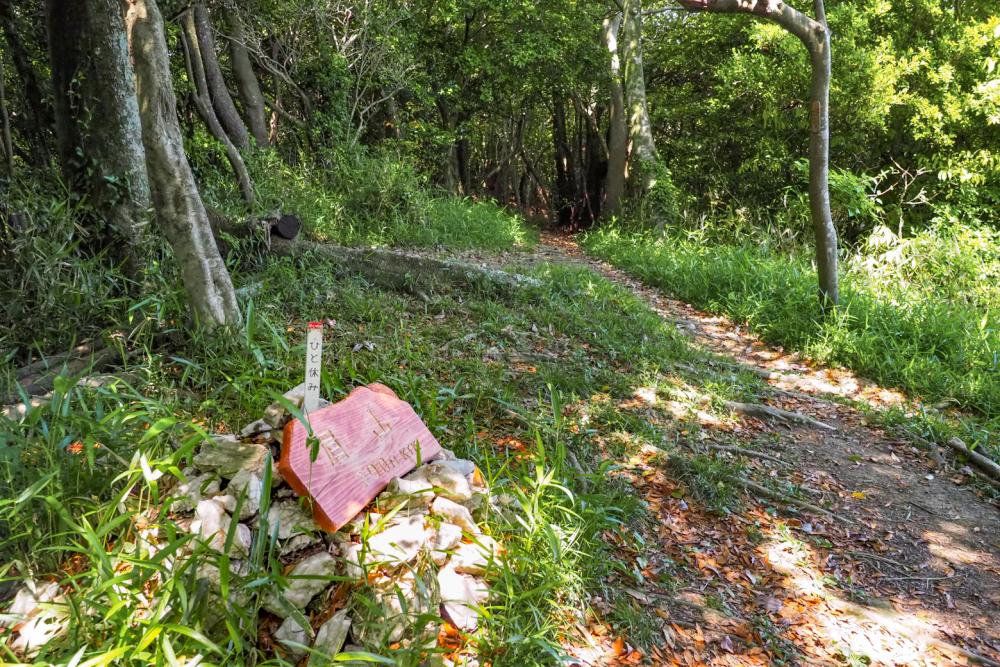 Mt. Bizan, it is THE symbol of Tokushima city.
Standing right behind downtown Tokushima, it takes only a ten minute walk from Tokushima station to get to the foot of the mountain. Though cars and ropeways can easily access the observation park on its top, would you care to walk up instead?
Only the locals know several good trails that are hidden all around this symbolic tabletop mountain. While finding some traces of Tokuhima's history along the way, let's enjoy a casual hike!

---
Ōtakiyama route from Teramachi neighborhood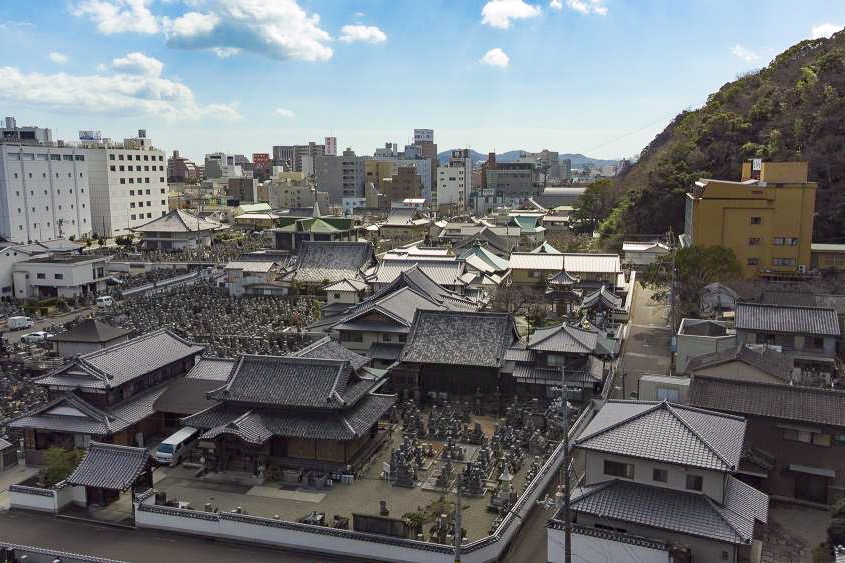 Teramachi neighborhood is a historic quarter when the feudal lord, Hachisuka Iemasa, ordered several temples to be moved here while he had Tokushima Castle built during the early 17th century. Today, it is a quiet residential area with about 20 Buddhist temples and a couple of Shinto shrines.
While all other part of former castle towns have been modernized and lost almost all traits of the old times, strolling through here makes you feel as if you had travelled backwards in time hundreds of years.


Right behind Teramachi, the area next to Mt. Bizan is called Ōtakiyama, which used to very busy with high-class Japanese style restaurants and is one of the best places to see cherry blossoms in spring.
There used to be a three-storied pagoda in Ōtakiyama and it could be viewed from anywhere in the city until it was burnt down in an air raid near the end of WWII in 1945.
Ōtakiyama route's trailhead is located behind Takiyakushi temple. Before stepping into the trailhead, let's drop by a popular Japanese confectionery store called Wadanoya to get their signature Taki-no-yakimochi.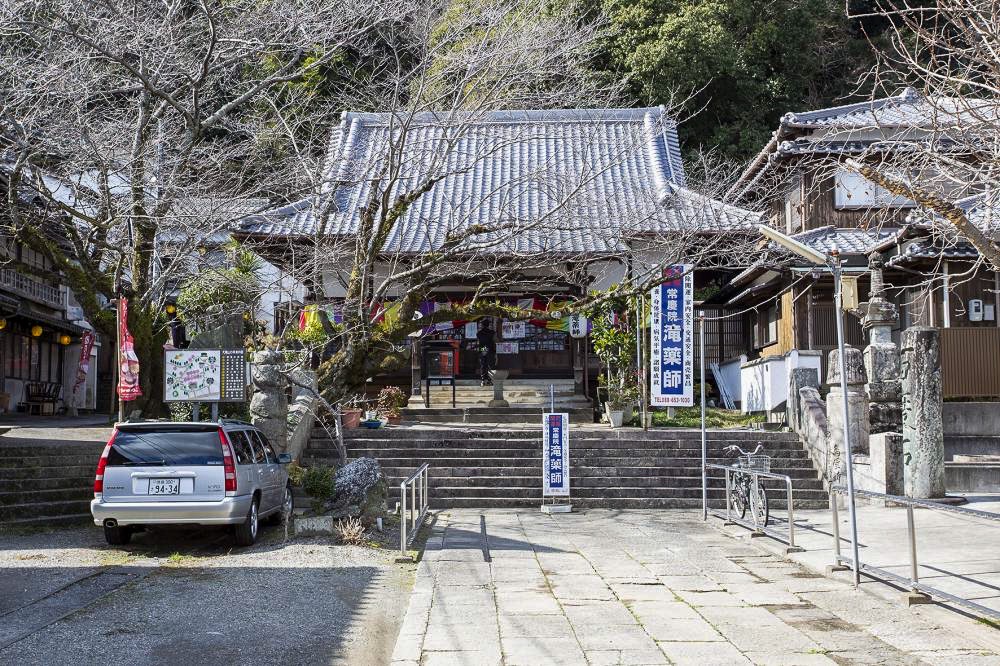 Taki-no-yakimochi, literally meaning a grilled mochi cake of the waterfall, can be traced back over 400 years and the recipe remains unchanged. It's a very simple old-fashioned Japanese sweet but has a secret ingredient – they use water from Kinryosui, a natural spring from Mt. Bizan, so good water that even the feudal lords used to drink it.
The grilled mochi cake has been one of the Tokushima local's favorites, a taste of hometown.
In the backyard of the store, there is a beautiful waterfall, Shiraito-no-taki, the sweet's namesake, and gusts can take a close look at the falls through the floor to ceiling window at the back.
Wenceslau de Morais, a Portuguese writer who is often compared to Lafcadio Hearn who resided and died in Tokushima city planted several yellow flaxes all around the waterfall and the backyard. The blight yellow flowers still make the entire yard covered with yellow and green leaves throughout late fall and winter.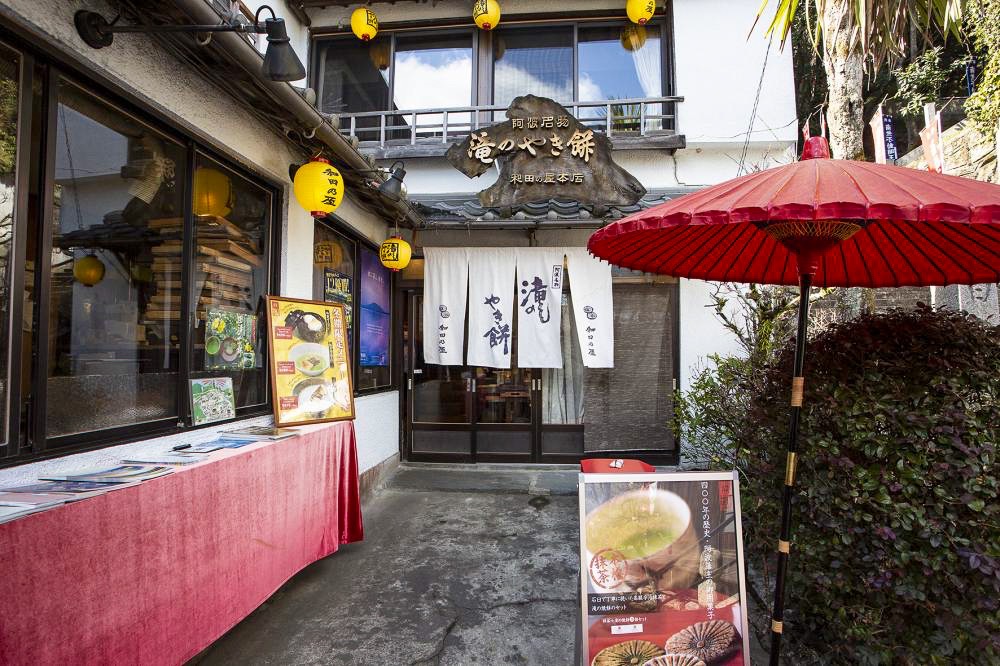 Now, let's begin hiking.
First, walking up an old stone stairway, you will pass by a stone monument of a haiku poem by Basho and small shrines to take your mind off your heavy legs while you are still warming-up.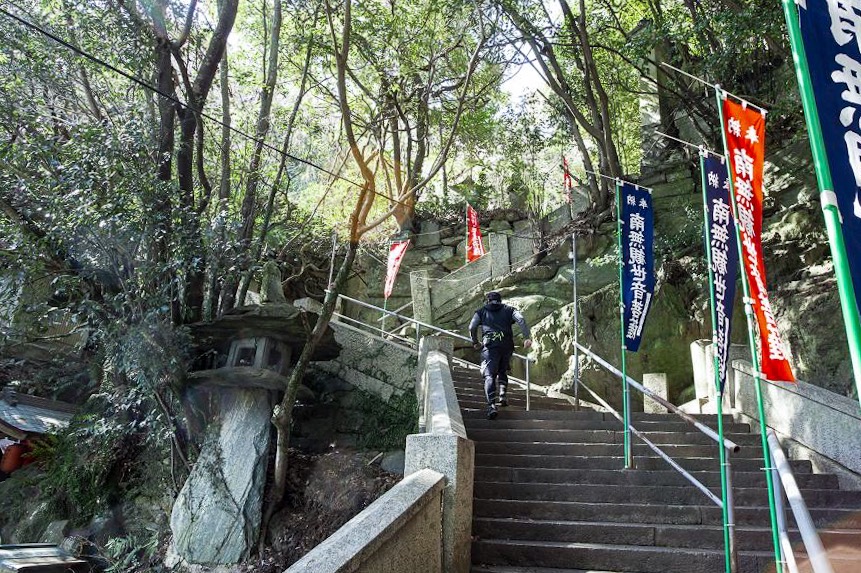 After pushing yourself up for 15 minutes or so, you reach an open space where a bronze statue of Emperor Jinmu, the very first emperor in Japanese history, resides.
The stature was erected there to celebrate Japan's victory of Japan-Shino war in 1894-95. It's a pretty rare thing as there are only two such statues of Emperor Jinmu in Japan today.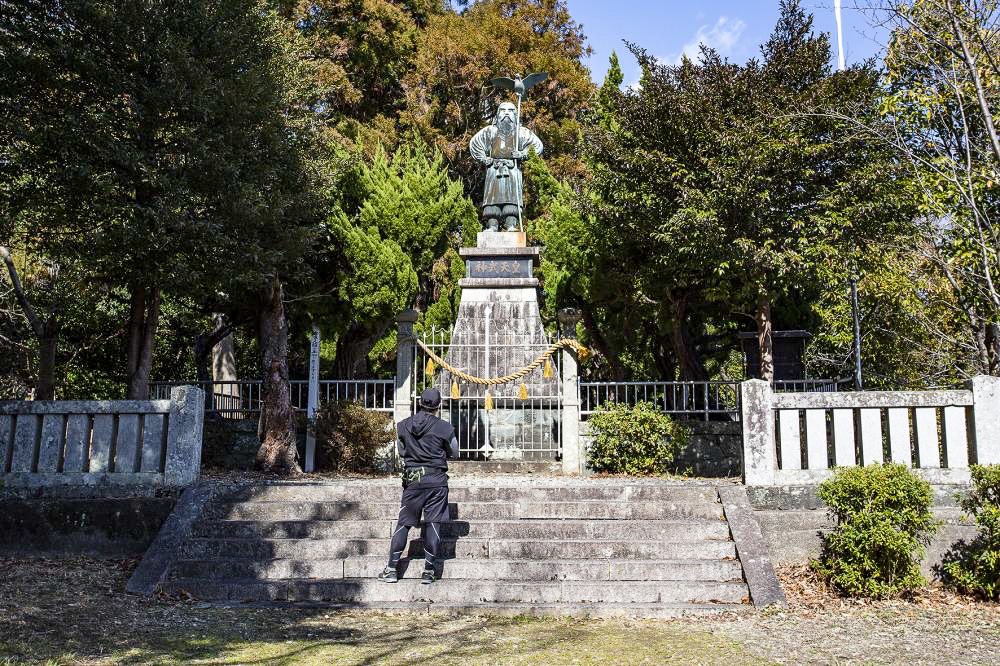 The trail continues to the left side of the statue and becomes a proper mountain trail. Passing by a bamboo forest, the incline gets steeper and steeper, so you may need to grab the trees to pull yourself up.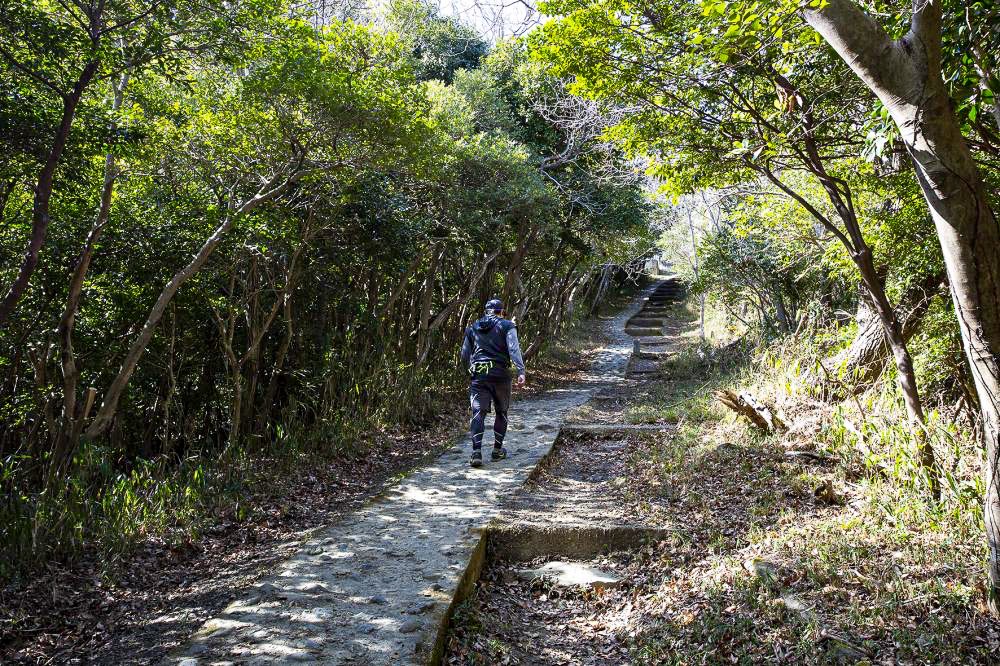 At any confusing trail branch points, you'll see color tapes put on tree branches to show you the right direction.
After fifteen more minutes of walking up the trail, you are almost there.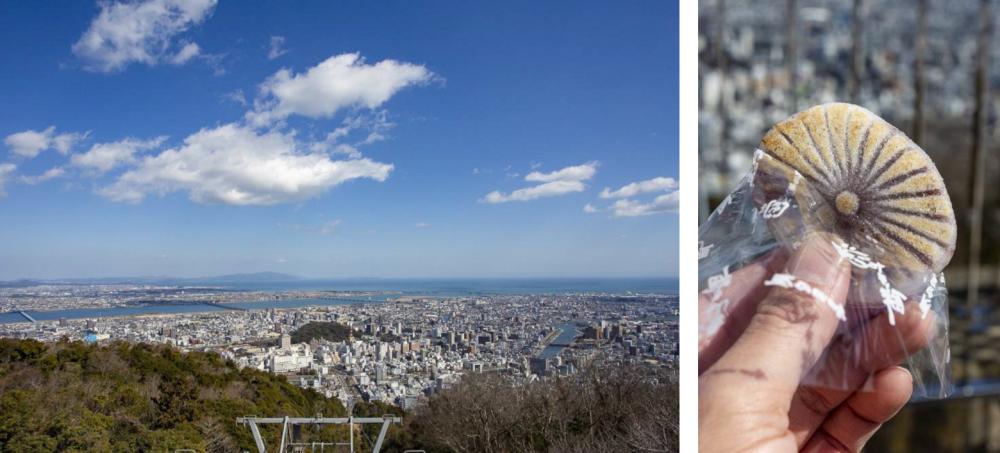 The great view overlooking the entire Tokushima city from the mountain top observation deck feels much more special today after you travel all the way up by foot.
The sweetness of the grilled rice cakes from the store at the bottom taste even better at the top of the mountain and give you fresh energy.

Down on the Bizan Tenjinsha route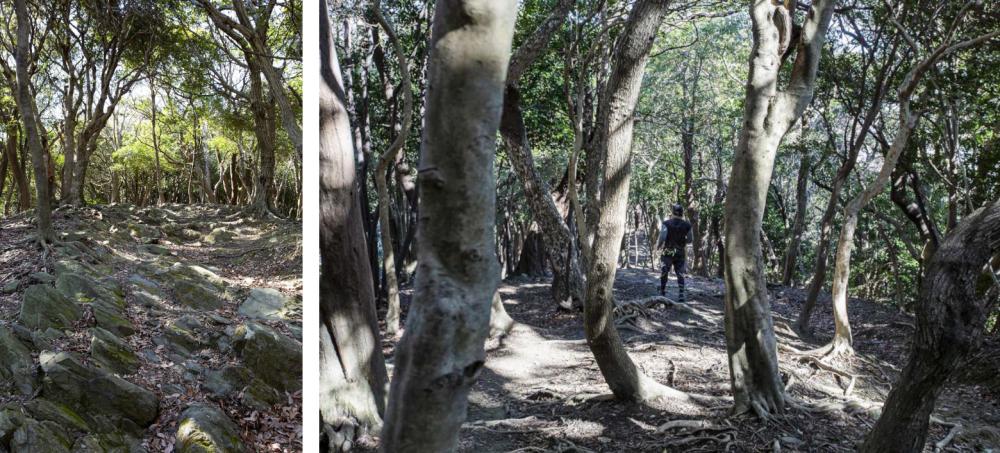 To go down, take another route to Bizan Tenjinsha shrine.
While most parts of the Ōtakiyama route are well-maintained with stairways, the Bizan Tenjinsha route starts with rough rocky steep descent, so pay more attention where you are stepping and slowly make your way down.
When you cross under the ropeway lines, it is not so far back to the town.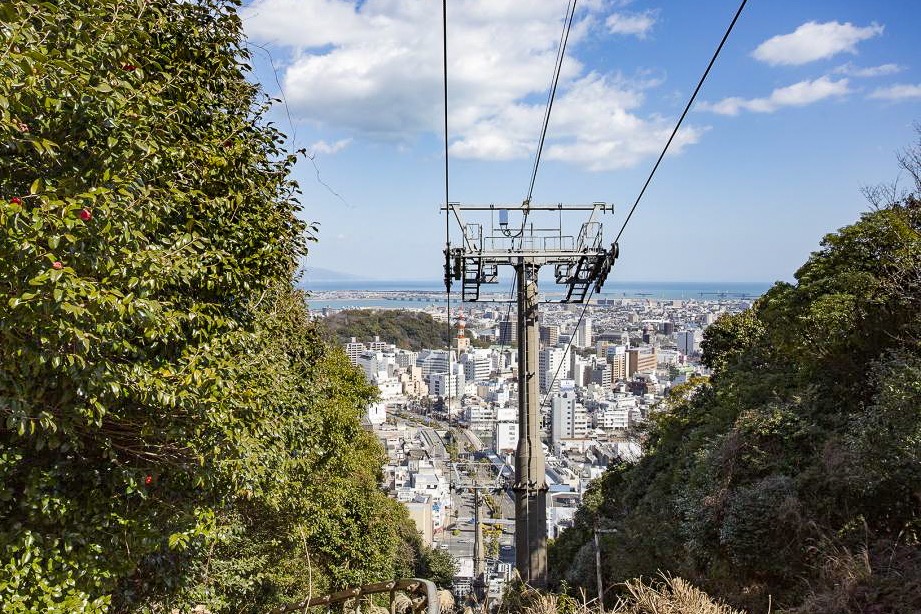 A short walk from there, the trail connects to stone stairway to the shrine.
Take some time to pay a visit to the shrine and perhaps get a shine stamp for your memory?
This shrine offers various stamps each season and they are very popular for their sophisticated calligraphic letters and colorful designs.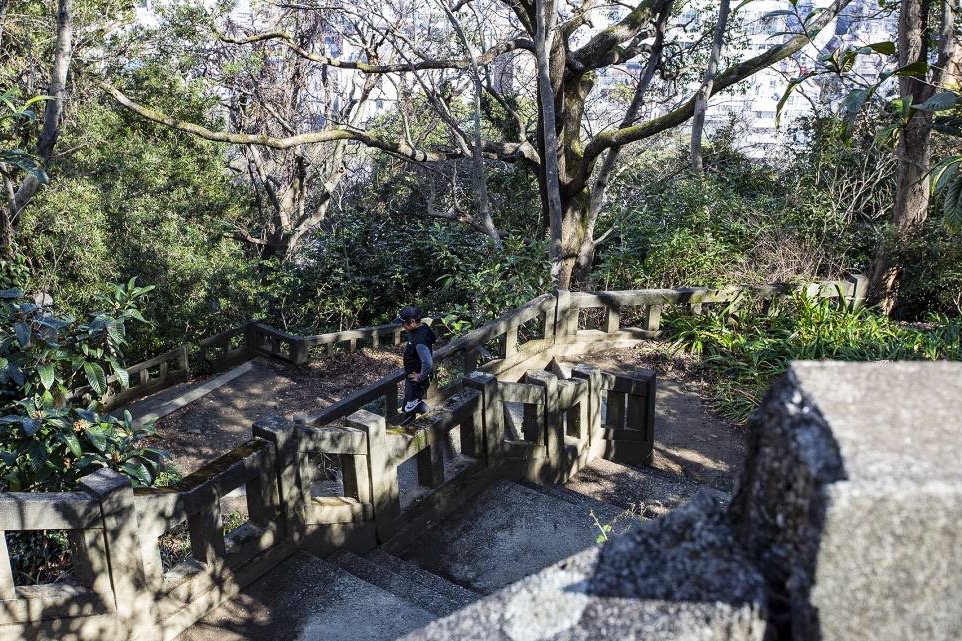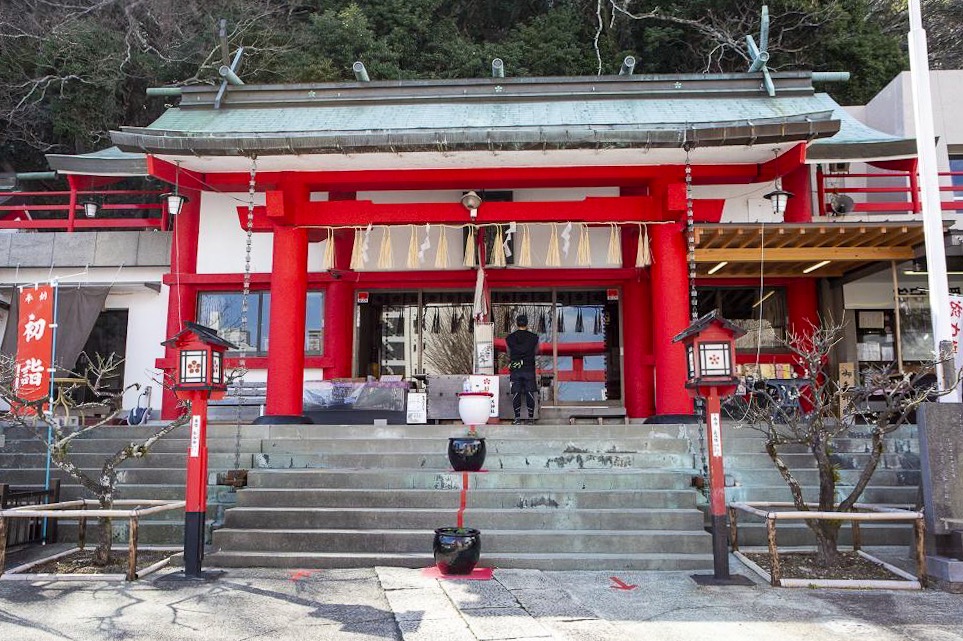 It is only a short walk from the shine back to your start in Teramach.
You could visit the grave of Morais, the Portuguese writer in Chōonji temple next to Awa Odori festival hall or cool down with the pure clean water of Kinryosui spring.
If going a bit further, some of Tokushima's most popular ramen shops such as Inotani and Tōdai are waiting for you to fill your belly.