See Picasso and Other Masters at The Tokushima Modern Art Museum
---
The Tokushima Modern Art Museum, which opened in 1990, collects paintings, sculptures and prints from Japan and abroad, allowing visitors to consider contemporary art from an international perspective. Foremost, the collection puts a focus on the art made by Tokushima artists, and inspired by the local aesthetic.
The museum is located at Tokushima Bunkanomori Park, a cultural forest created in a lush hill setting along the Sonose River to honor the 100th anniversary of Tokushima Prefecture's founding. Paths wind upwards, bound by trees that are a gemlike green in the summer and blossom pink in spring. There are several facilities on its grounds – the Prefectural Library and the Prefectural Archive among them – all integrated gracefully into nature. The Tokushima Modern Art Museum and the Tokushima Prefectural Museum share separate wings in the same building. The prefectural museum exhibits relics of natural and cultural history from prehistory to present. By contrast the Tokushima Modern Art museum's oldest works are by early 20th-century artists such as Pablo Picasso, Paul Klee and Fernand Léger.
Its permanent collection consists of leading Western and Japanese modernists, and is exceptionally famous for a museum outside of Tokyo. The collection includes works from the art world's biggest names including the aforementioned Picasso plus Dalí, Dubuffet and Warhol. The collection includes Japanese painters influenced by Western styles like Usaburo Ihara and Kanji Maeda, as well as Japanese-style artists such as bijin-ga master Kiyokata Kaburaki. The museum's special exhibitions have showcased some of the world's most exciting Western art collections, having hosted, for example, the "Picasso and Japan" exhibition in 1990 and, last autumn, the "20th-century German Art" exhibition featuring older masters like Klee, Kandinsky and Ernst alongside contemporary artists like Beuys. Indeed, Tokushima has a longstanding relationship with Germany, ever since German POWs introduced elements of their culture to Naruto locals.
The Tokushima Modern Art Museum continues to host about two to three special exhibitions a year. The current rotation includes the "Tokushima Collection." The prefecture has a rich artistic heritage. It is the home of such luminaries as Ihara, Arinori Ichihara and Kikuji Yamashita. (Perhaps the marine-and-mountain surroundings breed special perceptiveness and creativity.) The works of this latter artist, who was born in scenic Miyoshi, are being displayed for the second leg of the "Tokushima Collection," until April 11, 2021. Taking cues from Bosch, Ernst and Dalí, the former Imperial army soldier folded his experiences of war into his canvases, and his depictions of postwar Japan can resound with any audience accustomed to chaos.
While the park's atmosphere certainly fans the creative flames for guests who stroll the grounds, some of the permanent collection (of about 4,500 works) can also be enjoyed from home through its digital content. "90-second Appreciation Time" a video series describing exhibition highlights, and the "Fun Worksheet" series of printable crafts for kids, were launched in the wake of the Covid-19 pandemic. The digital archive, created a year prior, lets you scrutinize sculptures in three dimensions and even compare 2D works with their foundational sketches. The aim with these projects is to introduce people to the joys of looking at art objects, especially from a personal perspective.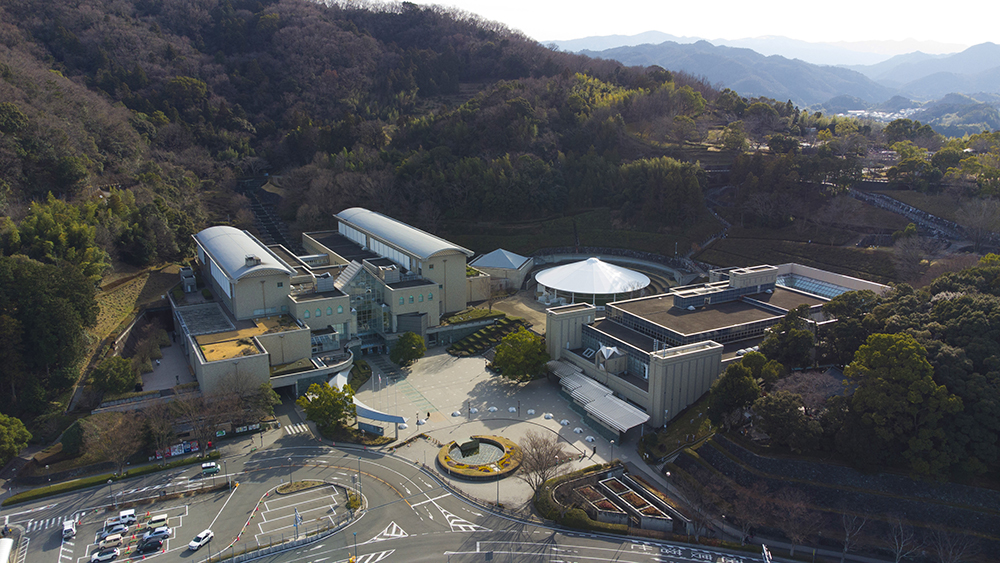 After a look at the museums, consider taking a stroll through the park's greenery. You might spot a seasonal highlight: the teamLab installation Universe of Water Particles on Bunkanomori Park (you might be familiar with their immersive light works from Tokyo's teamLab Borderless museum). In this piece, a waterfall, reproduced with incredible precision, is made to flow down the surface of a park building, in infinite and shifting tendrils. The installation is available for viewing for all park hours.
Outside Bunkanomori Park, you may explore nearby Oji Shrine, notable for its hundreds of maneki-neko, or beckoning cat figures. The shrine's other name translates to "Cat God." Another option is the Tokushima Zoo, which, like Bunkanomori, is expansive and natural, with a petting zoo and zones that represent different biomes. Surrounded by mountains, and with rivers all around you, visiting a museum or taking the kids to the zoo becomes a sightseeing experience.

Bunkanomori Park is a 30-minute bus ride away from Tokushima Station. From JR Bunkanomori Station, the park is a 30 minute walk. There is also a bus to the park from Bunkanomori Station East.
The Tokushima Modern Art Museum
When: 9:30 - 5pm, Closed; Mondays and Holidays
Where: 1 Mukouterayama, Hachiman-cho, Tokushima City, Tokushima Prefecture
More Information: https://art.bunmori.tokushima.jp