Hike & Workcation in East Tokushima
Kamiyama #2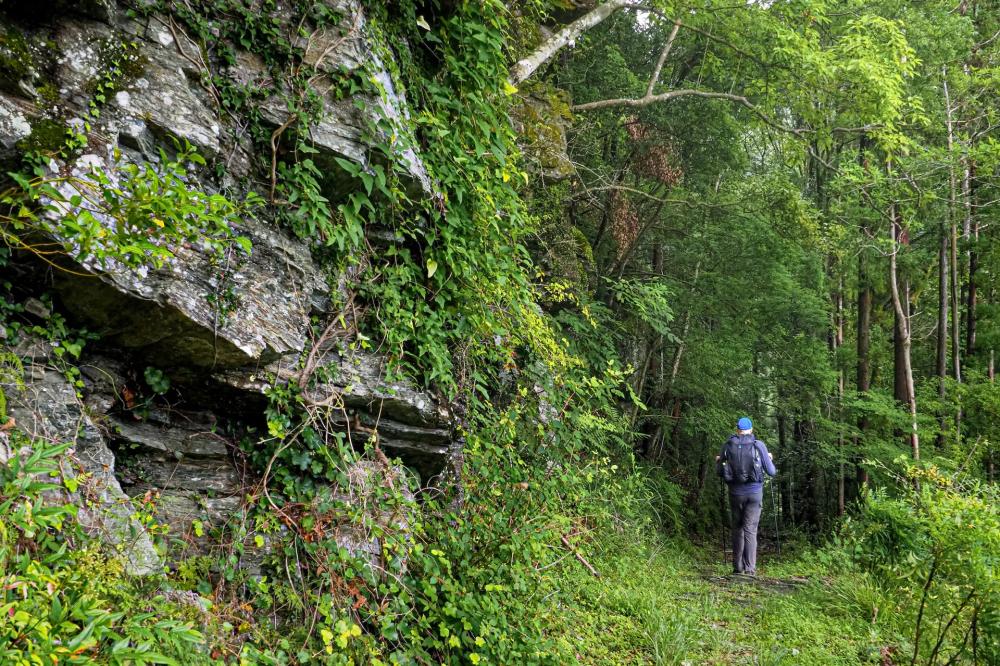 Surrounded by layers of mountains, Kamiyama offers so many good trails to hike.
Here are two especially nice ones easily accessible from WEEK Kamiyama during your workcation stay.
They are also featured in the top section of the HIKE TOKUSHIMA booklet that includes the best trails in the eastern area of Tokushima.

---
Shosanji trail, the hardest part of Shikoku 88 pilgrimage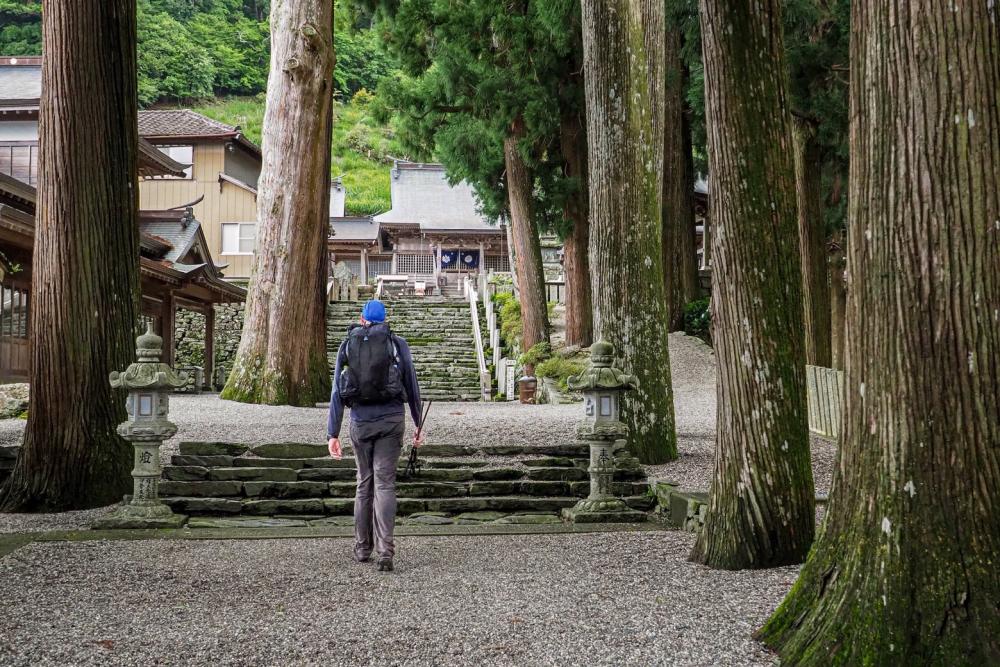 The pilgrimage trail to Shosanji temple is considered as the hardest part of all 1,200 kilometers of the Shikoku 88 pilgrimage.
From the 11th temple, Fujiidera to the 12th, Shosanji, the trail is over 10km, and goes through deep mountains the entire time with several especially steep stretches called "henro korogashi."
("Henro" means a pilgrim and "korogashi" describes a slope so steep and rough that walkers easily fall down)
After reaching Shosanji, the old trail continues through the mountains with some parts paved with old stones, passing some small quiet mountain villages and eventually leading you to the Akui river and WEEK Kamiyama.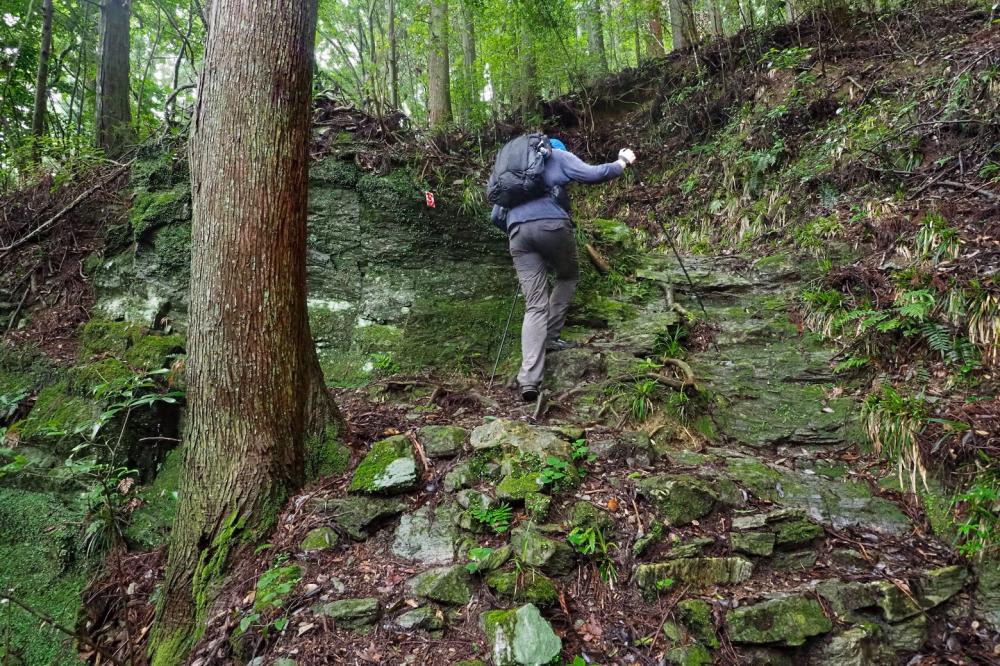 It usually takes 6 to 8 hours for adults to hike the entire route between Fujiidera and Shosanji. If you would like a shorter route for a casual day hike from WEEK Kamiyama, starting from Nabeiwa village and going up to Shosanji would be good. There is also a circular hike between Shosanji and the peak of Mt. Shosanji where the okunoin (inner sanctuary) of Shosanji sits.
If you are an avid hiker with strong legs and good stamina, make your ascent from Sauchi village up the last and the hardest long "henro-korogashi" incline before Shosanji. For an even bigger challenge, add the circular route to Shosanji's okunoin and you will fully experience the attractions of mountain hiking on historic trails.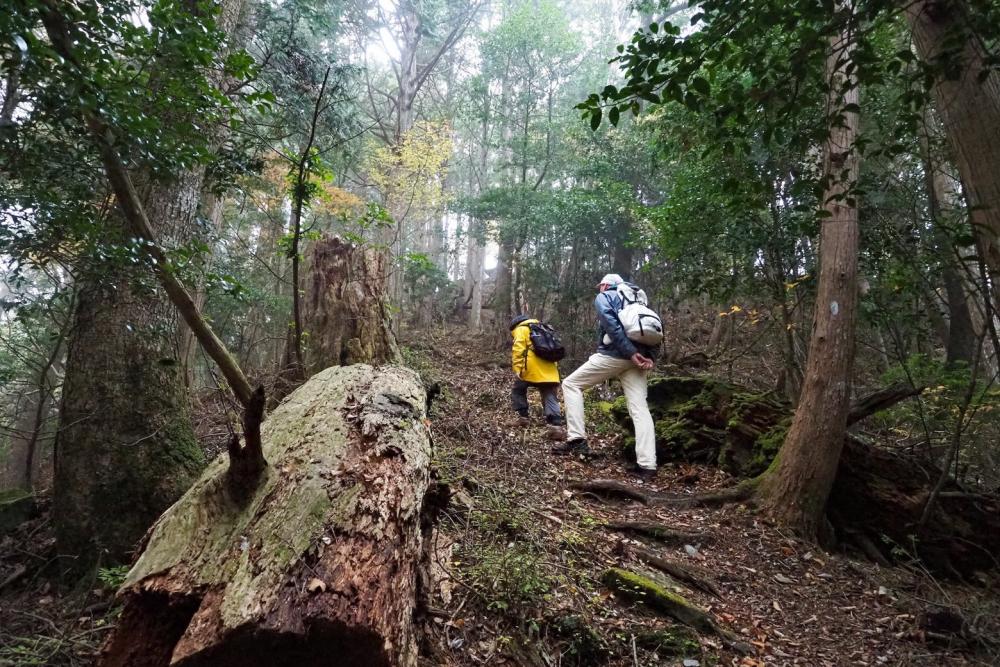 Amagoi-no-taki falls trail
Only five minutes drive from WEEK Kamiyama, the trail along a mountain stream to Amagoi-no-taki falls is one of our most recommended hiking routes, featured on the cover of the HIKE! TOKUSHIMA booklet.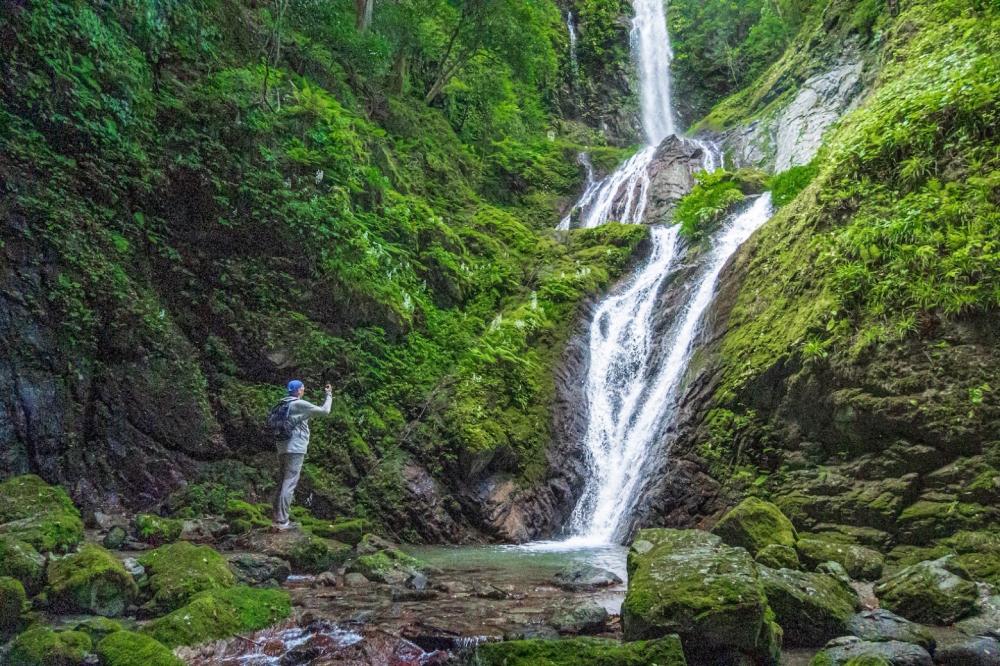 Amagoi-no-taki is one of the only three in Tokushima selected for Japan's 100 best waterfalls.
Since long ago, whenever a drought arrived, people would gather here for rain dancing and prayer. It is still a sacred site for the locals. Do not swim in the water here.

From the parking space by the trailhead to the main sacred waterfall, the one-kilometer trail ascends steeply along the picturesque mountain stream with numerous small waterfalls. It's a well-maintained trail that is easy to walk for everyone.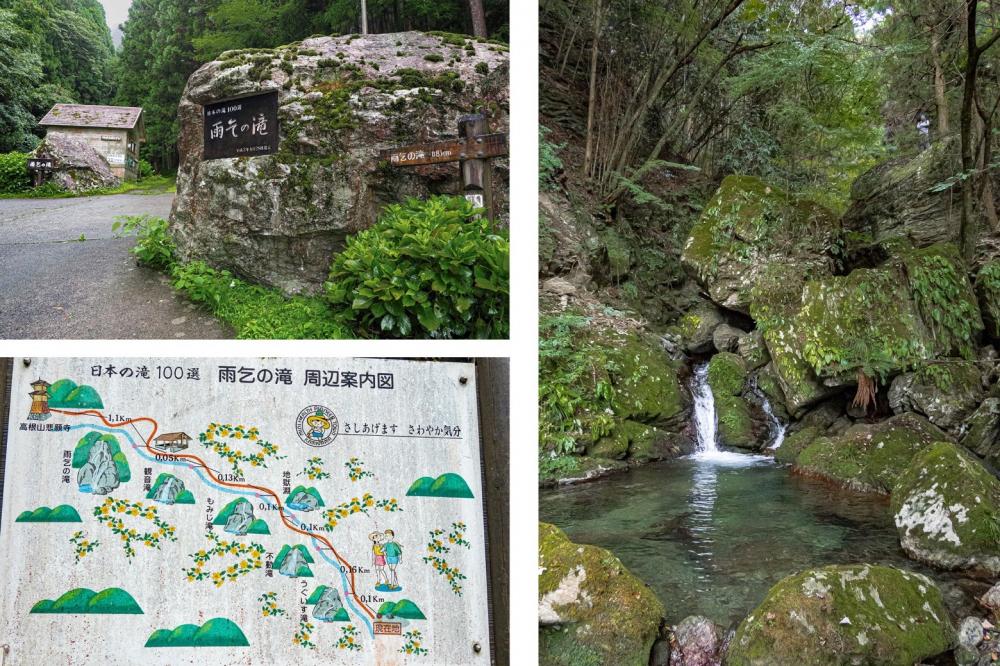 For a longer walk, the five-minute-drive to the trailhead can be easily done on foot, as it is only 2.5km and the elevation of the narrow road only gradually increase. Enjoy a no-stress warm-up walk through the quiet sleepy countryside village, while you can see great craftworks of old stone walls all around terraced rice fields and local houses.
The circular route between your room at WEEK Kamiyama and Amagoi-no-taki falls makes a good half-day relaxing hike.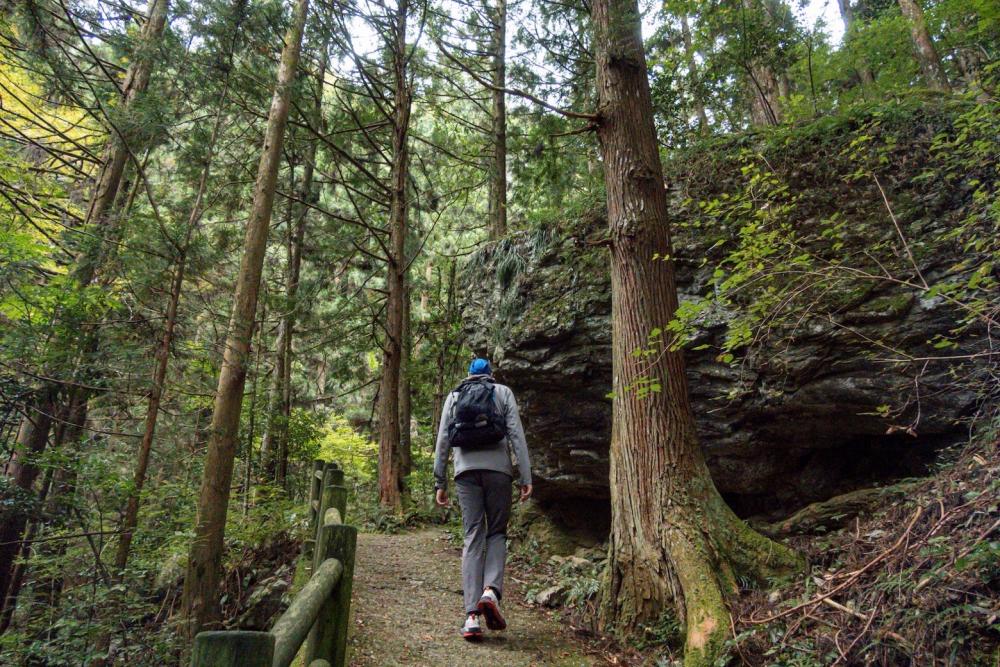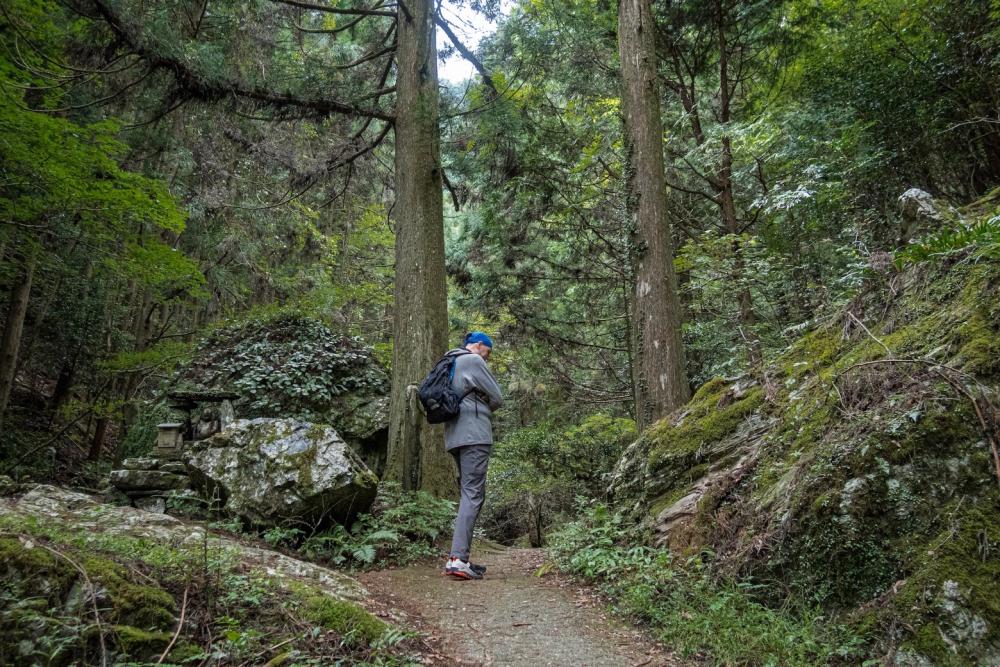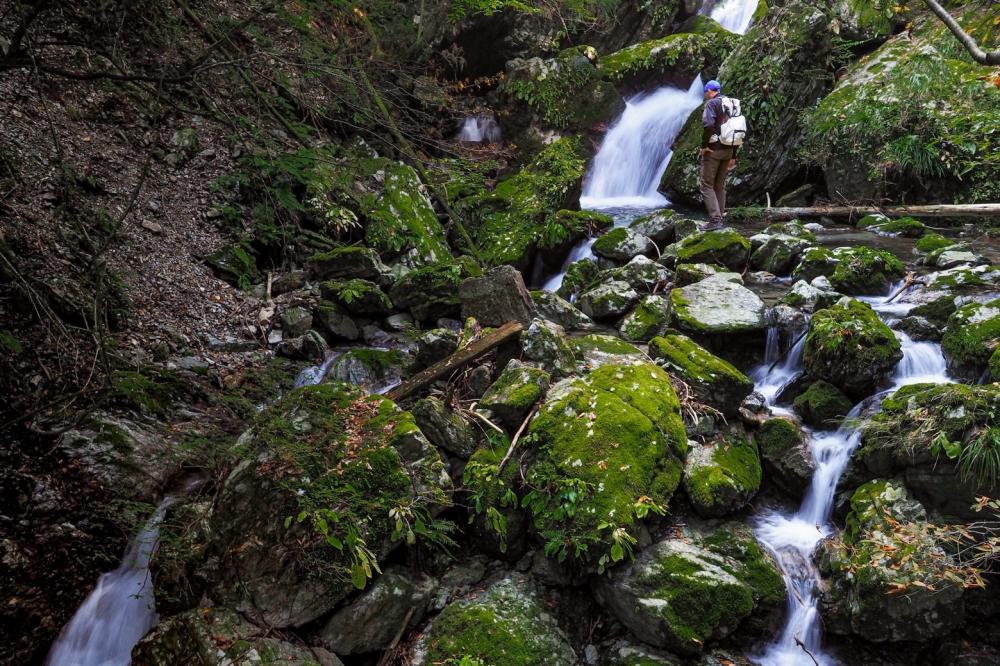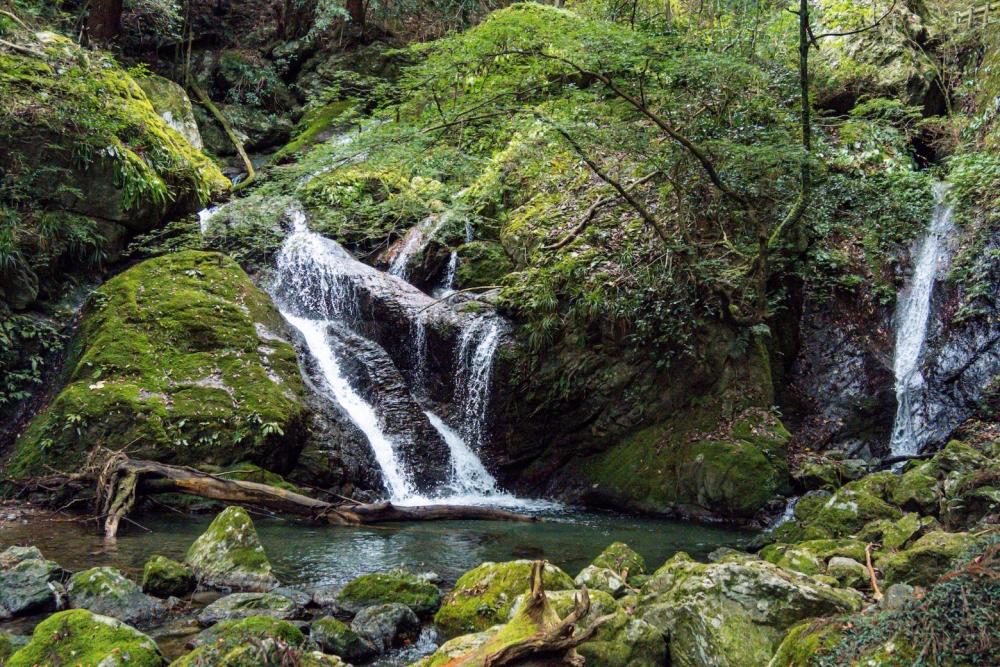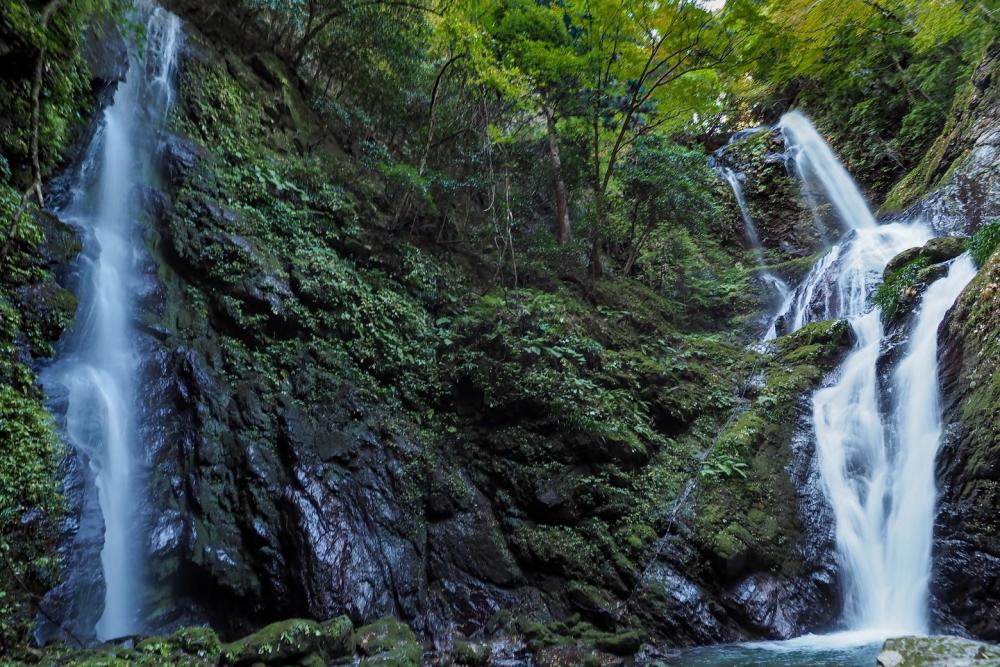 If you want a harder challenge, another steeper and rougher trail branches out at the rest hut just before Amagoi-no-taki falls, going 1km further to Higanji temple, hidden in the deep mountains of Japanese cedars.