Spending a morning or day in Tokushima city? Here are five recommended things to do

---
Whether you're just arriving in East Tokushima or you've reached the last day of your vacation and have a bit of time to kill before hopping on a train or plane to your next destination, it's handy to know what to see and do in the capital city – without needing a car to get around.
1. Awa Odori Kaikan
This festival hall is particularly fascinating for visitors who have never experienced a typical Japa-nese summer matsuri and who might not be able to visit during August when these festivals are usually held. Aside from the museum, which shows off plenty of costumes and artifacts, the Awa Odori Hall dance group holds four performances daily, giving you a brief history of the Awa Odori dance before demonstrating different styles and even leading you to try out a few moves your-self. Be sure to browse the souvenir shop on the ground floor for a wide range of indigo dyed goods.
More info: https://awaodori-kaikan.jp/en
2. Bizan Ropeway
Accessed via the fifth floor of the Awa Odori Kaikan, this ropeway takes you up to the top of Mt Bizan, which is considered the symbol of Tokushima and offers expansive views of the area on clear days. The name Bizan is formed from the kanji for "eyebrow" as the mountain is said to look like one.
More info: https://awaodori-kaikan.jp/en
3. Hyotanjima Tour Boat
From Awa Odori Kaikan, take a 10-minute walk towards Ryogoku Bridge at Shinmachi Riverside Park. From here, hop onboard the plush tour boat, which will whizz you around the waterways that surround the city's inner island. Be sure to duck as you pass under some very low bridges! The tour takes 30 minutes and only costs ¥300. The boat departs every 40 minutes and no reservation is required.
More info: https://discovertokushima.net/en/experience/rivers/hyotanjima-tourboat/
4. Okonomiyaki for Lunch
Hungry after all that morning action? Just a short walk from Ryogoku Bridge you'll find the family-run okonomiyaki restaurant Hayashi no Okonomiyaki. Watch mom and son as they efficiently take orders and cook up endless rounds of this popular Japanese comfort food. Often translated as a "savory pancake," okonomiyaki is more like a panfried omelette, stuffed with a variety of ingredients such as cabbage, meat and vegetables, and coated with a delicious sweet sauce.
More info: http://www.hayashinookonomiyaki.com/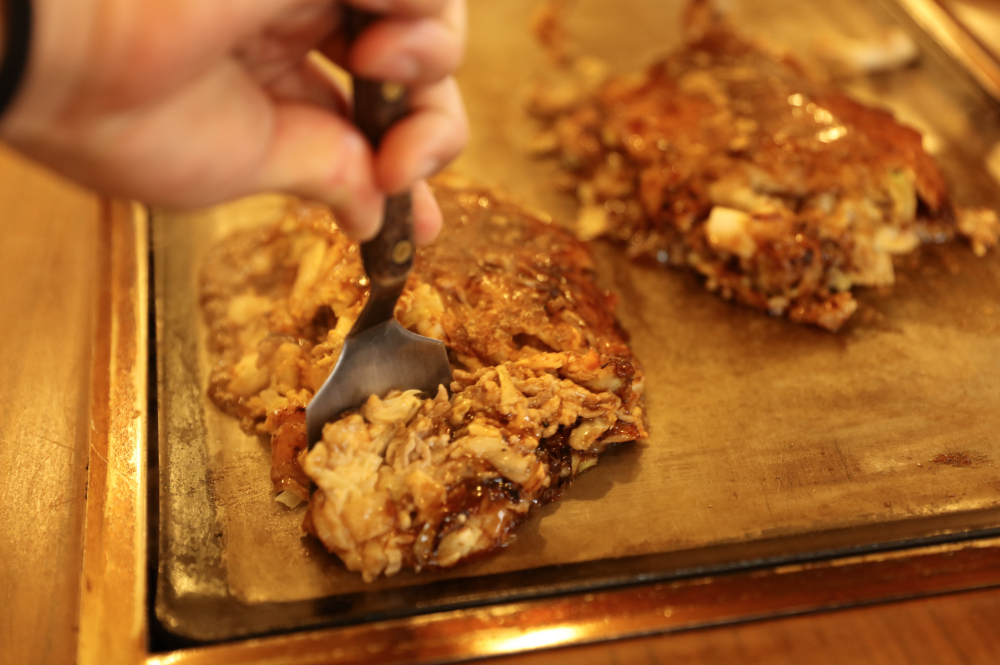 5. Tokushima Central Park
Walk off that lunch with a stroll around nearby Tokushima Central Park. Impossible to miss thanks to the still-existing huge stone castle walls, this park sits on the site previously belonging to Tokushima Castle. Although the castle is no longer standing, the entire area is steeped in history with origins that go back to the 16th century. To find out more, visit the Tokushima Castle Museum. If you happen to be visiting during sakura season, this is a popular spot for hanami (cherry blossom viewing).
More info: http://www.city.tokushima.tokushima.jp/shisetsu/park/chuo.htm