Re-energizing local communities post-COVID with long-distance trails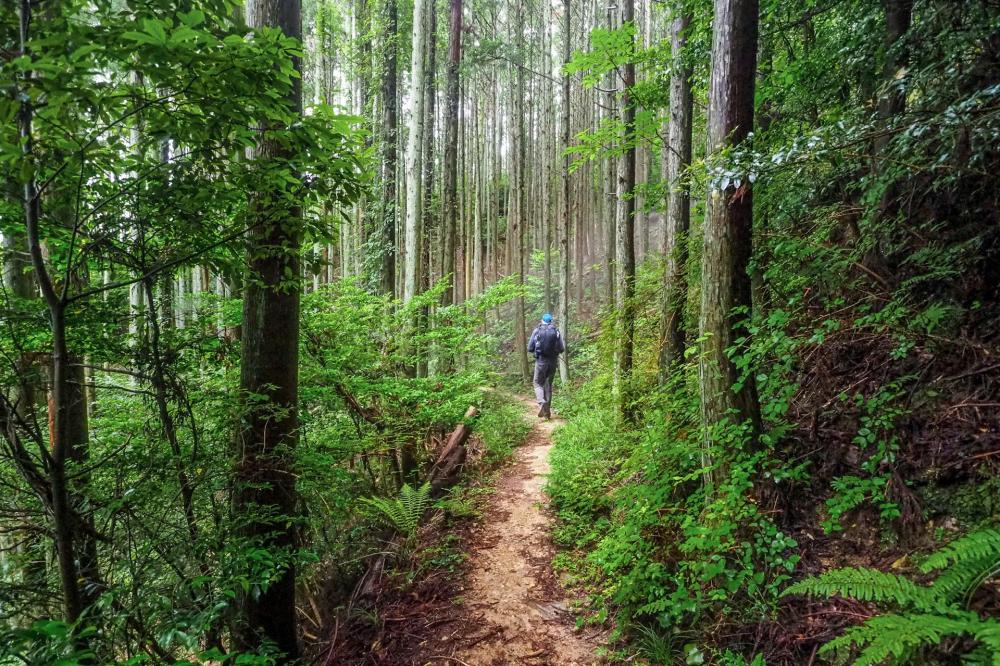 Adventure tourism (AT) has been drawing so much global attention for its high potential to become a leading player in the post-COVID international tourism industry.
In preparation for the return of international tourists to Japan, the East Tokushima Tourism Authority (ETTA) has launched the "HIKE! TOKUSHIMA" project and introduced various almost unknown yet attractive natural trails in the east Tokushima area.
In March of 2021, ETTA had the pleasure of inviting the best person to talk about long-distance trails in and outside of Japan, Toru Nakamura, the representative director of the Japan Long Trail Association (JLTA.)

---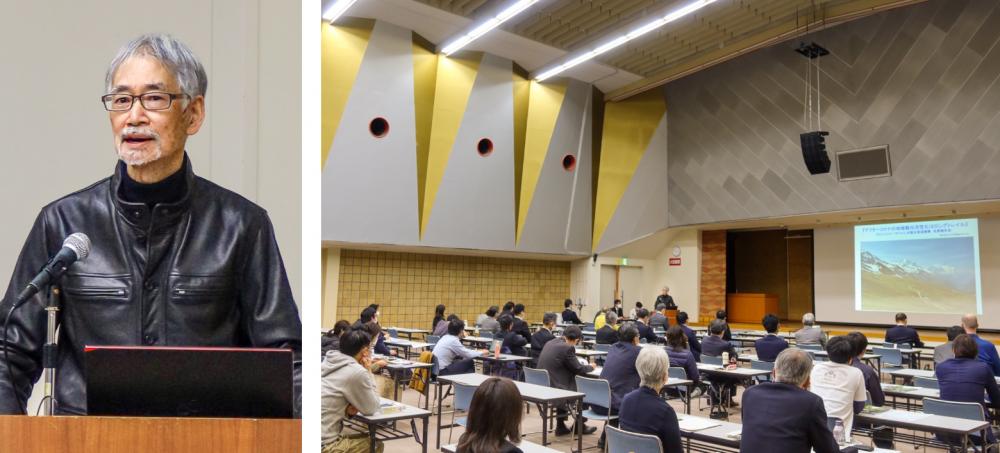 This is my first time to come to Tokushima.
When I received the invitation for today, the first thing I thought was coming to Tokushima seemed very far away.

Turned out, it was only two and a half hours to drive here from my home in Kansai region. Don't worry, I was quite a safe driver and kept the speed limits. I was honestly a bit surprised how much closer Tokushima actually was than I expected. Now I understand why the weather forecast map on TV for Kansai usually includes Tokushima too. You are not only a part of Shikoku but also a member of the greater Kansai region.
I arrived here yesterday morning because I really wanted to look around a bit. Sadly, it's the busiest season of the year now and I have to go home right away. I tried to take full advantage of my short stay this time and managed to visit Shikoku pilgrimage temple #1 to #5 yesterday as I had never done the Shikoku 88 pilgrimage.
This morning, before coming to see you all here, I took the Mt. Bizan ropeway to make a quick visit to the observation deck on the top.
Although I could only visit places within a short distance from Tokushima station, I was deeply impressed with everything I visited and saw. Now finally I feel I have a real connection to Tokushima.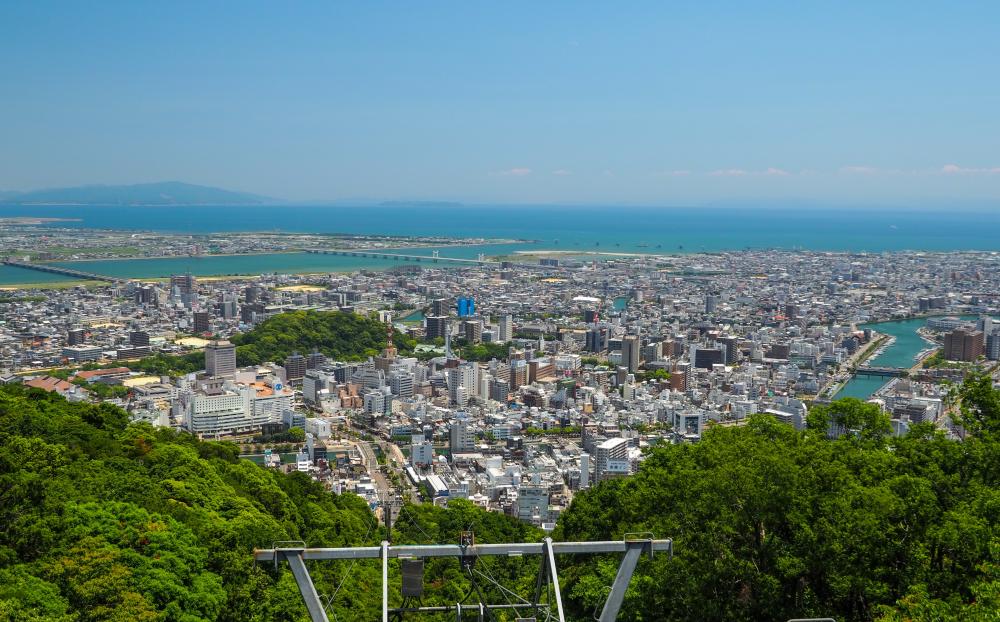 I have been to Ehime University to give lectures about the outdoors, how to revitalize local communities, and their trails. Surprisingly around 250 people came to listen, much more than expected. I wondered why so many people seemed interested in the trails and if there was a plan to make a new trail in Ehime.
As we all know, Ehime has a lot of popular mountains, so it was not a big surprise that they were already discussing to make a new trail then. Even a guidebook of the trails in Ehime was put together. Then, the local political election season came and a new person took the top position in the local government... As is often the case, many of the old projects by the former leadership were put on hold or canceled including the new trail plan which were left totally up in the air.
This kind of story is not unusual at all. It happens everywhere in Japan.
In making a new long-distance trail in Japan, the trail almost inevitably has to run through several municipalities. The biggest obstacle in the process is usually the rivalry or competition between neighboring communities. It's no joke.
An example was making a 200 km long-distance trail crossing multiple prefectures. Some people from one of them told me that they did not like one of their neighbors. Their reason made me really taken aback. They referred to a samurai warrior lord during the Sengoku period (the age of provincial wars, A.C.1467-1615) who ruled the neighboring prefecture back then. "That's why we don't really want to work with the people from the prefecture." I could not get why the samurai load worrier has anything to do with making a long-distance trail in the 21st century!
This was not a rare story. Even inside the same prefecture, this town is considered higher than that village, or vice versa, etc... There seemed a lot of secret local relations and situations. All in all, it took five years for them to negotiate with all municipalities until finally opening the new trail.
They were not a special case. These complicated relations among local communities that we, the outsiders, would not have advance knowledge of, exist all over Japan. However, trying to handle those sensitive relations of local communities and repeating a lot of trial and error to find a way is, I think, what makes drawing a new long-distance trail interesting work.

What is a long-distance trail?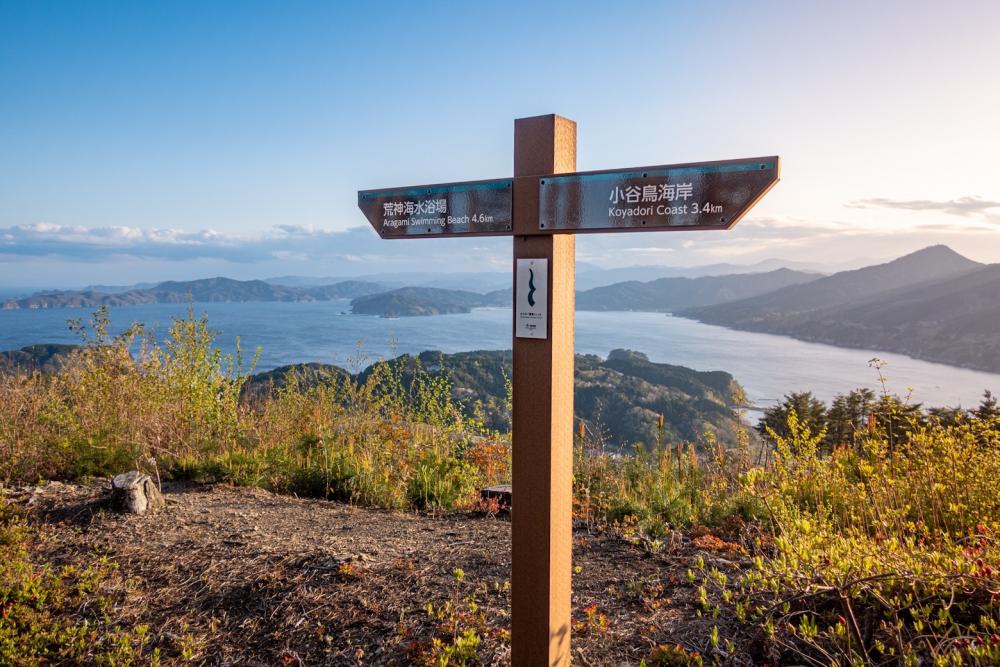 Shikoku has a long history of the historic Shikoku pilgrimage. I believe the Shikoku pilgrimage trails are truly great long-distance trails. The pilgrimages trails in Japan such as Shikoku 88 have plenty of "stories" born from the history, local culture and the lives of past pilgrims.
Recently I was on a national radio program and was talking about a basic question... What is a long-distance trail?
The answer is quite simple. It is "a long route." Then, you may think how long it has to be.
I have done a lot of search on the origin of the name, long trail. The person we consider today as the first man who started using the name was an American high school principal in Vermont, in the early 1900s. He thought it would be fun to hike and connect all high mountains in his state and called the drawn route a Long Trail.
JLTA is a non-profit organization and is operated with the full support of the Ando foundation. In fact, all staffs including me are unpaid volunteers.

We have trademarked the phase "long trail" to prevent the possible monopoly or the abuse of it by someone in future. By getting the trademark and open it for public use, the phrase can be available for truly everyone. You all are free to use this word with no restriction. We believe this is the best way to promote long-distance trails.
Let's get back to the first question, what is a long distance trail?
First of all, it is a route to travel through the mountains. There is no specific definition about the distance. A commonly shared sense of the proper distance is longer than the total length an average hiker can walk for three consecutive days.
Second, the route should mostly go through in nature, ideally walkable throughout the four seasons.
However, the reality is about half of the long-distance trails in Japan are covered with snow in winter and became unwalkable for regular hikers, so their hiking season is usually from June to November. There are really few all-season trails in Japan. That is why Shikoku has a great advantage that hikers can enjoy walking most of trails here throughout the year.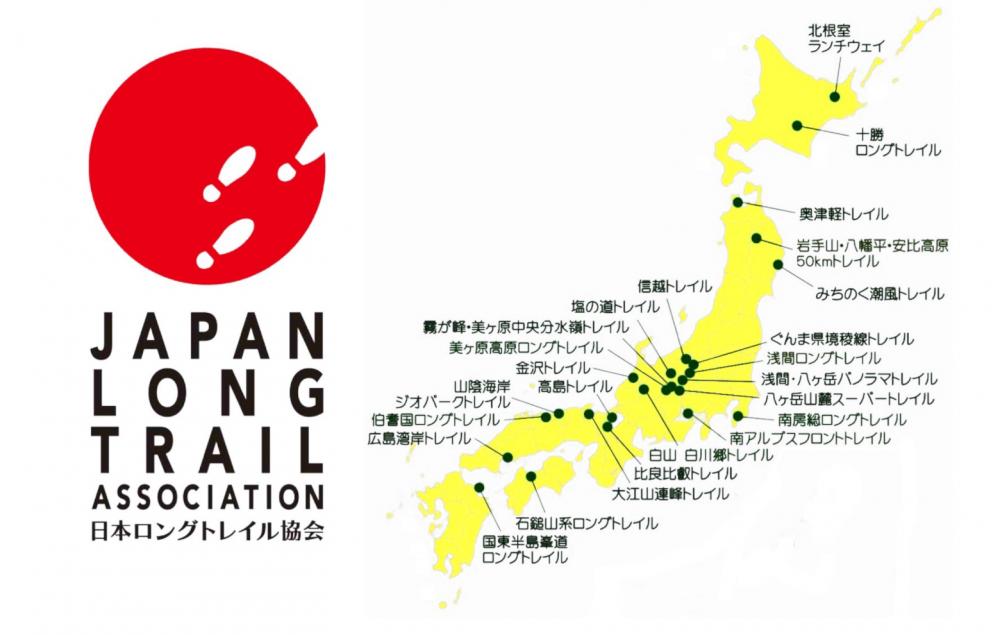 This is a map of all current member trails of the JLTA. Are you surprised how many trails Japan already has? There are many more being made now.
For instance, Fukui, Ibaragi, and Sapporo city and the east lake area in Hokkaido are currently working on opening the new trails. There are too many trail plans to list all over Japan.
A Mt. Fuji area-based group of local guides and trail maintenance volunteers, together with many other local groups, is opening a 200-kilometer-long circle route connecting through the lower mountains surrounding Mt. Fuji.
The total number of Mt. Fuji hikers a year was around two hundred-thousand in pre-COVID times. This number, however, would not be equal to the number of hikers on the new round trail. The characteristics of people walking up Mt. Fuji and of the ones walking around Mt. Fuji are not the same. Time wise, walking up and down Mt. Fuji takes only a couple days but the thru-hike of the new trail will need several days.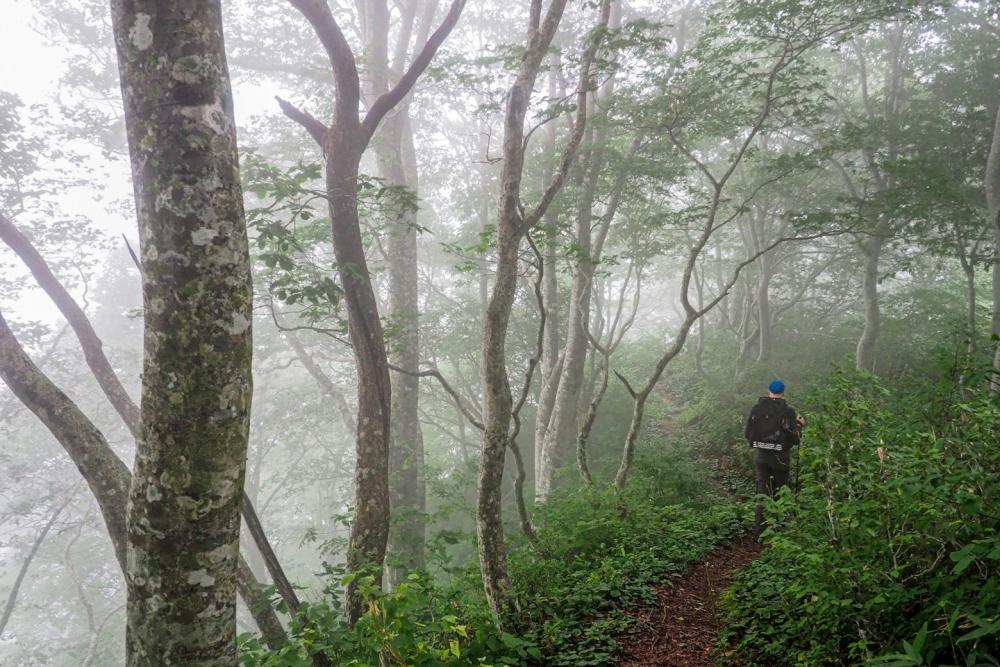 Fast-growing popularity of outdoor activities in Japan
The most popular outdoor activity in Japan today is camping. At some stores, camping gear sales have doubled compared to last year.
About 25 years ago, I guided people from US outdoor clothing/gear companies during their study tour in Japan. At the end of the tour, they said outdoors in Japan seemed only about doing BBQ then. They saw a huge potential to enter and expand the Japanese market. Since then, the Japanese outdoor activity market has grown so much.
Since last year, our life has been seriously affected by COVID. Keeping the social distance and being in a fresh air had never been talked about this much. Following the anti-COVID measures while still having a good time with families and friends in a safe environment... everybody started going outside in nature. The spike in the popularity of outdoor activities such as camping is no surprise.
This trend is going on not only in Japan but all over the world, especially in Western countries.
International/domestic tourists have shown more interest in outdoor activities.
For example, sixty thousand tourists came to walk the Nakasendo trail during the year before COVID. Thirty-seven thousand of them were from outside of Japan. More than half of them were from European countries followed by Americans, Australians and other Asian

The number of Japanese people who enjoy mountain climbing is around 6.5 million. When including exercise walking, hiking, and camping, the total number of people enjoying outdoor activities is probably around 30 million.
The outdoor activity population in the US is estimated to be 50 million. A significant difference from Japan is the number of people regularly climbing mountains, not reaching 3 millions.
What makes this difference between the two countries is the definition of "climbing." In the U.S.A and Europe, climbers are the people who use crampons and ice axes to overcome snow and rock cliffs to reach the summit of mountains. Whether the altitude is high or low, as long as you can walk without special climbing gear, it is called hiking.
Before COVID, we saw a lot of foreigners enjoy walking the Japanese alps mountains. Many of the North and South alps mountains are 2,500 to 3,000m and they have great "hiking" trails for the international tourists. In fact, many people came all the way to Japan just to hike the great Japanese mountain trails.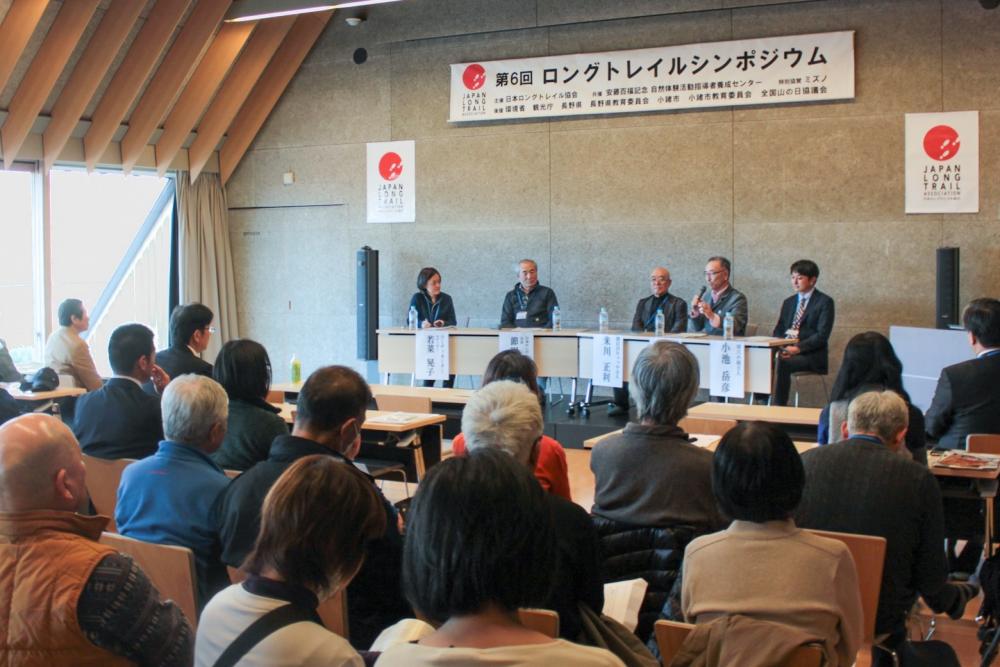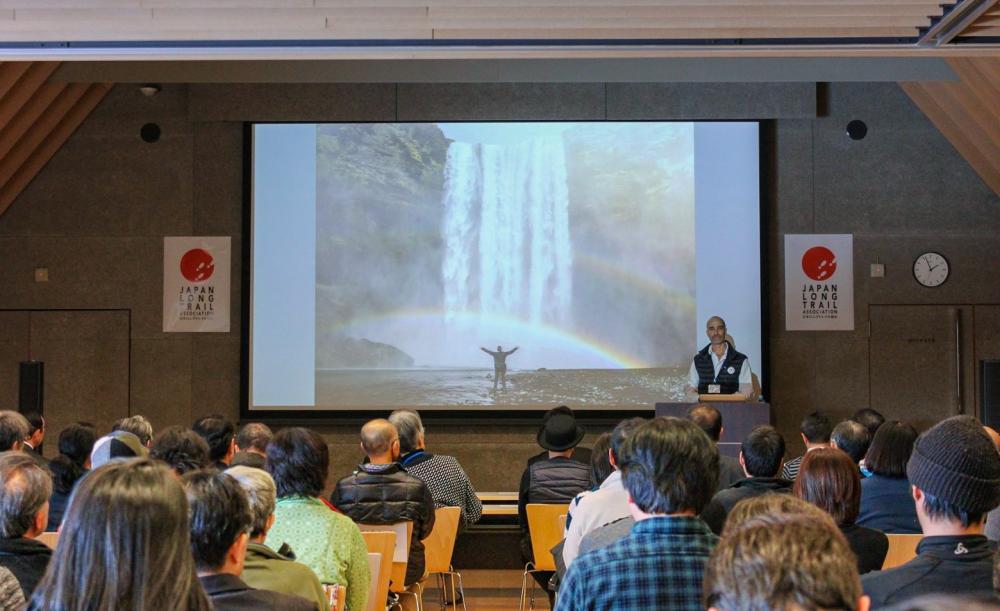 My first long-distance trail was in the US, back in 1995. During my business trip along the East Coast, I went to hike mountains in New Hampshire with local mountain guides. There, I leaned one of the most popular American long-distance trails, the 3,500 kilometer-long Appalachian Trail.
On the trail, I met a family with three little kids. They had been hiking for more than a week by that time. I wondered what about the kids' school and they said, as long as the parents can teach the kids what they have to cover and their teachers agreed, they were allowed to go hiking instead of going to school. Thanks to the flexibility at schools, I saw many more families enjoying multi-day hiking together.

Whenever I have opportunities to talk about long-distance trails, I always emphasize it is important to remember making a new hiking trail is NOT all about promoting local tourism or revitalizing the community. It is also for kids. I believe if no kids want to walk on a trail, it will be soon forgotten and disappear.

Japan Trail, the one line connecting all around Japan
We are now working on launching the Japan Trail project.
I have a memorable experience that I will never forget.
A long time ago, in 1969, I visited the Karakorum mountains in the Himalaya for the first time. On the way, at Peshawar, a local staff pointed at the road we were standing on then and asked me if I knew what the road was.
"Silk road" he said.
I felt stunned with the fact that I was standing on THE silk road. Its east edge reaches China and the west edge connects Europe. It was that moment that I truly realized a trail was a line under my feet, connecting to other places in the world.
I think the realization I got from that moment has stayed in a corner of my brain.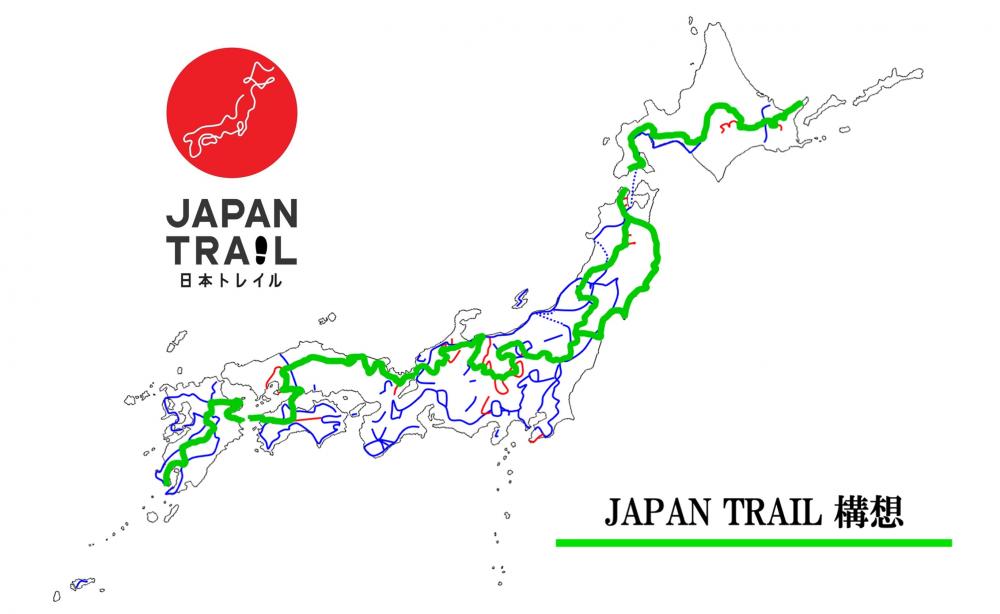 Japan already has a lot of long-distance trails and an increasing number of new ones will join. Wouldn't it be great if all of them connect to each other and made a single long line?
This is our mission especially for future children in Japan. When they stand on the Japan Trail, they know their feet is connecting the most southern edge of Kyusyu and the most northern cape of Hokkaido. They know they are connecting all over Japan. I hope it may help them to get interested in other areas of Japan and furthermore, to want to know more deeply about Japan.

The tentative lines of the Japan Trail on the map are just connecting only current JLTA member trails for now. If more non-member or new long-distance trails are interested in taking a part, we will happily revise our plan anytime.
If Tokushima would be interested, it is totally O.K. whether your long-distance trail plan has not been fully put together or there is still long way to go to actually open the trail.
As long as you have the dream, we welcome you with open arms to be a part of the Japan Trail.