Modern Crafts of East Tokushima: Good Design Meets Sustainable Future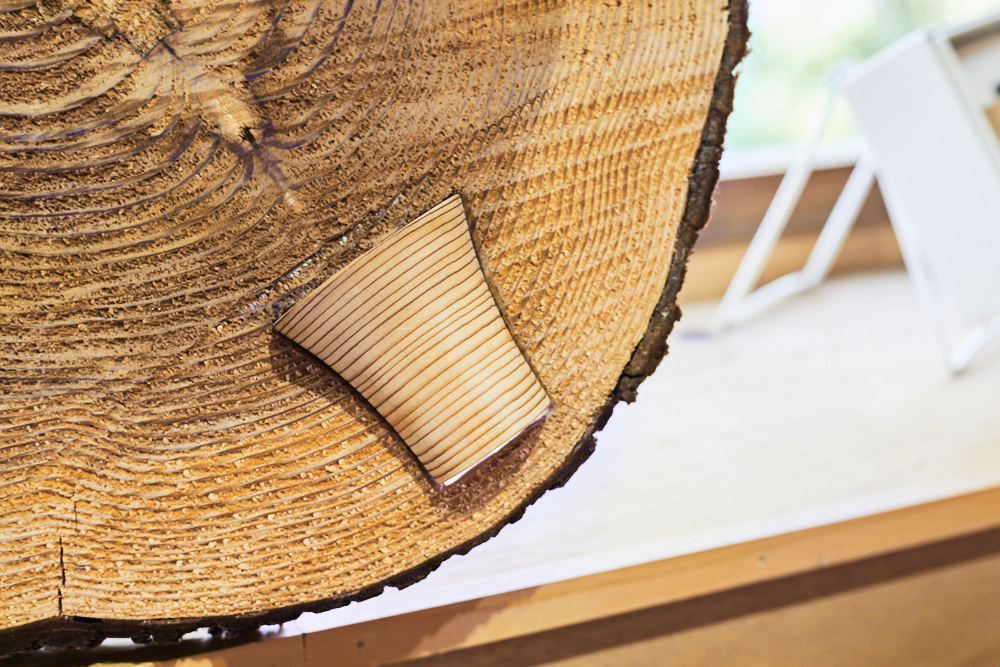 ---
While East Tokushima is famous for many traditional crafts, the region is also a hub of innovation and transformation. Here are three companies that retain the heart and soul of traditional craftsmanship while creating new products — and in many cases helping the environment at the same time.
Shizq — Converting Waste into Elegant Tableware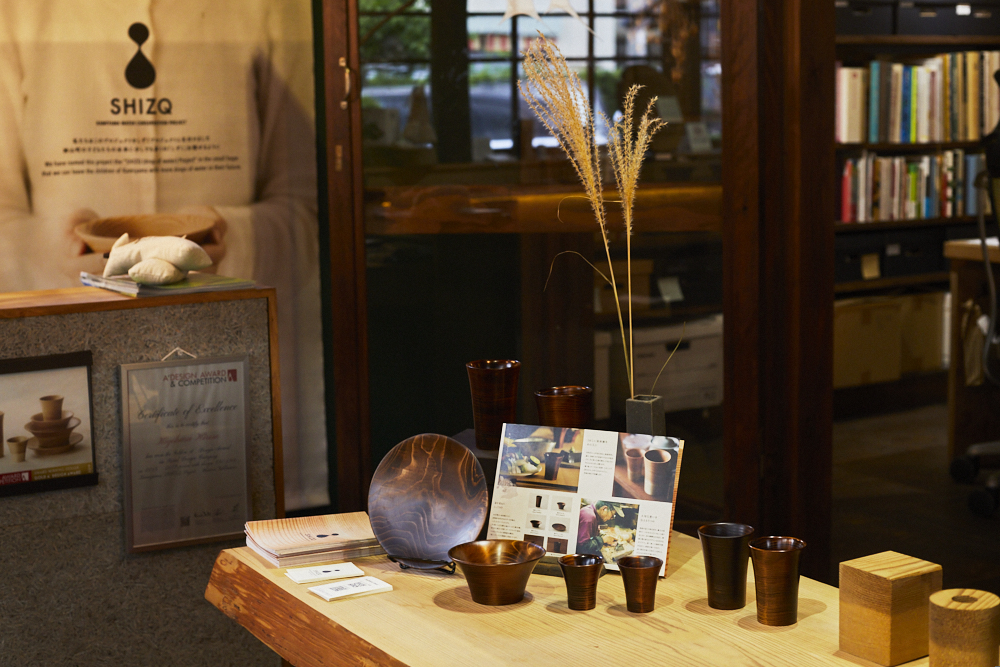 For many years, the forestry industry ravaged the hills of Kamiyama. It created dense cedar forests that suffocated small bushes and other trees, leading to a monoculture tree plantation with devastating consequences. Without diversity in flora, the soil became hard and didn't absorb water. This caused runoff, reducing the area's water supply by 30 percent. In order to rectify this, locals began a tree-thinning project — and this is where the Shizq water conservation project comes in. Instead of letting the felled cedar trees go to waste, the wood is given new life in the form of beautiful tableware and interior items.
The name Shizq comes from shizuku — a drop of water — and reminds us that small efforts build into great things, just as many drops of water eventually form a river. Shizq works with skilled craftsmen who select, dry, cut and coat the wood themselves, creating products that have a modern feel but maintain the heart of traditional craftsmanship. The resulting bowls, plates, tumblers and cups are smooth, lightweight and highlight cedar wood's prominent wood grain as a design feature. There are three series to choose from — Tsuru, Kame and Kamehachi — each with its own distinctive energy. Tsuru retains the natural pale color of cedar wood, while Kame is imbued with a copper-like luster of hand-brushed lacquer. Kamehachi items receive eight layers of lacquer, creating a deep, rich finish. Whichever style you prefer, be assured that each cedar wood product is made with loving care from start to finish by talented craftsmen, making each item unique.

Shizq Gallery Shop
When: Wed–Sun 10am–5pm, Closed; Mon–Tue*
Where: 90 Jinryou Honuetsuno, Kamiyama-cho, Tokushima Prefecture
More info: https://shizq.jp/en/
Buy online: https://shizq.store/
*Due to Covid-19 restrictions, opening hours may differ and reservations may be required. Please email the shop in advance to find out more.
Kinof — Kind to the Environment, Gentle on the Skin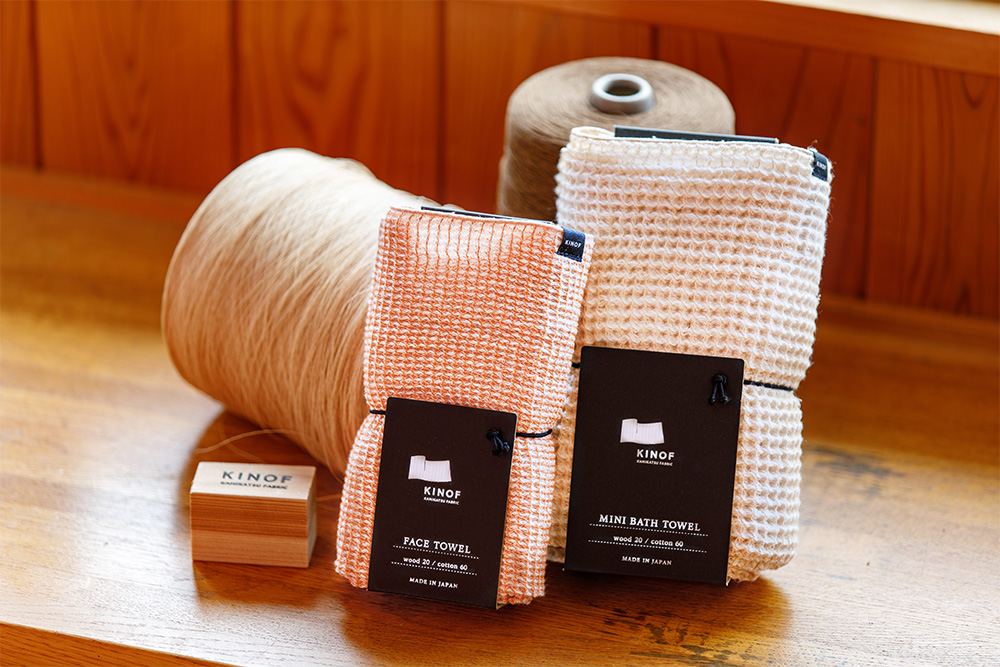 The forested mountains of Kamikatsu faced a similar fate to that of Kamiyama and locals struggled for a long time with environmental issues caused by abandoned artificial forests. In 2018, Kinof found an innovative way to use lumber from thinned out trees by borrowing from the traditional techniques of Japanese papermaking. Leftover cedar wood is converted into wood chips and the cellulose is extracted, before being mashed into a pulp. This is made into paper — a version of Japan's famous washi — then cut into thin strips before finally being turned into thread. The thread is then bolstered by hemp and domestically grown cotton, resulting in a material similar to linen.
Kinof uses the wood thread to create sponges and hand and bath towels. The natural fabric is super absorbent but dries quickly, doesn't pill and grows fluffier with use. Though the material is waffled, it is surprisingly soft, making the towels ideal for young children and those with sensitive skin. The cedar thread also absorbs oil, which reduces the amount of soap and dishwasher liquid needed, making the products last longer. Though the fabric is of high quality and durable, it is still delicate so hand washing or placing it in a net bag when using a washing machine is advised.

Naluto Trunks — Surf Wear, but Make it Fashion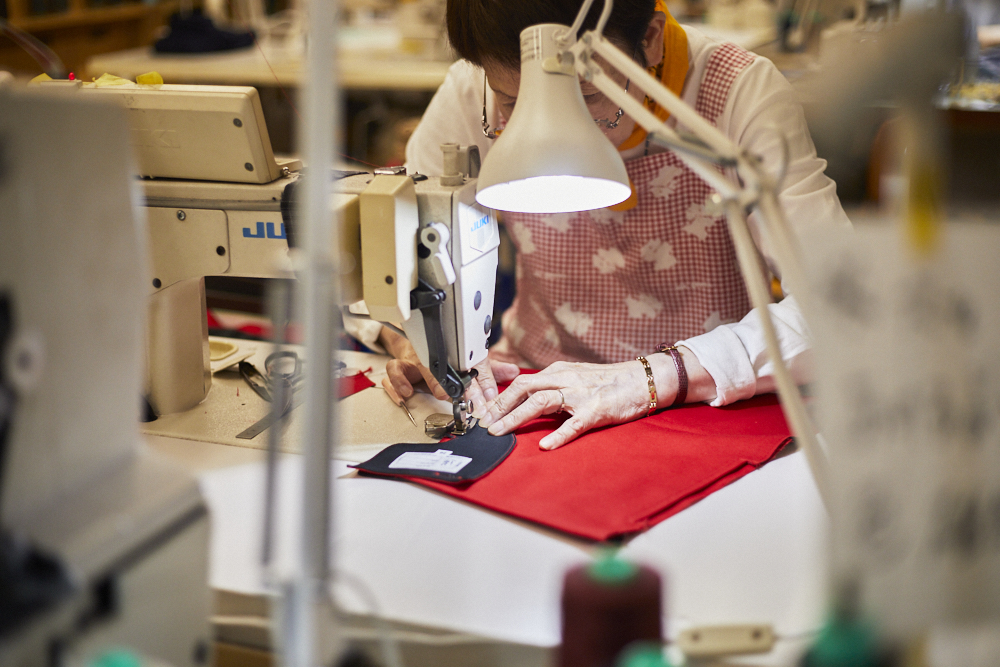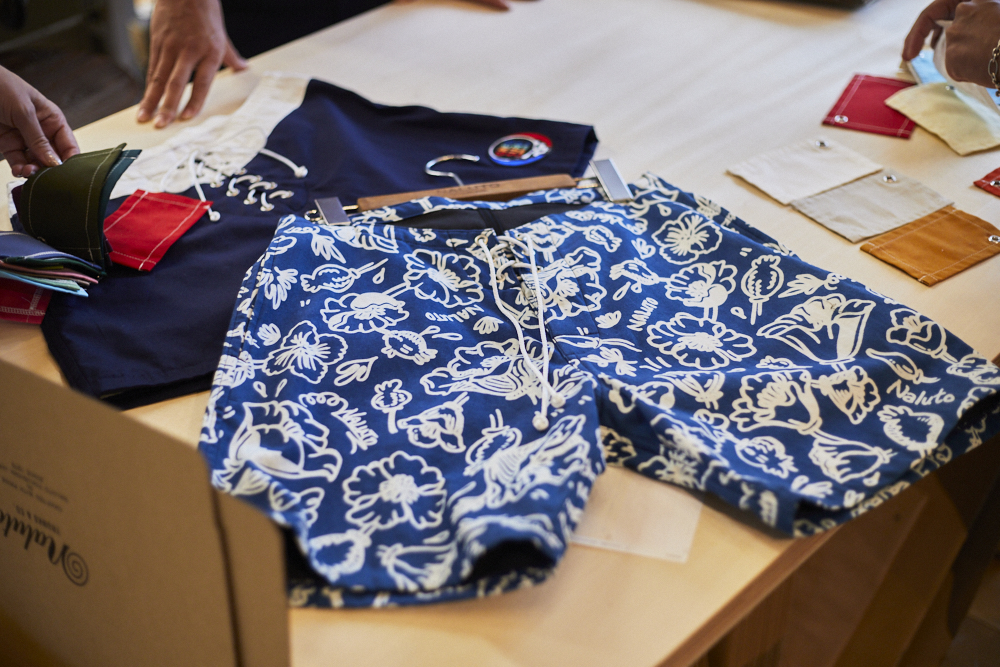 With so many excellent beaches and great surfing spots in East Tokushima, it's perhaps no surprise that it's the base of a world-famous surf-inspired fashion brand. Naluto Trunks is the brainchild of second-generation Yamaguchi Co., Ltd head, Kiyoshi Yamaguchi, who was inspired by his surfing hobby. Though he initially had no grand plans, word spread and his stylish trunks with bold designs were soon featured in newspapers, magazines and on popular fashion blogs. Naluto Trunks was a hit among sartorial experts and surfers alike.
Though Naluto Trunks is a relatively new kid on the block, Yamaguchi Co., Ltd has been in the business of making swimwear for schools since 1975, so the brand had the know-how, materials and skilled craftspeople from the get-go. It's in part due to the company's artisanal spirit of constructing each item from scratch with painstaking care that Naluto Trunks has been so widely received. It doesn't sacrifice quality for design, making these custom-made items equally at home in the city and on the surfboard. The brand also frequently collaborates with artists and other brands to create a variety of styles. During one of these collaborations, Naluto Trunks took its first step into creating a zero waste studio, by using recycled polyester yarn in one of its products. Efforts like these are sure to continue, as the brand grows stronger both at home and abroad.