In Tokushima, I found original sceneries of Japan.
Explore this undiscovered timeless mountain village and find your own journey (Kamikatsu, Tokushima)

What do you know about Tokushima?
Awa Odori (dance), the Naruto whirlpools, citrus Sudachi…
Probably these are the only things you would think of.
Tokushima has been ranked as 2nd from the bottom in "the most attractive prefectures in Japan." The number of guests who stayed at accommodations in Tokushima prefecture was the lowest in Japan.
However, it was unpopular Tokushima that caught my heart.
It was love at first sight when I saw one of Tokushima's small mountain towns, Kamikatsu and I moved there all the way from Tokyo.
Lately, an increasing number of people have been moving into the countryside areas around Tokushima like me.
Why was I so attracted to Kamikatsu?
Because this extremely isolated small mountain town, of which even Japanese people rarely know the name, has been doing unexpected cutting-edge work in community revitalization and the elimination of waste.
In this article, I would like to show you the attractiveness of Kamikatsu, which changed my life.
Written by Keisuke Niki (visual creator)
---
A lack of tourists preserved the original scenery of Japan
I discovered a good old lifestyle at an undiscovered village in deep mountains of Tokushima

An hour drive from Tokushima city, the prefectural capital of Tokushima, Kamikatsu is a small town located deep in the surrounding mountains. Though there is a hot spring and farmers market along a main driveway that is crossing the center of the town, Kamikatsu is not a tourist destination and has few visitors.
Kamikatsu may look like an ordinary typical rural town. But if you move away from the main roads and venture further in, beyond steep mountain paths, you will discover the true beauty of Kamikatsu.
Walking uphill through Japanese cedar trees, you see "Kashihara no Tanada" (Kashihara terraced rice paddies.) Here, you are greeted with views unchanged for 200 or more years ago. The same views the farmers' ancestors saw so long ago.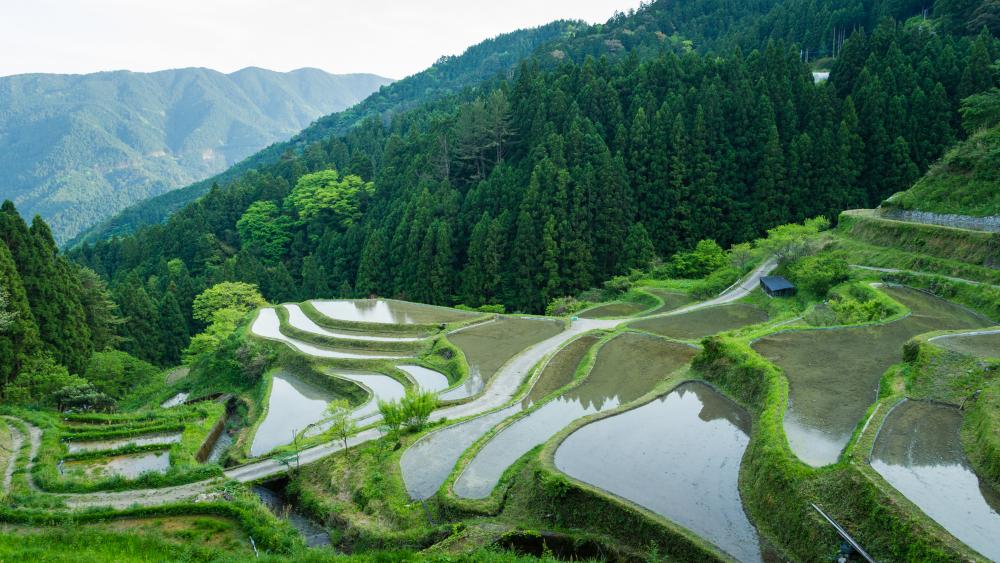 Walking further up, Mt. Yamainudake hides a mystical green world of moss covered rocks spread out through the primeval forests. In the forests there is a gigantic rock whose top provides us a good view point. In fall, your eyes are greeted with a gorgeous patchworks of red and yellow leaves. Although the amount of hikers to Mt. Yamainudake has been slowly increasing, all of this this great nature can be all yours if you could come visit here during weekdays.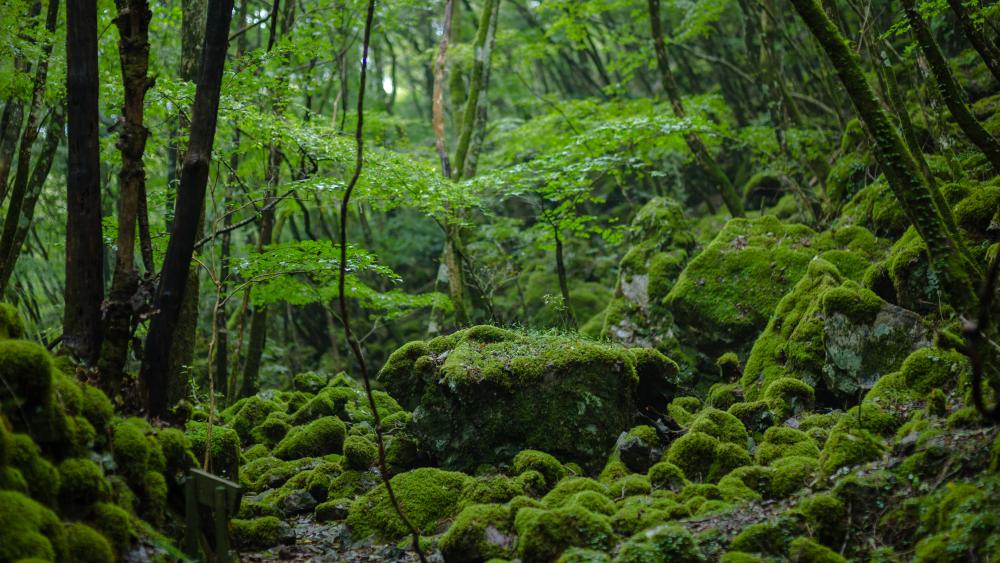 The first time I visited Kamikatsu, the small mountain communities caught my interest. 85% of the land surrounding Kamikatsu is made up of mountains and forests. 55 small villages and settlements are scattered around these mountains. Houses poised on steep rugged inclines in mountainous areas. Many of them are 100 or 200 years old. Their big thatched roofs have been replaced by zinc. The locals obtain water from natural streams which find their origins deep in the mountains and grow rice and vegetables for themselves to eat. They heat water with wood to take a bath and cook at the irori fireplace and furnaces. The old Japanese traditional lifestyle is still alive here in Kamikatsu.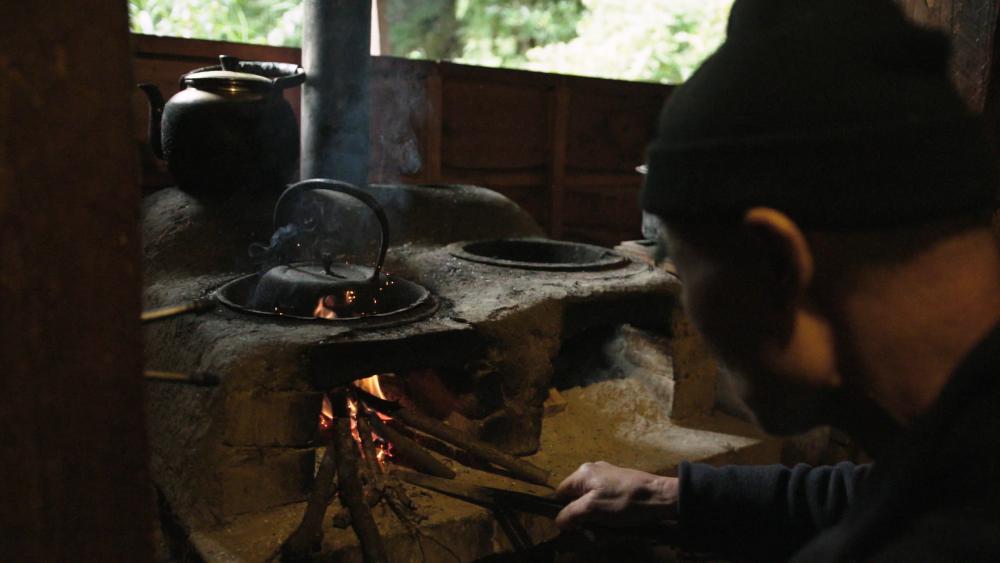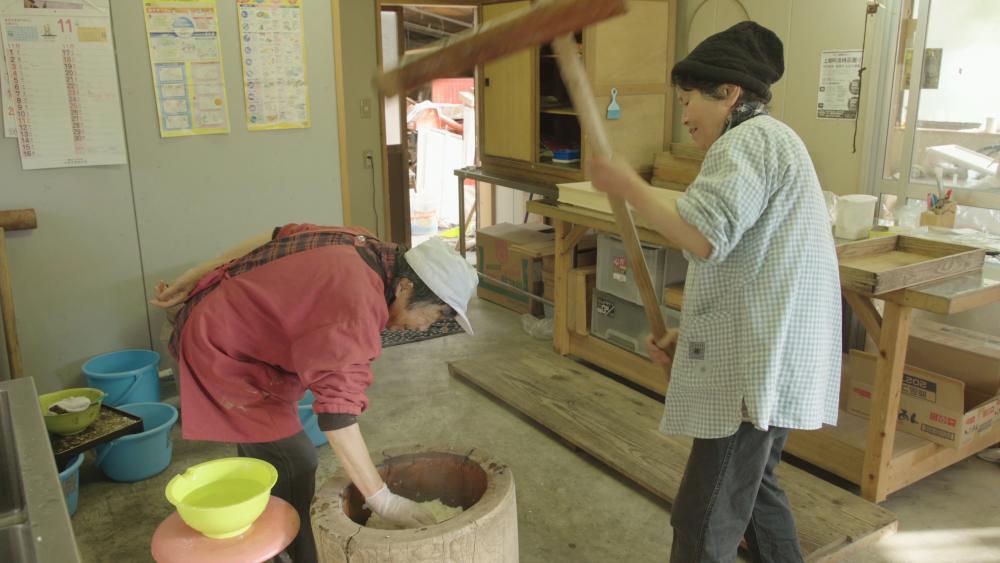 Although I had traveled all over Japan,visiting ryokans and hot springs which haves irori fireplaces and baths heated with wood fires, I had never seen people who actually live their daily lives in this fashion. Using wood to cook and for heat. Kamikatsu, this town located inconveniently deep in the mountains, has never been touristy and it has kept the traditional way of life. I found myself in love with this undiscovered gem of a small town.
The most cutting-edge efforts in deep mountains
Kamikatsu is now transforming
Though almost unknown as a tourist destination, Kamikatsu is actually very well-known among environmently-conscious people or those who are engaged with rural community revitalization. 30 years ago, local grandmas started collecting and selling pretty- colored and -shaped tree leaves for decoration of dishes served at high-class Japanese restaurants. This leaf business called "irodori" became so successful that people across the nation came to see it as a case study on the forefront of community invigoration and revitalization efforts.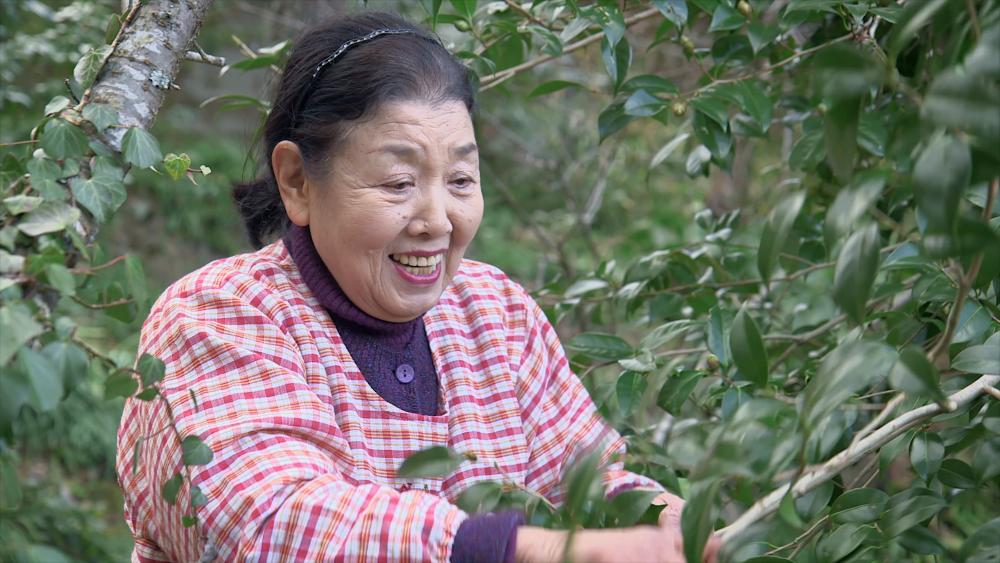 Aside from "Irodori," Kamikatsu is famous for its zero-waste movement. Zero-waste means to try to stop waste and reduce garbage. This movement's goal is to eliminate any garbage from the town going to a landfill or incineration by 2020. Residents in Kamikatsu bring their trash to the garbage collection site by themselves, separate it into 45 types to recycle them as much as possible. International media has covered this zero-waste movement as a cutting-edge environmental policy and people from all over the world have come to Kamikatsu to study it.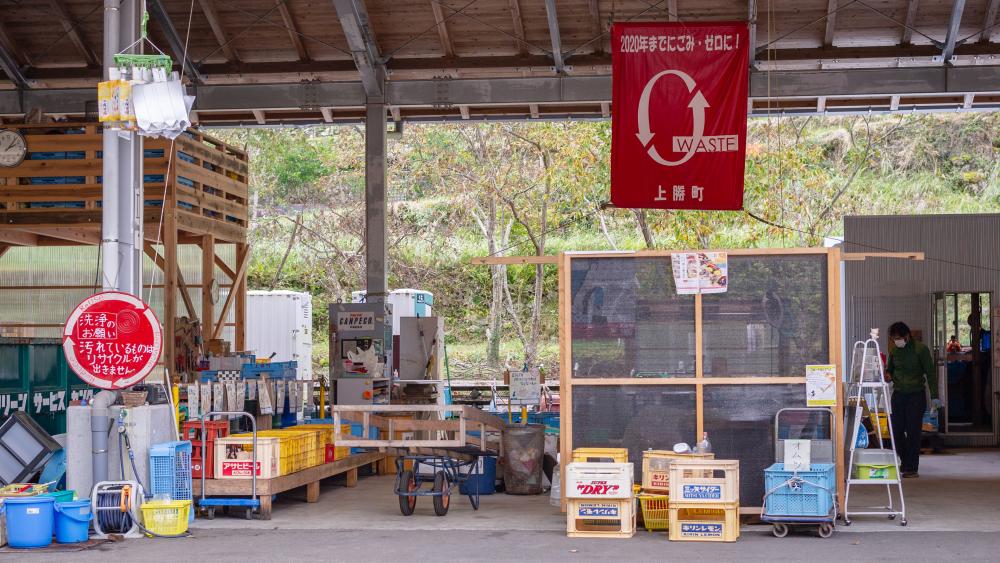 Lately, more and more young people from outside of Kamikatsu who sympathize with these efforts, move to this small mountain town and start new businesses here. Café Pole Star supports the spirit of zero-waste and tries to eliminate waste and garbage from the shop. They serve dishes with locally grown foods which are decorated with seasonal leaves so you can feel Kamikatsu with all your five senses.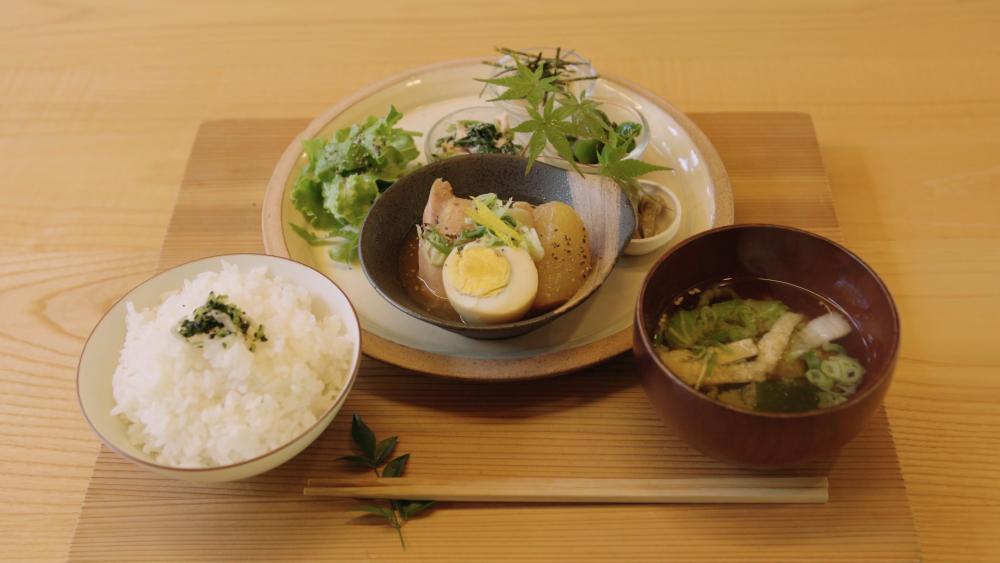 RISE & WIN Brewing Co. BBQ & General Store is a local micro-brewery. The shop building uses old window frames reclaimed from those hundreds year old houses and made them into a unique glass window wall. Various shaped and colored bottles were used to make the chandelier hung in the center of the shop. Guests can enjoy tasting craft beers produced using locally sourced Awa Bancha tea and Yukou citrus.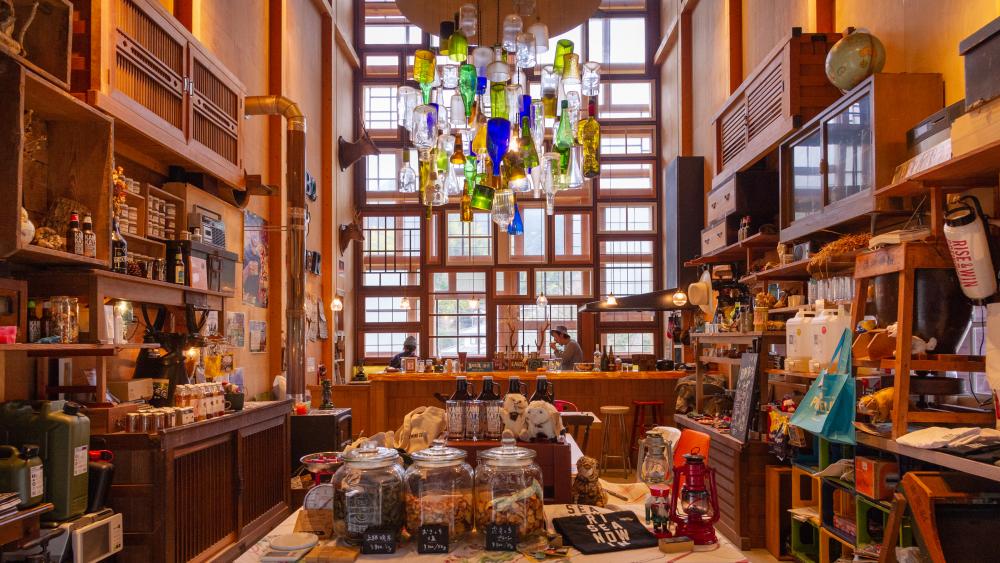 Until recently, Kamikatsu received few tourists. But now, the new shops are changing this little by little. At the same time, the aging community is rapidly losing the rural traditional life-style. If you wait, you may miss out on the ability to experience the good old mountain village lifestyle, the true treasures of Kamikatsu, which, in the near future, may be gone forever. Now is the time for you to come! Visit the shops I introduced here and talk to the shop staff. They will happily give you the information to lead you to the hidden gems of the deep mountains.
The travel that shook my old common sense and values
I fell in love with the hidden gem in deep mountains that changed my life.

My first visit to Kamikatsu was 10 year ago. It had a huge impact on my life. The old traditional way of life is preserved here. The cutting edge garbage elimination policy lives together with the traditional in Kamikatsu. I discovered a whole new world where my urban common sense and values are meaningless. Since then, the last 4 years, I came back to Kamikatsu every moment I could get off. I found new things during each and every one of my visits. Eventually I felt unfulfilled with just visiting and decided to move in to live here in Kamikatsu.
I renovated an old house located in the surrounding mountains and run a weekend-only bar. I hope this bar will become a place that connects visitors from outside of Kamikatsu to the local people.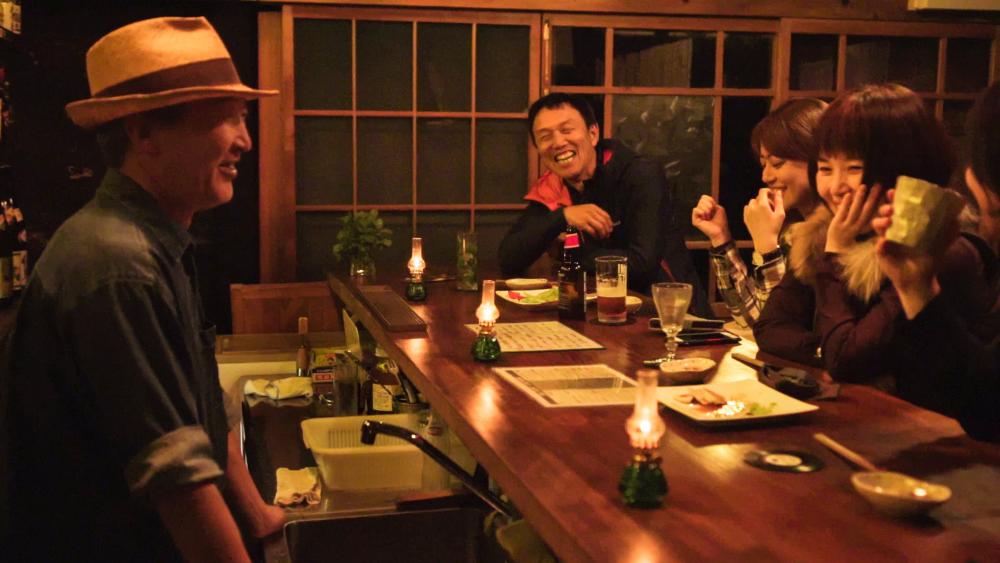 Have a good time at Bar IRORI while enjoying cocktails with local ingredients and whiskeys from all around the world
I started offering a glamping stay in the hope that people from outside can experience a bit of traditional mountain village life here in Kamikatsu. To cook, we use wood and charcoal and guests have to heat their bath water by burning wood. They can hear the river flowing nearby and sleep under the night sky full of stars. I want as many people as possible to know that life like this still exists in modern day Japan.

A lot of undiscovered attractions in not yet fully touristy Tokushima
Just step in and your journey will start

Tokushima is considered as lagging behind other parts of japan when it comes to tourism. However, it also means there are still a lot of undiscovered attractions. Tokushima may look like the ordinary countryside that can be found anywhere in Japan. But if you take one step further, you will see the deeper world only local people know.
East Tokushima web magazine takes you to explore those undiscovered attractions in Tokushima.
If you want to find your unique journey, come visit Tokushima.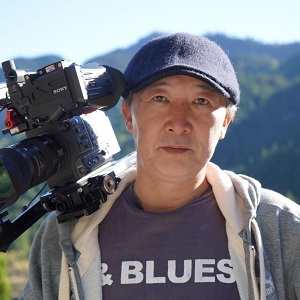 Author Keisuke Niki
Originally from Hyogo. Born in 1967. Keisuke was a TV director in Tokyo and created documentaries and dramas. For making a TV show series, he visited several remote areas all over the world. He came to Tokushima for his TV work and fell in love with Kamikatsu.
Now, living in Kamikatsu since 2012, he started "Kamikatsu Kaitakudan" and runs a visual production business, a bar and glamping facility.
He loves walking around small villages in mountains.