Monzen Ichibangai
A reliable supporter at the beginning of the Shikoku Pilgrimage.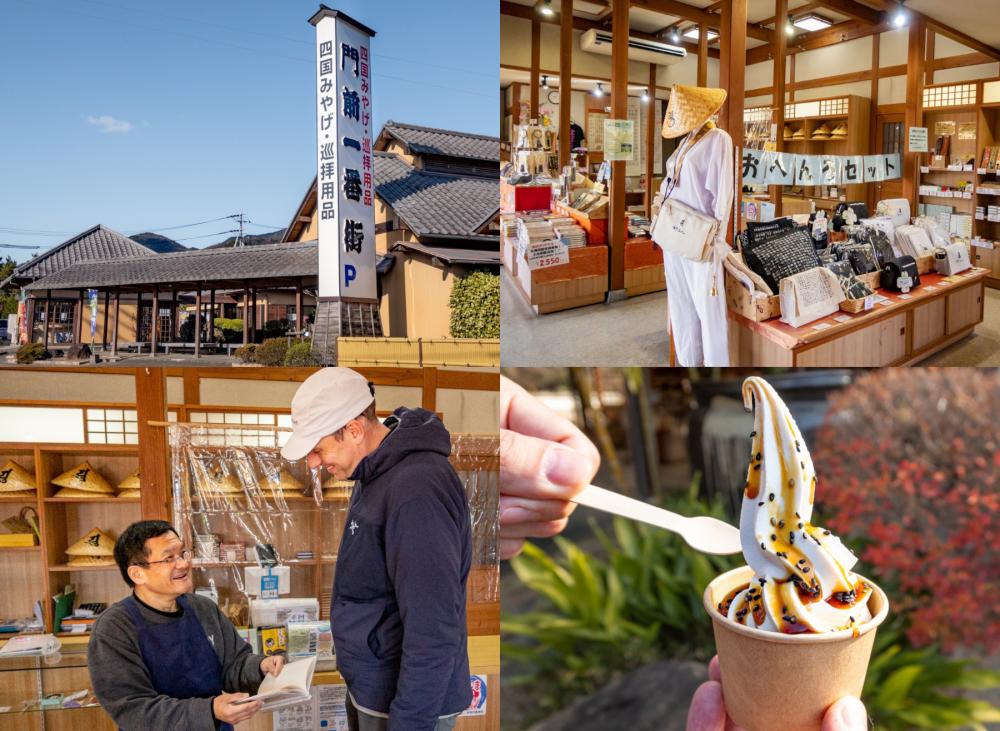 Over 1,000 years before today's long distance trail hiking boom, the Shikoku pilgrimage trail has been the longest and most popular route in Japan. The over 1,200 km long journey starts from Ryozenji temple in Naruto, Tokushima.
Located right by Ryozenji, Monzen Ichibangai provides various support to beginner pilgrims and takes care of their needs and worries about the long adventure ahead of them.
---
Ryozenji, where the pilgrim's journey begins.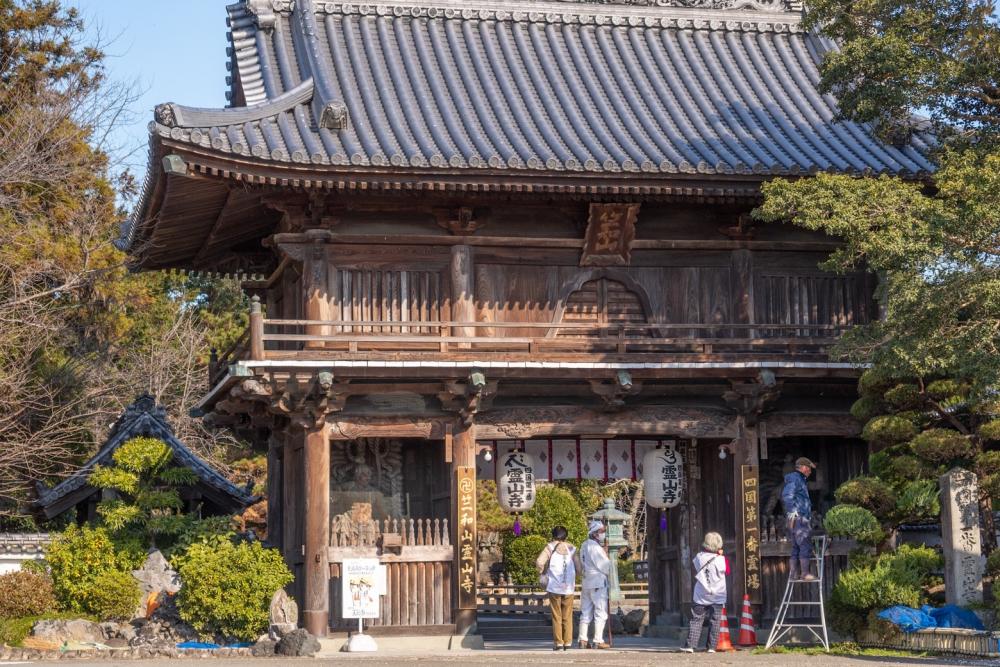 Long-distance trail hiking has witnessed a worldwide boom in recent years, and new long-distance trails have been opened one after another in Japan and abroad.
The Shikoku pilgrimage was one of the pathfinders of these long-distance trails, begining 1200 years ahead of most of internationally well-known trails.
Before the COVID crisis, the number of international pilgrims coming to Japan to walk the Shikoku pilgrimage trails was surging.
In most cases, pilgrims start their journey from Ryozenji temple in Naruto.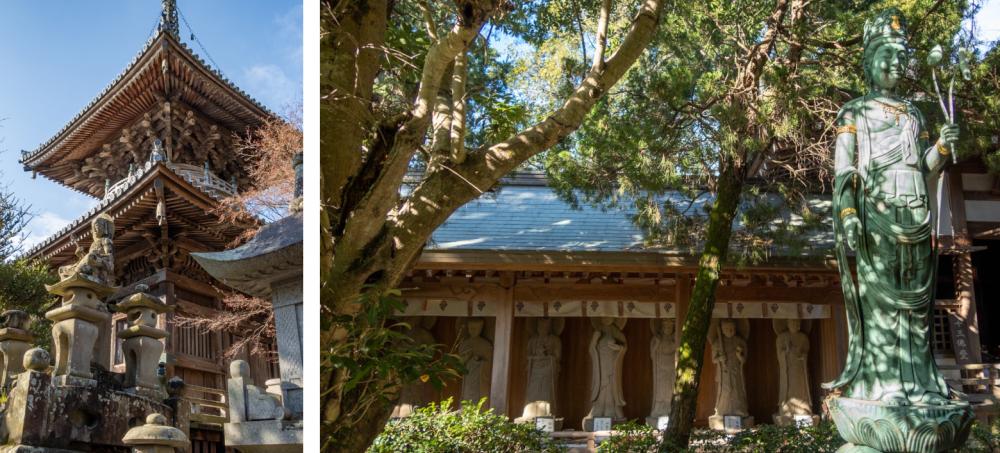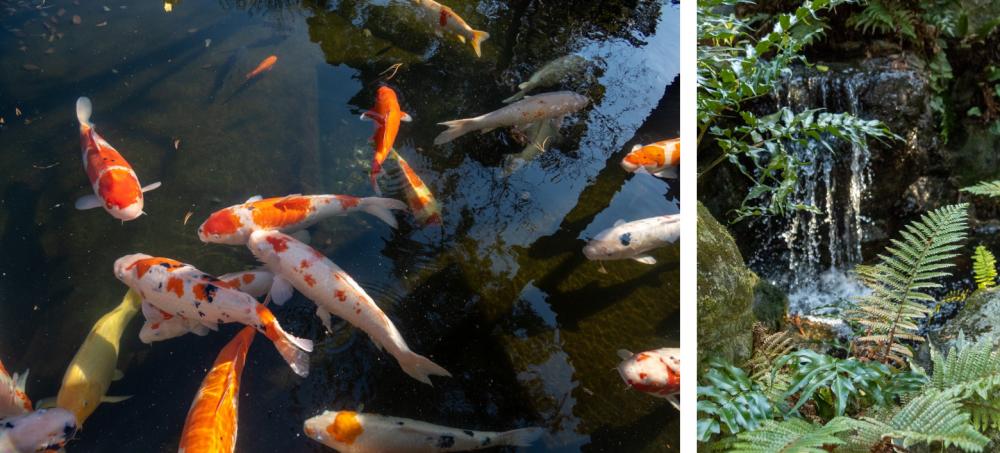 People rarely know all the 88 temples of the Shikoku pilgrimage unless they have completed it. However, many would feel Ryozenji looks familiar from TV programs or magazine pages featuring the Shikoku pilgrimage.
Ryozenji is always busy with pilgrims, tourists, and local worshippers.
Inside of the temple main gate, the relatively small temple has lots of things to see, including the main hall with a huge number of lanterns hung from the ceiling, a 600-year-old pagoda, the Daishido hall standing behind a large pond in which many large carps swim around, and a moss-covered Japanese garden with a small waterfall and a stream.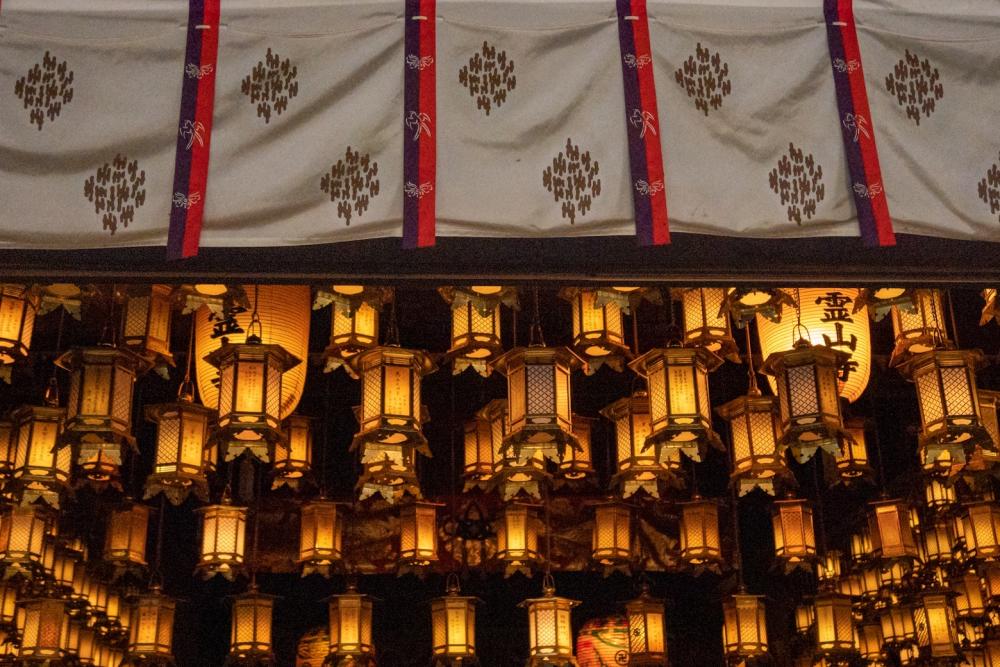 It is indeed a beautiful place worthy of its title as temple 1.
Monzen Ichibangai, taking care of any needs for the pilgrimage journey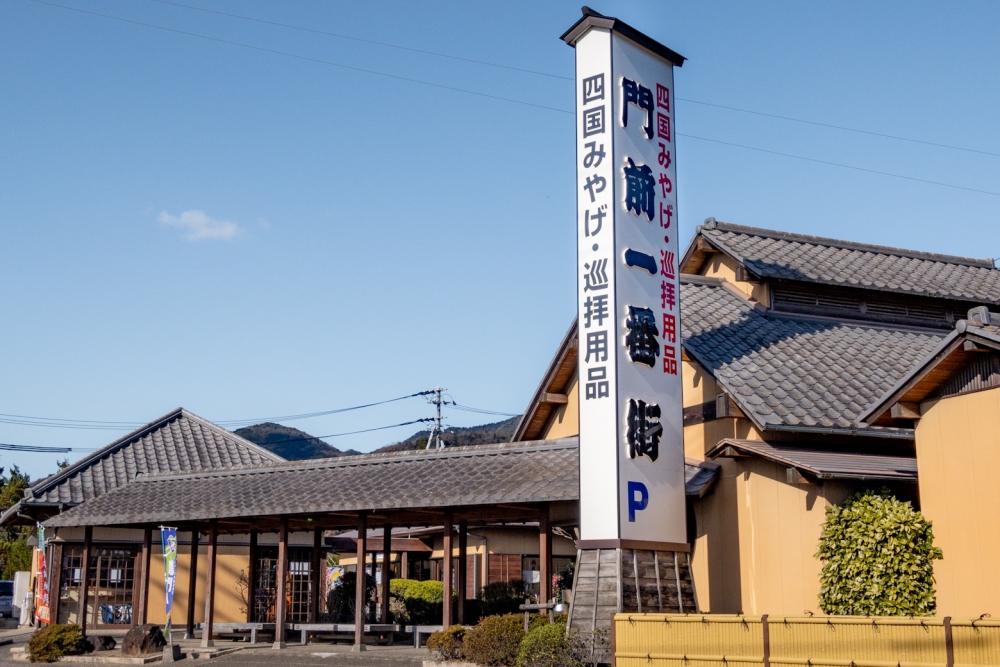 Monzen Ichibangai is located right next to the main gate of Ryozenji along the busy road.

The Japanese style buildings are very eye-catching on the street. The store consists of four small buildings, each named Flower, Bird, Wind, and Moon, connected with covered corridors, and is just a 20-second walk from the temple gate.
It is highly recommended for visitors to stop by before/after visiting Ryozenji, or when a pilgrim is about to start the long journey.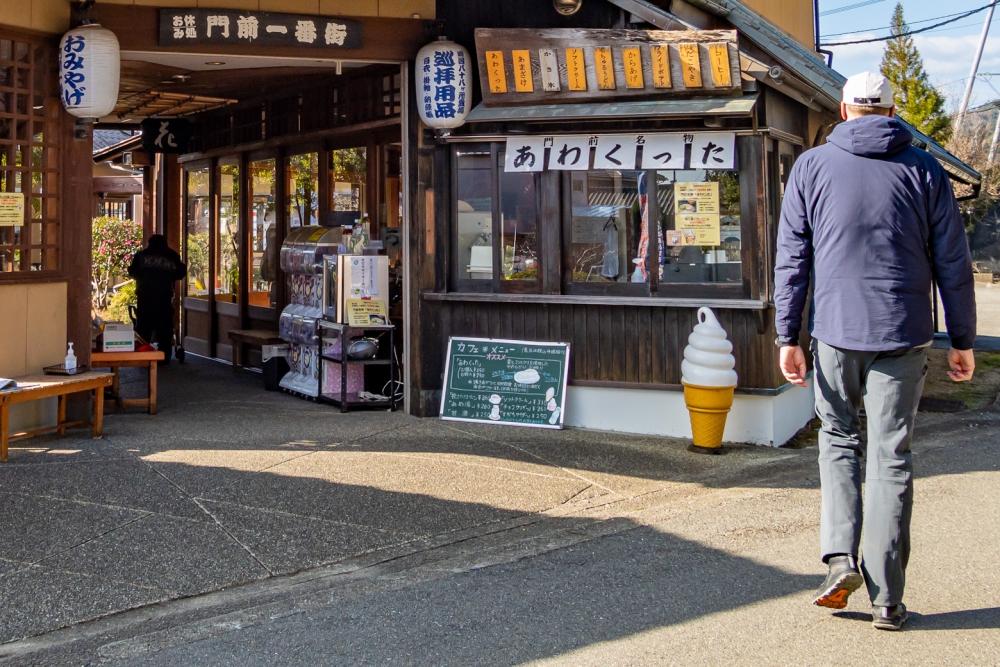 The bright, open store space is very well stocked with all sorts of pilgrimage gear. You would be surprised with how many different types of each item there are.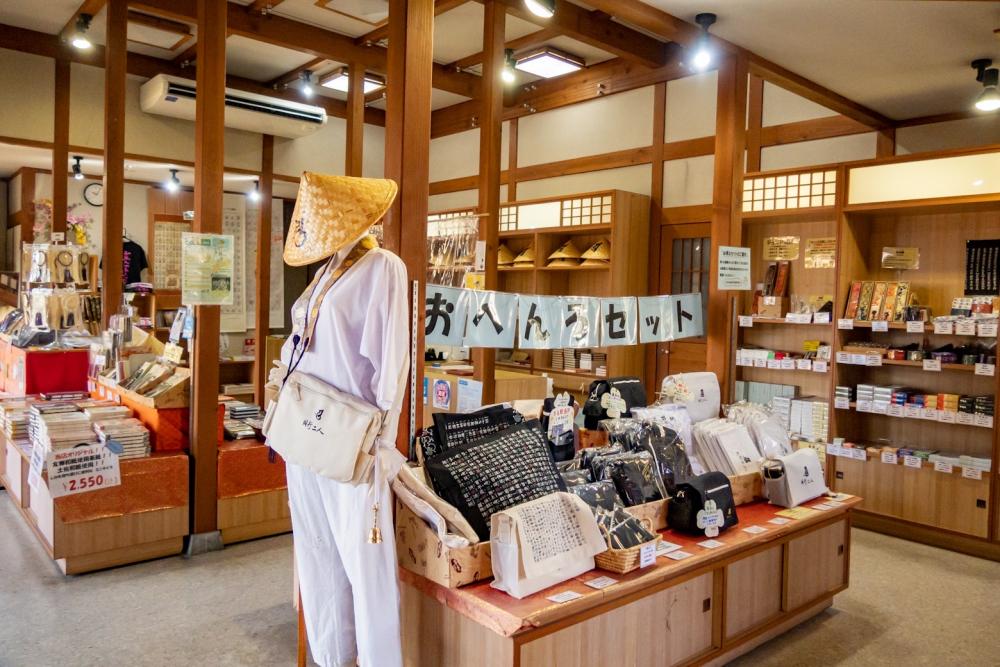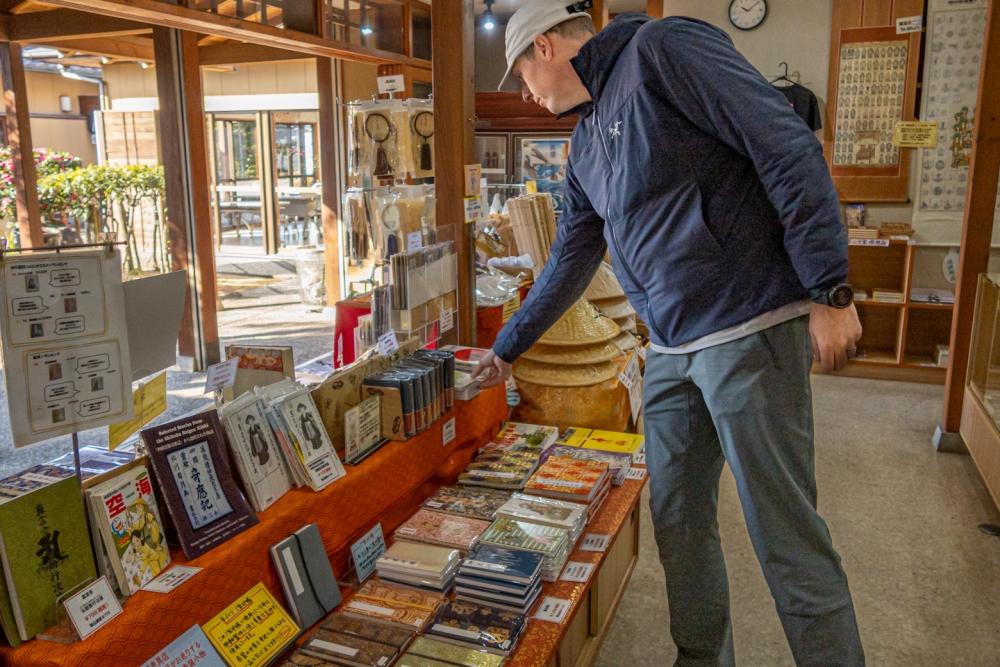 When you are not sure which item is best for you, do not hesitate to ask the staff for help.
Among the knowledgeable staff, the store manager, Mr. Shigeru Fujimoto, has been working for Monzen Ichibangai for more than 25 years. This very friendly looking man is an expert on the Shikoku pilgrimage and is an officially licensed "Sendatsu."

■ What is Sendatsu?
According to the official website of the Shikoku 88 Temple Pilgrimage Association;
"The Sendatsu are those who make pilgrimages to Shikoku, invite as many people as possible to join them on this path, and serve as leaders and role models for them.
They also provide guidance and other knowledge related to the pilgrimage routes and temples and give appropriate instructions and advice."

He is a truly reassuring consultant who can answer all your questions and concerns regarding the pilgrimage trails, temples, and of course about the pilgrimage gear available at the store.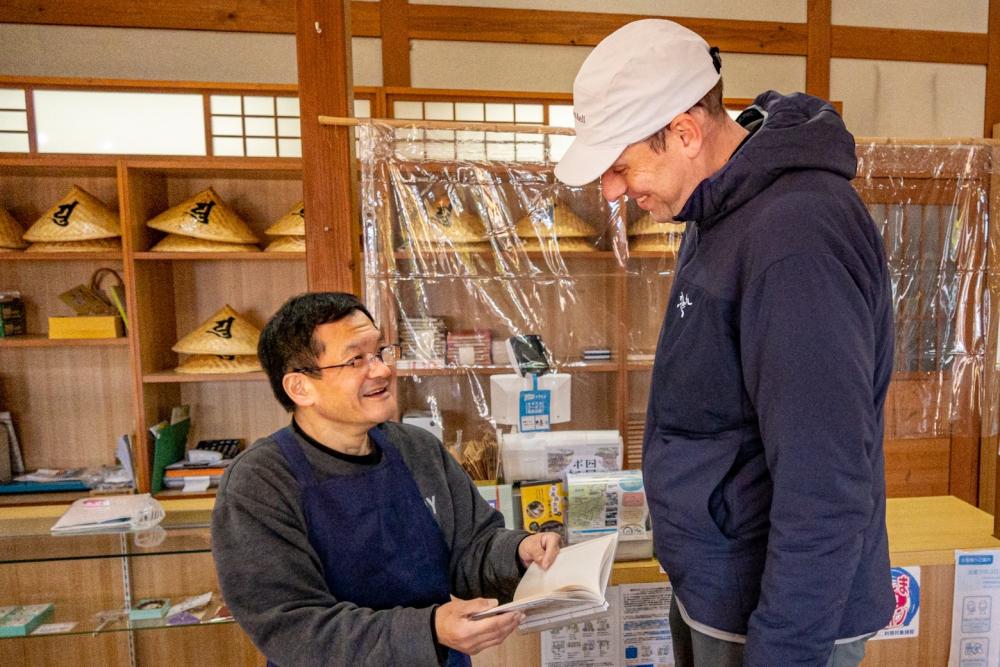 "When the COVID calms down, I expect to see many pilgrims, both Japanese and from abroad, coming back again. Please don't hesitate to stop by here anytime, " beamed Mr. Fujimoto.
"Some first-time pilgrims who just arrived here to start the journey might think that the Shikoku pilgrimage is so well-known that everything along the route should be conveniently maintained like tourist destinations.
As they move forward, eventually they may find that it is not as convenient as expected, for example, transportation is not well-connected and less frequent than in the city, there are not many lodgings and places to eat, and rest spots and toilets are not often available, etc.
But please try to think of those inconveniences as your training and don't give up."
"At the same time, you don't need to be too afraid and nervous for how tough the pilgrimage will be. In Shikoku, when you are in trouble, someone will always be there to help you."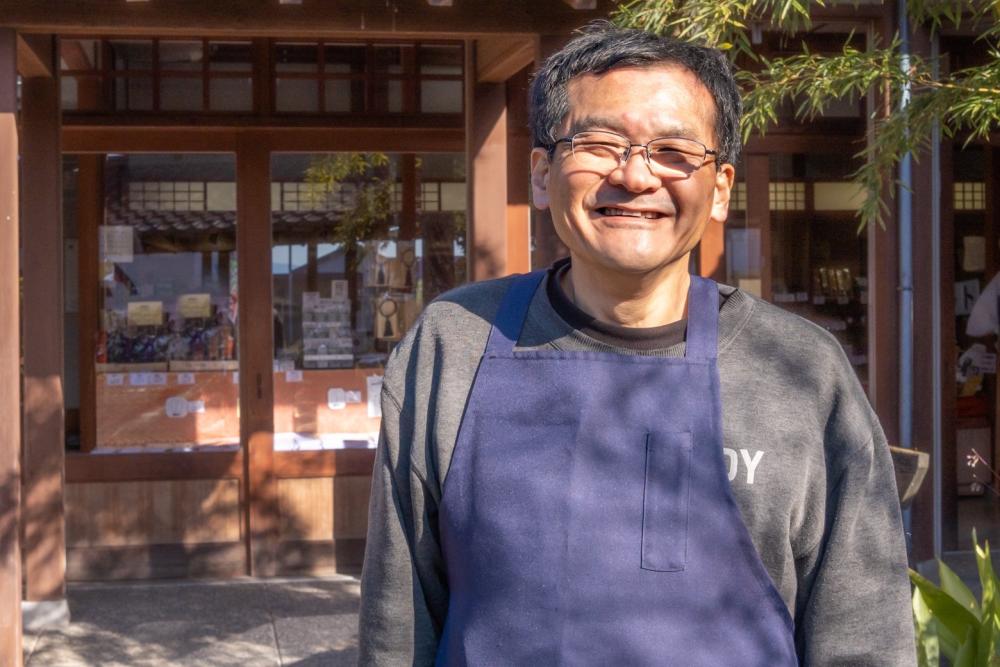 "If temples and monks are not near and dear in your daily life, you may think that a monk is a special type of person who has undergone religious training and is sacred and inaccessible for general people.
That is not true at all. If you see a monk at a temple on your pilgrimage, you should feel free to talk to him or her. They would be happy to have chat with you."
"When you aren't afraid to talk to the monks and stamp office staff at the temples, or the local people you meet along the pilgrimage trail, they will certainly give you the information you need and, I believe, your trip will be more enjoyable."


Monzen Ichibangai has eat-in spaces where you can relax and enjoy the cafe menu while looking at the neatly landscaped courtyard.
The baked millet and rice cake, named Awakutta, is a very popular specialty of this store and not available anywhere else.
Even the long-time pilgrim veterans who know all the good foods around Shikoku frequent the store for this simple delicacy, saying, "whenever I come to temple one, I gotta eat this!"
In order to be served in freshly cooked condition, Awakutta is baked to order. You can order in advance and browse the pilgrimage goods and souvenirs while waiting.
In case you want to save them later or to share them with your family and friends at home, boxed sets are available to go as well.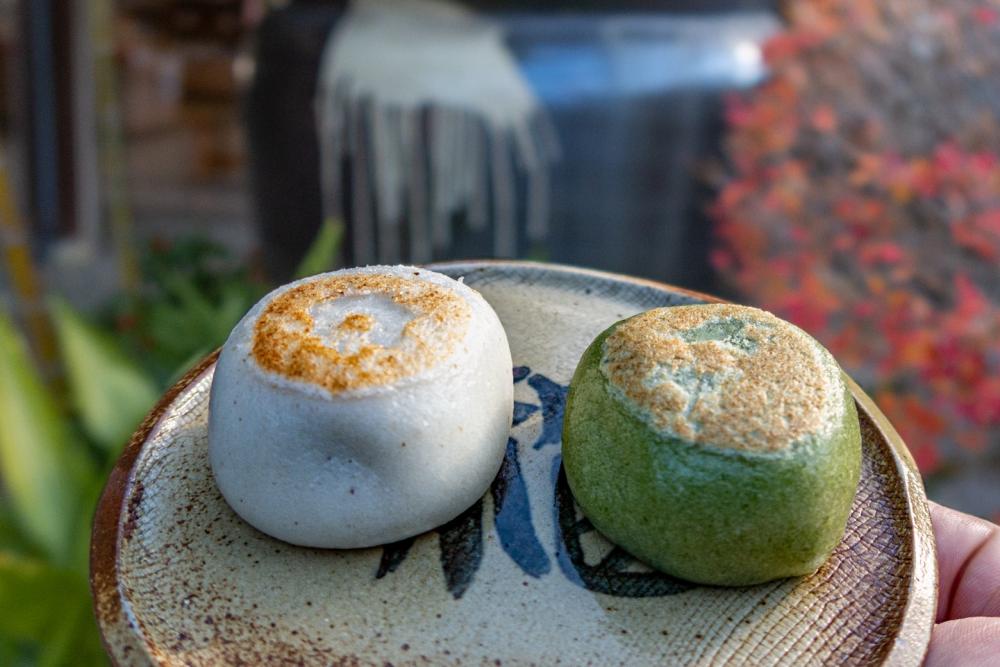 Another hidden gem on the café menu is wasanbon soft-serve ice cream.
The area around Anrakuji, the 6th temple, historically produces rare wasanbon, sugars made using a Japanese traditional process and usually used for high-class Japanese confectionery. Today, wasanbon production is limited to only a few areas in Japan, such as this region in Tokushima and the eastern part of Kagawa.
The soft-serve vanilla ice cream with the boiled-down caramelized wasanbon sauce, taste so sophisticated and delicate, quickly melting in the mouth without too strong of an aftertaste. Not sickly-sweet but rather refreshing, you can keep eating as much as you want.
The sprinkled black sesame with the caramelized sauce also gives a slight flavor similar to roasted Naruto Kintoki sweet potato, another specialty of Naruto.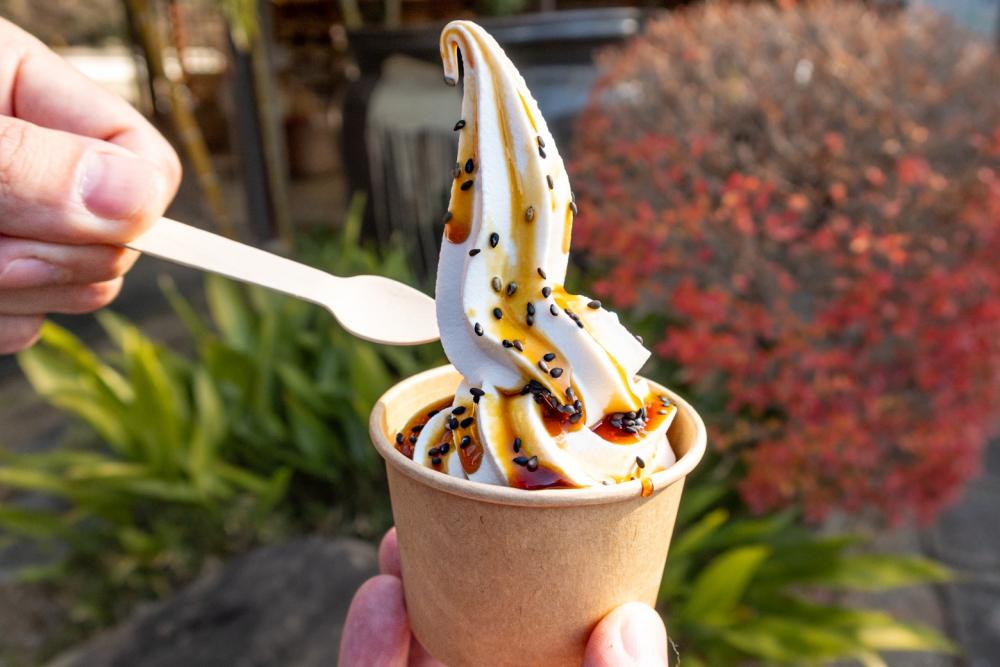 For those who just want to try a one day pilgrim experience without purchasing a complete set of pilgrimage gear, Monzen Ichibangai has rental pilgrim outfits. Changing rooms are also in the store.
Of course, you can buy a complete set of pilgrim gear and change here before embarking on your pilgrimage as well.
Monzen Ichibangai is not only for those who are about to start a long journey, but also for those who have completed their pilgrimage and are only visiting Ryozenji. The store is very well-stocked with a variety of Tokushima souvenirs. For those who want to enjoy a little bit of everything, thoughtfully selected sets of souvenir items are very convenient.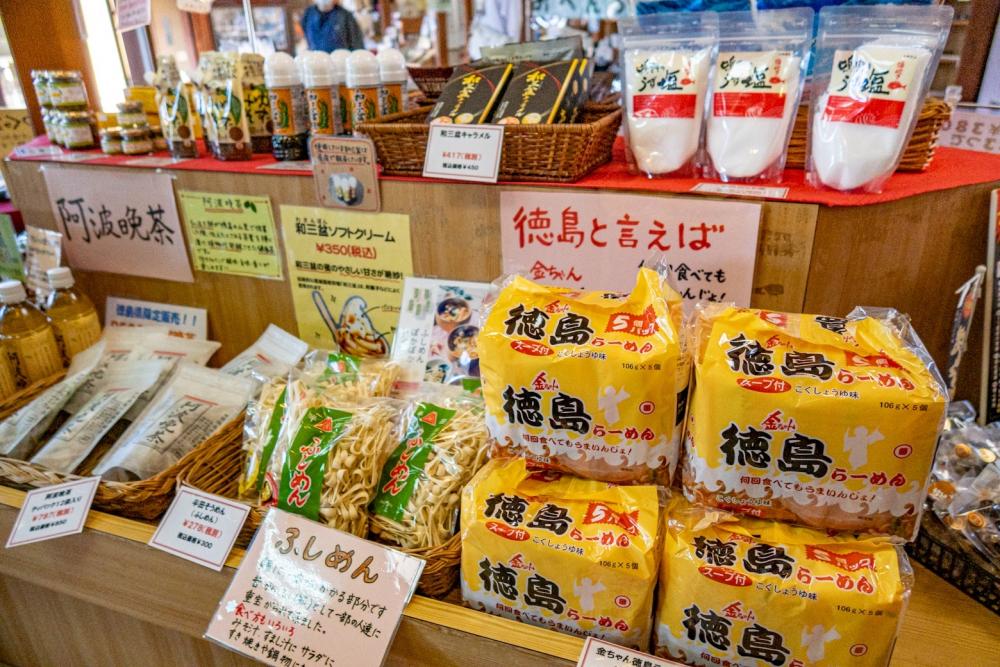 Plenty to see even in the short distance to the next temple
Now, let's set out on a walking pilgrimage.
It is a very short walk of about 1 km to the next temple, Gokurakuji.
If taking the main road, it is almost a straight line and you can arrive at the temple in no time. But wait, why don't you take time to walk along the traditional pilgrimage route that passes between old houses or to stop by some of Tokushima's popular tourist attractions near the route.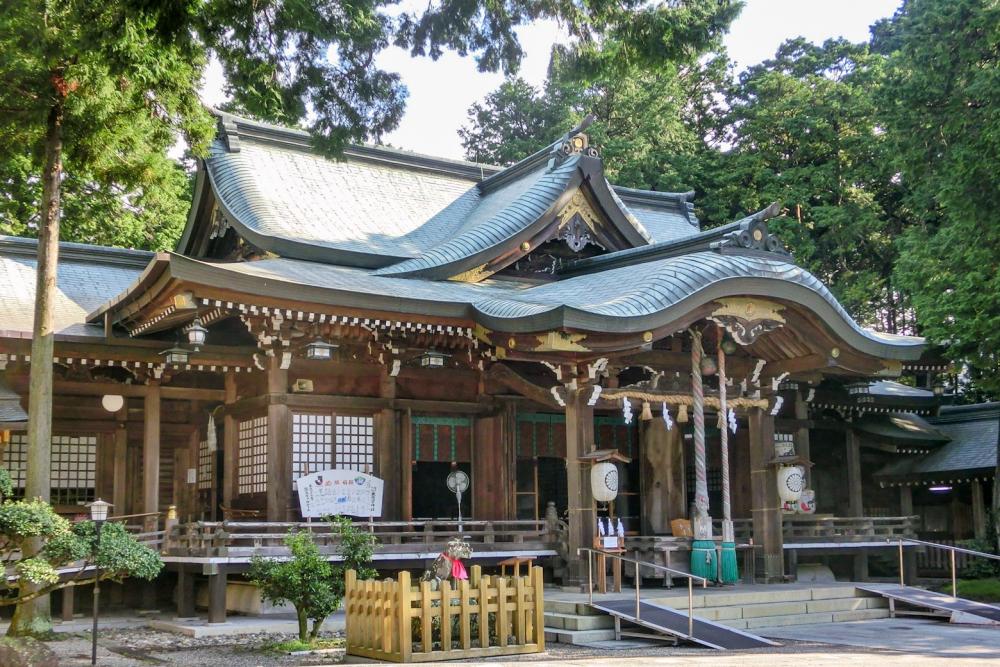 Located about 1 km behind Ryozenji, Ōasahiko Jinja is the largest and highest ranked shrine in Tokushima.
The big precinct of the shrine is protected by thick forests. Aside from the main shrine, there are eight other smaller shrines in the forest, for example, the god of water and the god of academic success, as well as brick bridges built during World War I by German soldiers who were interned in a POW camp near the shrine.
Visitors are first greeted by a huge camphor tree, the sacred tree of the shrine. Although the tree is more than 1,000 years old, it still has a very youthful appearance with its branches and leaves spreading wide and lively.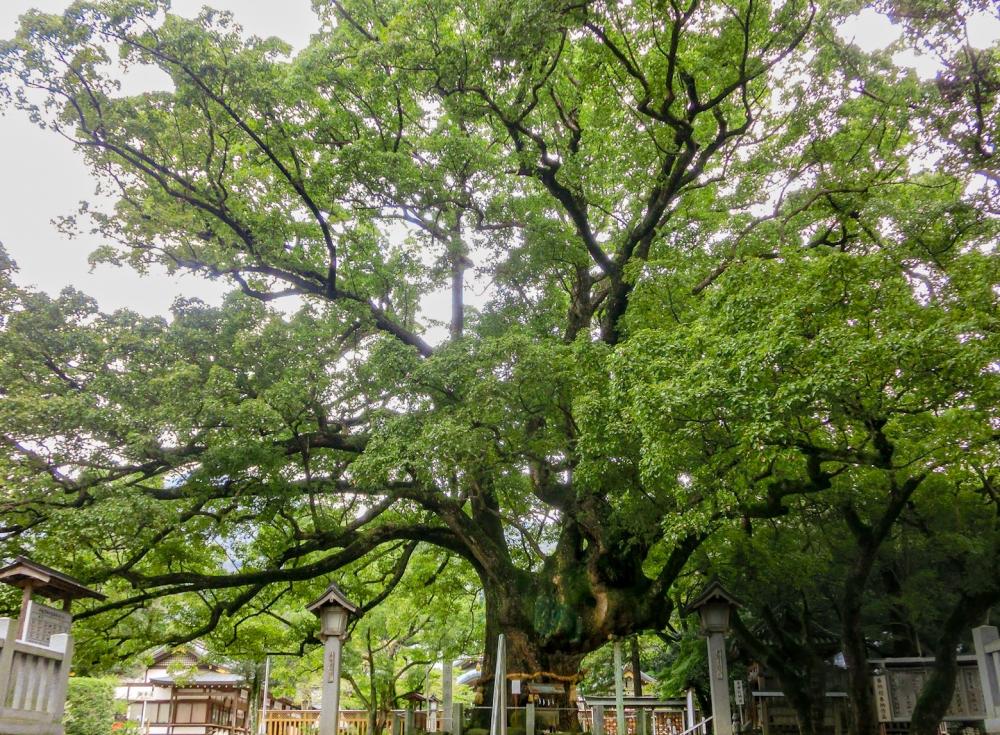 The Naruto German House is located halfway between Ōasahiko shrine and Gokurakuji temple adjacent to a michinoeki (roadside station), Daiku-no-sato.
At Bando POW Camp, German soldiers' human rights were respected, and they were allowed to live as independently as possible. The German POWs used their advanced skills in various activities and deepened friendships with the locals.
It was at this camp that Beethoven's Ninth Symphony, which is a New Year's Eve tradition in today's Japan, was performed for the first time in Asia. The performers were, of course, German soldiers.
The roadside station's name, Daiku-no-sato, means the home of the first Ninth (symphony in Japan) in Japanese.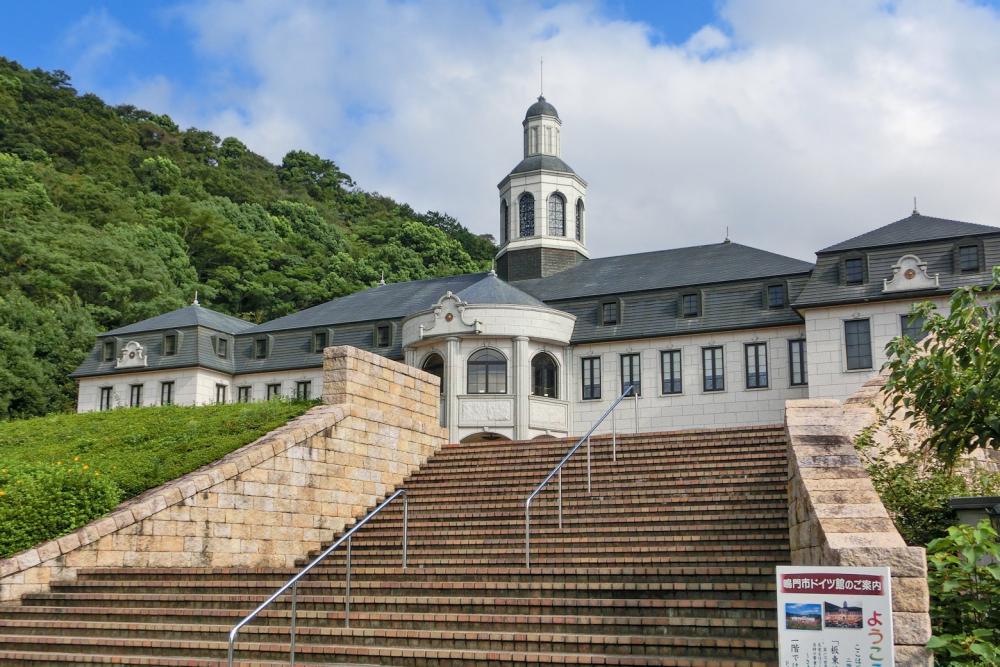 Part of the former camp site adjacent to the Naruto German House and the roadside station has been developed into a park with the remains of the buildings from that time.
The POWs also taught the locals how to bake German breads, and visitors can buy German breads from a long-established bakery that has been carrying on the baking methods at the roadside station store.

The first 15km, packed with the essence of the Shikoku Pilgrimage trails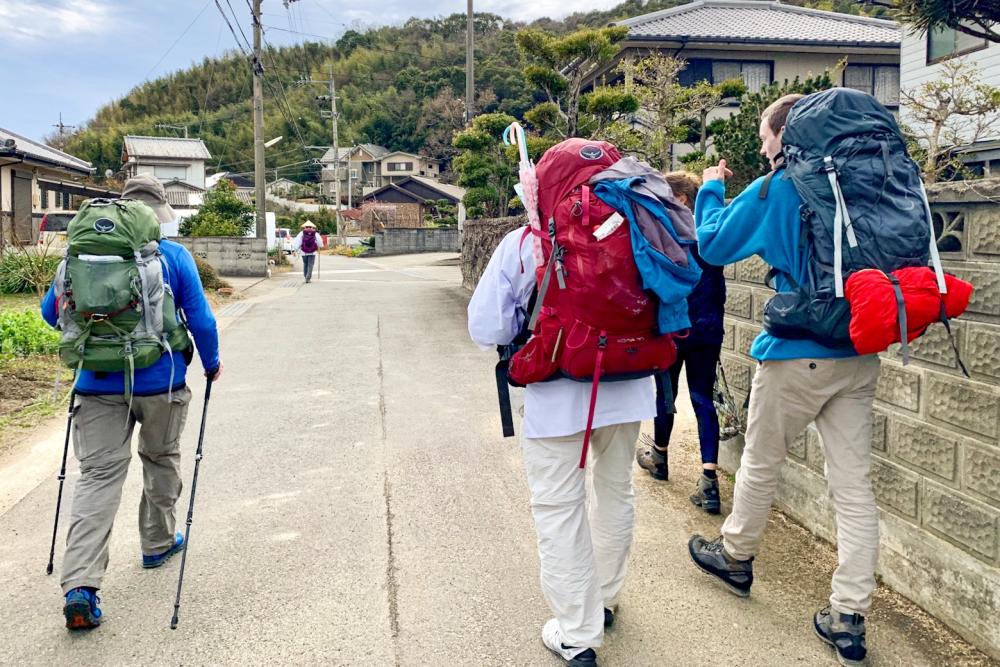 Do you know Tokushima has 23 temples of the Shikoku 88 temples pilgrimage and 20 of them are located in the eastern Tokushima area?
Most of the first 20 temples are close to each other and more accessible by public transportation, making it easy to visit the temples from a base hotel in the center of Tokushima city.
During the spring and fall seasons, a lot of pilgrims can be seen walking along the pilgrimage trails even on weekdays.
The daily walking distance of a pilgrim is usually 15 to 25 km.
Though some of the most hardcore pilgrims can walk 30 - 40 kilometers in a day, the majority walk around 20 kilometers every day, which allows them to keep walking the long distances without straining their legs or burning out.
The distance one can proceed also depends on whether the road is flat in town or with many ups and downs through a mountainous area.
Starting from Ryozenji, the first temple, a little over 15 km away is Anrakuji temple in Kamiita, which is the first temple on the Shikoku Pilgrimage that has a shukubo (temple lodging.)
Therefore, walking from Ryozenji to Anrakuji and staying at the shukubo is the standard itinerary for the first day of many walking pilgrims.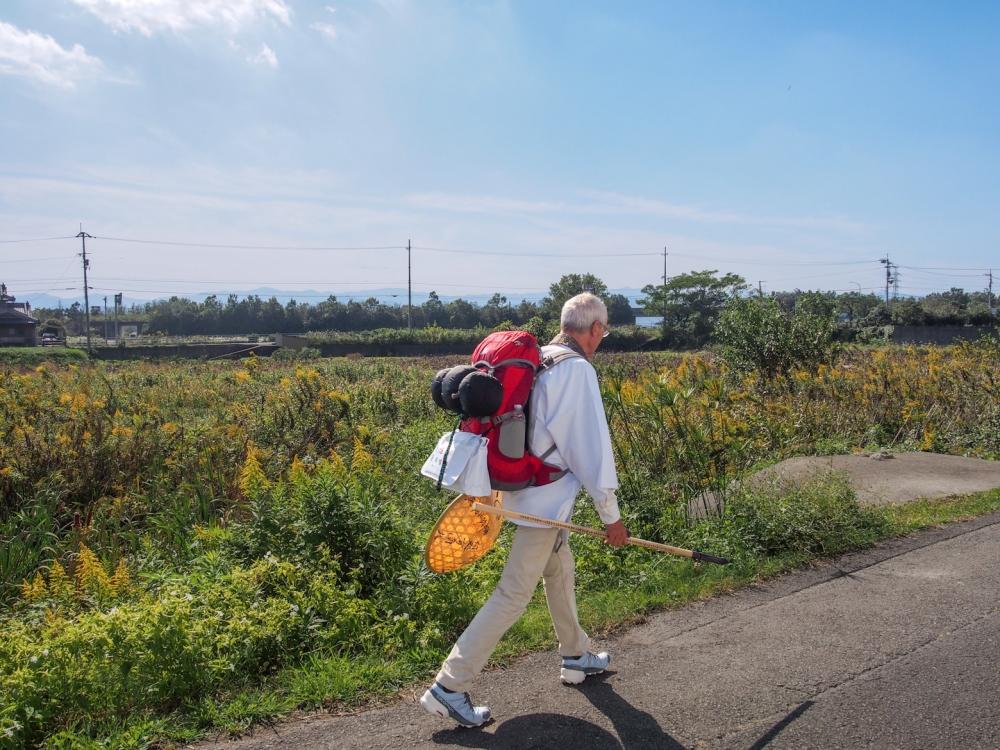 Also, this route from Ryozenji to Anrakuji is highly recommended to those who want to walk on the pilgrimage trails for a day, or who are interested to try it out.
This section has the essence of what the Shikoku Pilgrimage trails can offer.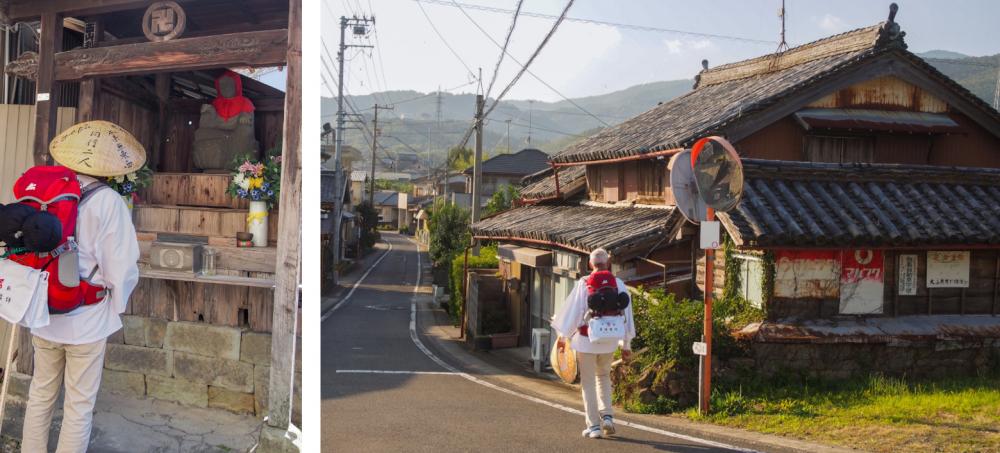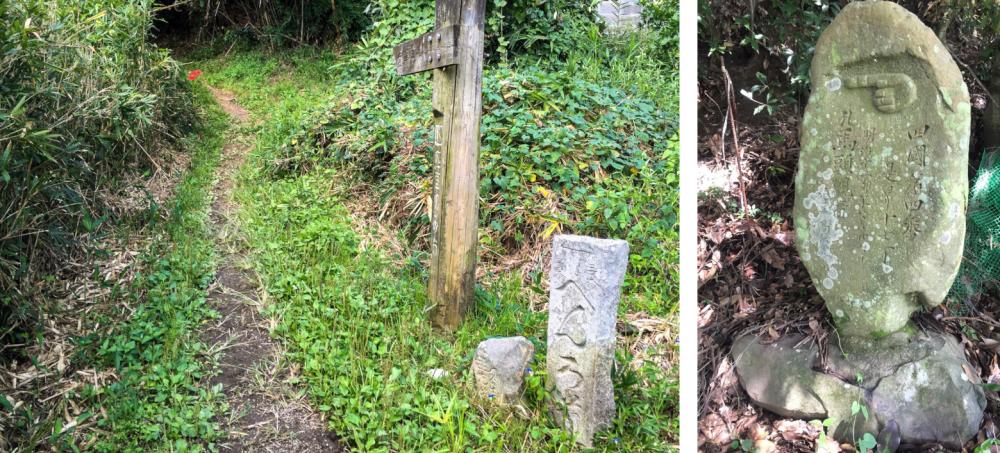 What makes the Shikoku Pilgrimage trails different from other long-distance trails that pass through nature all the time is the variety of scenery along the route.
The pilgrimage trails sometimes pass through traditional rural villages, along rice paddies and farm fields, in mountains for several kilometers, or along the coastal roads all day long, looking only at the waves of the Pacific Ocean.
Along the way, pilgrims will encounter the local people who have been watching over the pilgrims for generations, and you will enjoy exchanging greetings and small talk with them.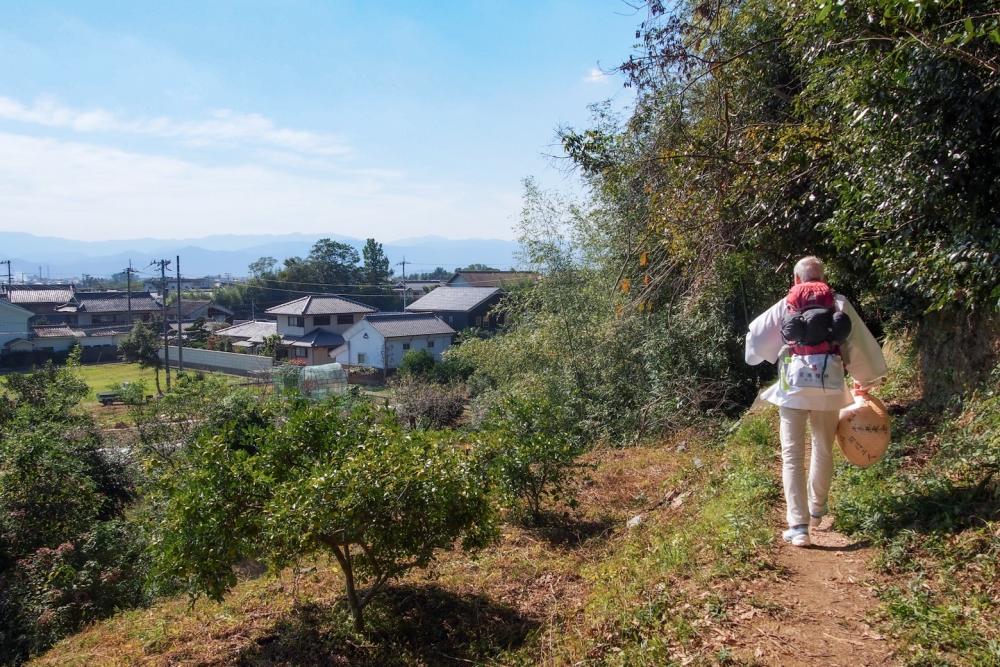 The section from Ryozenji to Anrakuji passes through the three towns of Naruto, Itano, and Kamiita. The trail in this section is mostly paved village road with many houses, but surprisingly many unpaved natural paths remain along the way.
All of the natural paths are flat and easy to walk on. Since they pass through the hills and woods right behind residential neighborhoods, even those who are apprehensive about suddenly walking in the mountains can rest assured that they are in good hands.
Old pilgrimage markers and stone Buddha statues remain along the way, and some parts of the trail are designated as national historic sites, where the old paths are still intact, just like following in the footsteps of the old pilgrims.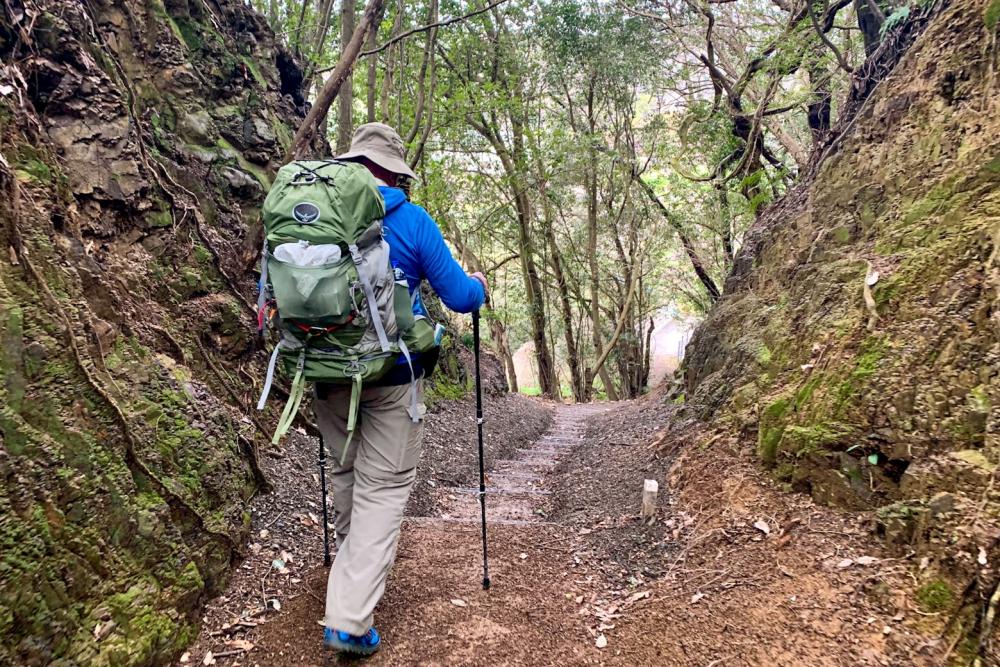 The majority of the 1,200 km Shikoku Pilgrimage trails are like this section between Ryozenji and Anrakuji. The steep and rough sections where you have to walk up and down mountain paths account for less than 30% of the total distance.
Therefore, this first section is perfect for a trial pilgrimage. There is no need to try a difficult section first and lose your motivation.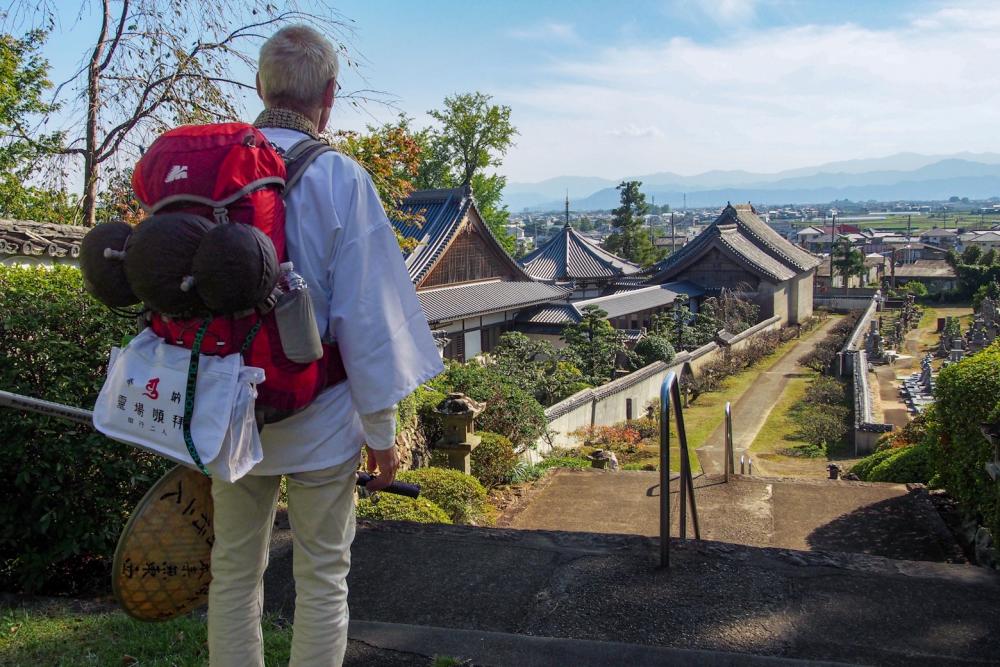 After you spend a day leisurely and enjoyably walking the trail from Ryozenji to Anrakuji, you may be surprised at how unexpectedly easy it is.
It is not as scary as you thought it would be, and you may even feel encouraged to complete the entire 1,200 km circle.
Now is the time. Embark on your dream journey to the Shikoku Pilgrimage here in East Tokushima.
■Monzen Ichibangai
29-6 Nishiyamada, Bando, Ōoasa-cho, Naruto, Tokushima  Tel : 088-689-4388
https://monzen-ichibangai.com/
■Ryozenji, the first temple of Shikoku 88 temples pilgrimage
126 Tsukahana, Bando, Ōoasa-cho, Naruto, Tokushima    Tel : 088-689-1111
■Ōasahiko Jinja
13 Hirotsuka, Bando, Ōoasa-cho, Naruto, Tokushima     Tel : 088-689-1212
http://www.ooasahikojinja.jp/
■Naruto German House
55-2 Higashiyamada, Hinoki, Ōasa-cho, Naruto, Tokushima  Tel : 088-689-0099
https://doitsukan.com/