Japanese Sweets You Will Only Find in Tokushima
---
From Western sugary staples to some of the most unique regional Japanese desserts, the variety of scrumptious sweets you can enjoy in East Tokushima are vast and satisfyingly good. If you are looking for the perfect souvenir or simply a place to refresh and rejuvenate during a vacation, these sweets shops deliver the goods.
Tokushima Original Sweets at Hallelujah Sweets Kitchen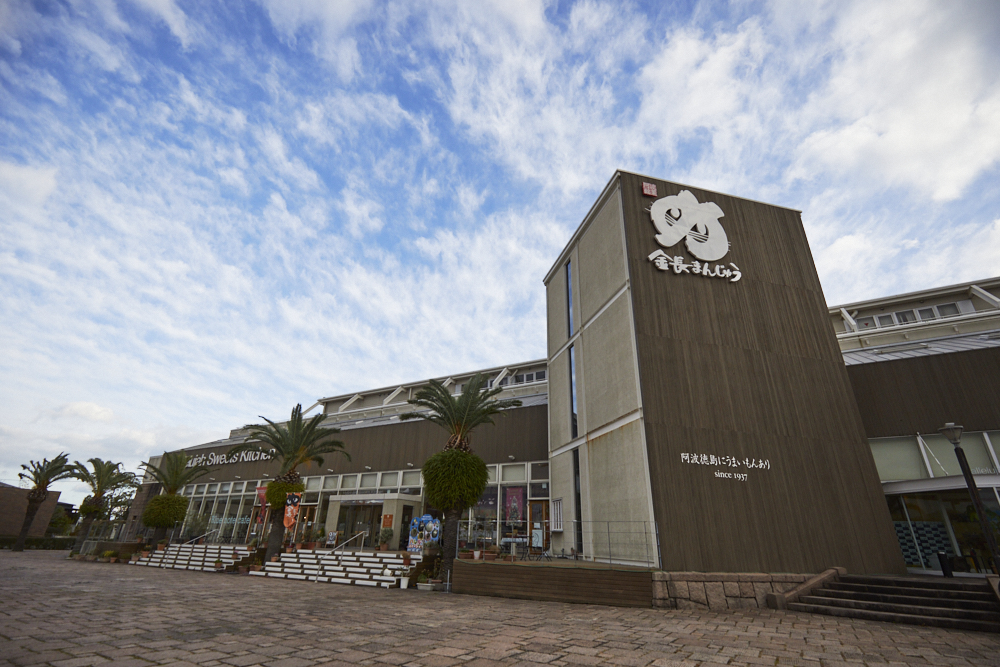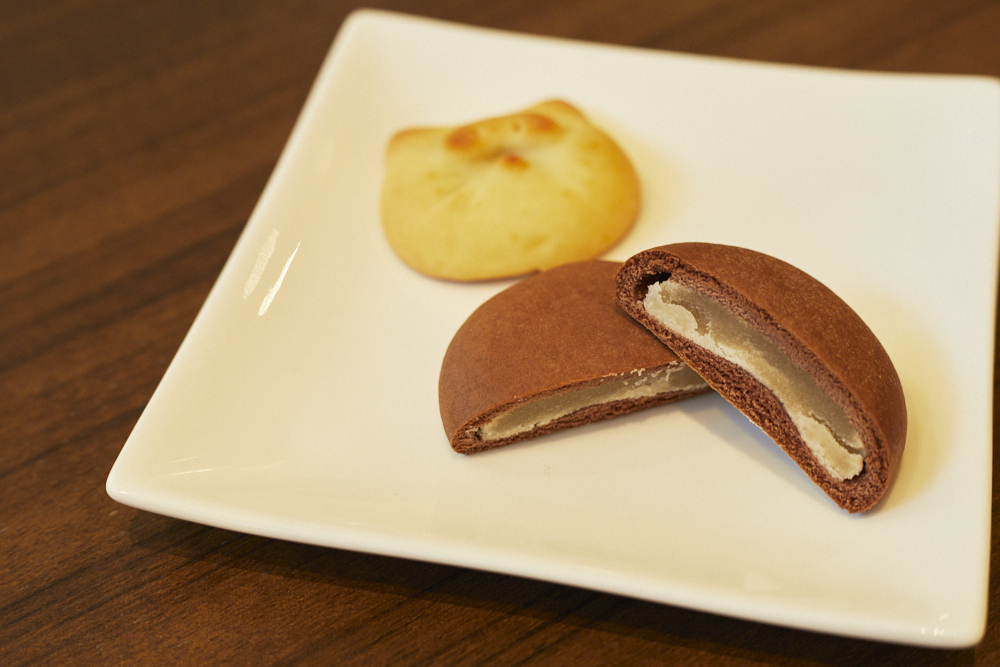 Hallelujah Sweets Kitchen is halal-friendly and has locations throughout the region. Find a shop conveniently located in the Aeon Mall close to Tokushima Station, or the Hallelujah Sweets Kitchen flagship store about 20 minutes from the station. In addition to patisserie standards like egg tarts, (outstanding) cream puffs, mont blanc and pudding, there is a wide selection of wagashi that they've made since the company's establishment in 1930. The Blue Note Café in the flagship store is serving brown sugar manju, dango and daifuku alongside various cakes and coffee. In the souvenir corner you can find kincho manju, one of Tokushima's most famous sweets invented by Hallelujah Sweets themselves. (The name "kincho" comes from an Awa legend about a raccoon dog – hence the tanuki emblazoned on the manju boxes.) They have a chocolate dough and a sweet white bean filling and come in many flavors. Another regional specialty you can purchase are Naruto kintoki sweet potato and rare cheese pastries, as well as karinto made with Tokushima ingredients.
Their original tanuki cakes each assume the shape of a slightly different raccoon dog, forming an adorable family when assembled. The cakes are topped with whipped cream and coated with tempered chocolate and nuts (for the ears), with the light buttery cream on the inside complementing the rich, crisp chocolate nicely. Elementary-age children and older can try their hand at making tanuki cakes at the Hallelujah Sweets Kitchen's flagship store. Baking classes take place every week on Wednesdays, Saturdays and Sundays and require a booking in advance. Although classes are conducted entirely in Japanese, those with little Japanese ability can follow along. Reservations can be made in-store or at 088-699-7611. Only the flagship store has baking classes.

When: 9:30am-5:30pm; Closed the 1st Jan
Where: 30 Hiroshima-kitakawamukai-yonnokoshi, Matsushige-cho, Itano-gun, Tokushima Prefecture
More info: http://www.hallelujah-sweets.com
Takeuchi Confectionery Creates a Tasty Treat Like None Other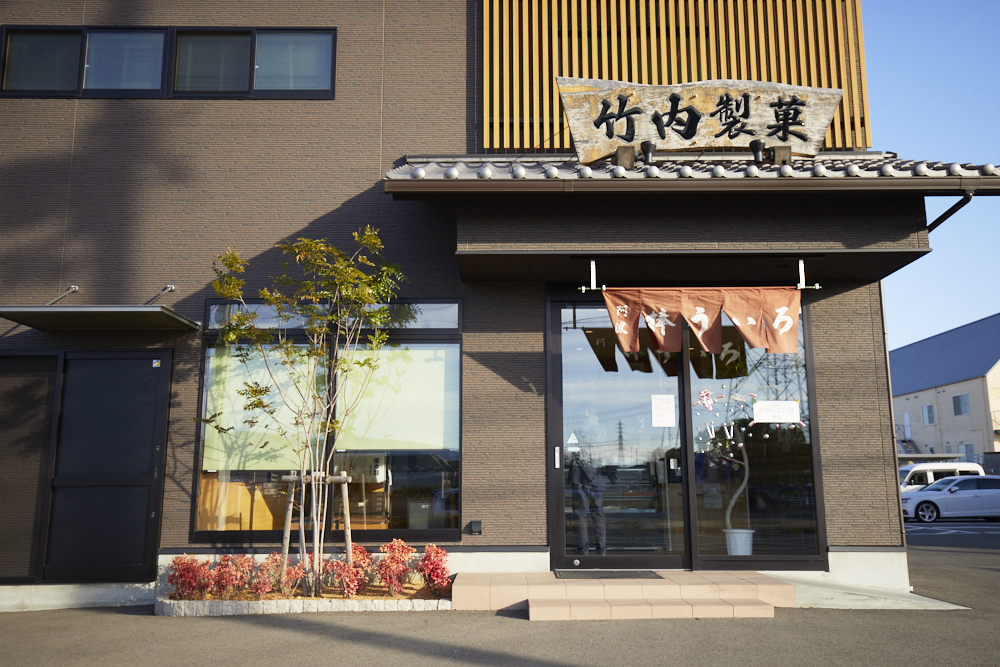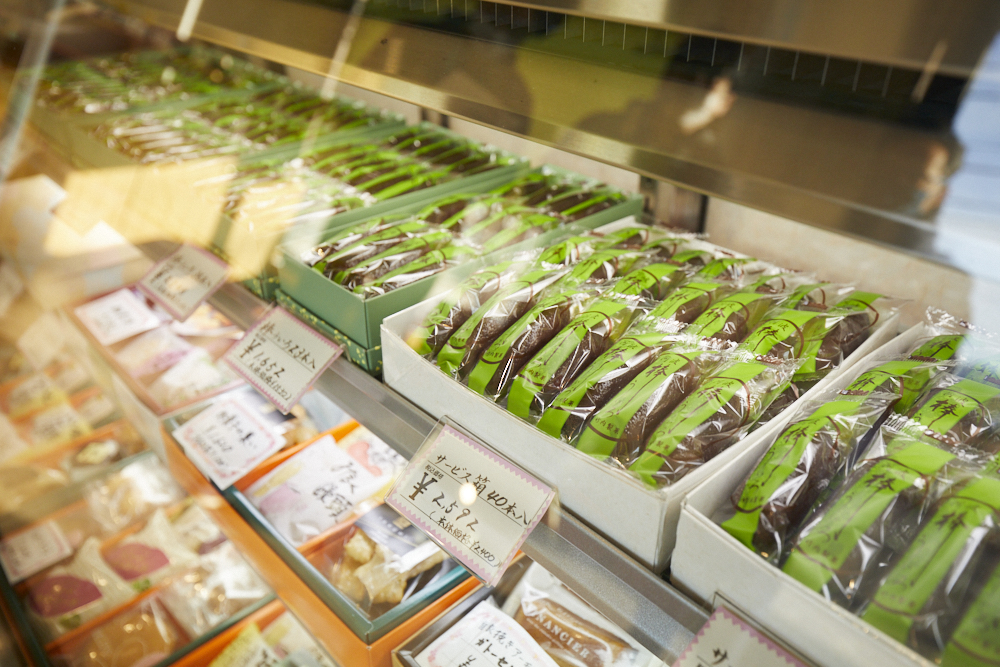 Awa city is one of Japan's largest producers of uiro, a sweet made from rice flour or other grains mixed with sugar and then steamed. Uiro was invented with the introduction of sugar cane to Edo-era Japan, and unlike the similar wagashi yokan, it is known for its sticky, chewy texture. Takeuchi is a Japanese confectionery company in Tokushima specializing in "bar uiro," an oblong rendition of the beloved dessert. With sweet bean paste and a subdued sweetness, it is exceptionally soft. Since Takeuchi's bar uiro is made only with natural ingredients (azuki bean and rice flour) the shelf life is only three days, but this makes the bar uiro an all the more prized souvenir – and for Tokushima natives, a particularly nostalgic treat. (If you want them to keep longer, stick them in the freezer right after purchase.) Bar uiro come in individual packages so they can be purchased in any quantity and enjoyed fresh.
When: 8:30am-5:30pm (Please check the website for the New Year's holiday hours)
Where: 141-1 Ono, Hachiman-cho, Tokushima City, Tokushima Prefecture
More info: https://takeuchiseika-bouuiro.com
Taste this Truly One-of-a-Kind Cookie at Pâtisserie Au Poivre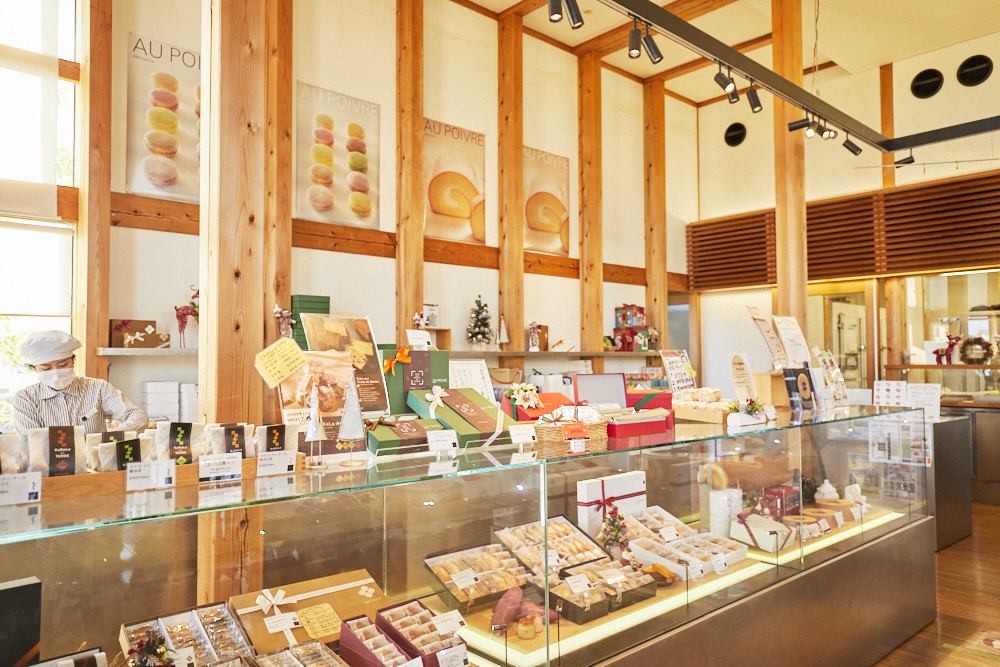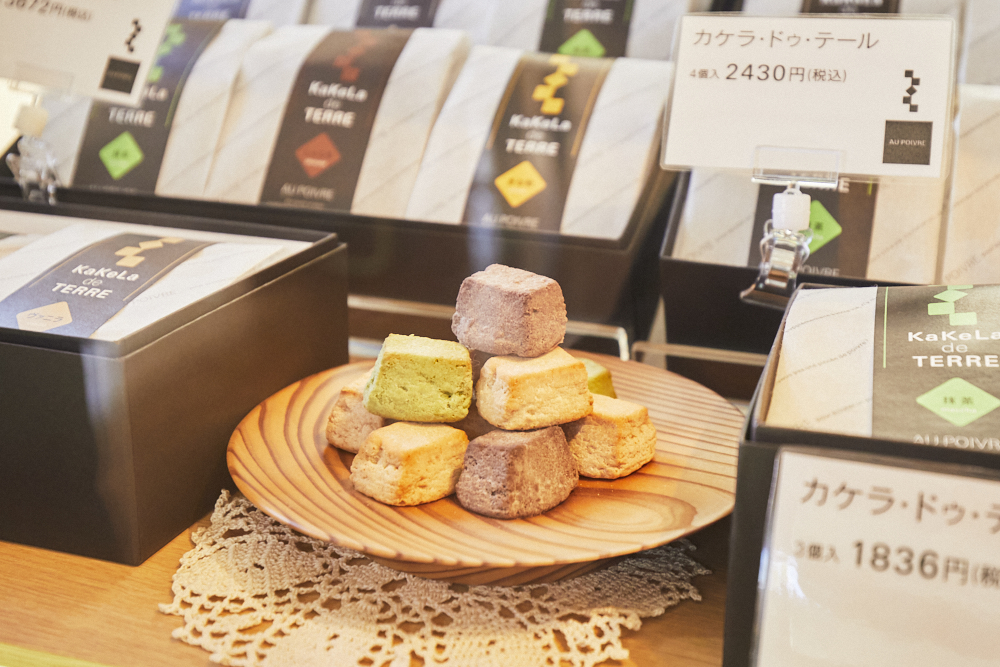 If you're more of a yogashi (Western sweets) person, or are shopping for one, consider Pâtisserie Au Poivre. The popular pastry shop offers staples you can find throughout Japan like baumkuchen, roll cakes and puddings, but one concoction unique to Tokushima is Kakela de terre, a type of cookie. The ingredients include koshihikari rice flour once cultivated by the Nakagawa and Katsuura rivers and "Awa wasanbon" sugar, derived from a type of sugar cane grown in the southern slopes of Tokushima's Agano Mountains. Kakela cookies were conceived to honor the natural resources of Tokushima; they also use tenpi-salt, from the waters of coastal Kuroshio-cho in Kochi Prefecture and wheat grown in Ishikari Plain in Hokkaido Prefecture. The crumbly texture is meant to bring out these domestic flavors. In addition to vanilla and chocolate, there are soybean flour and green tea flavors.
You can purchase the cookies online, but the pâtisserie makes for a pleasant visit, with high ceilings, a terrace and windows to the pastry kitchen.