Original capsule toys at a temple?
Anrakuji's creative and fun approach to carrying out its mission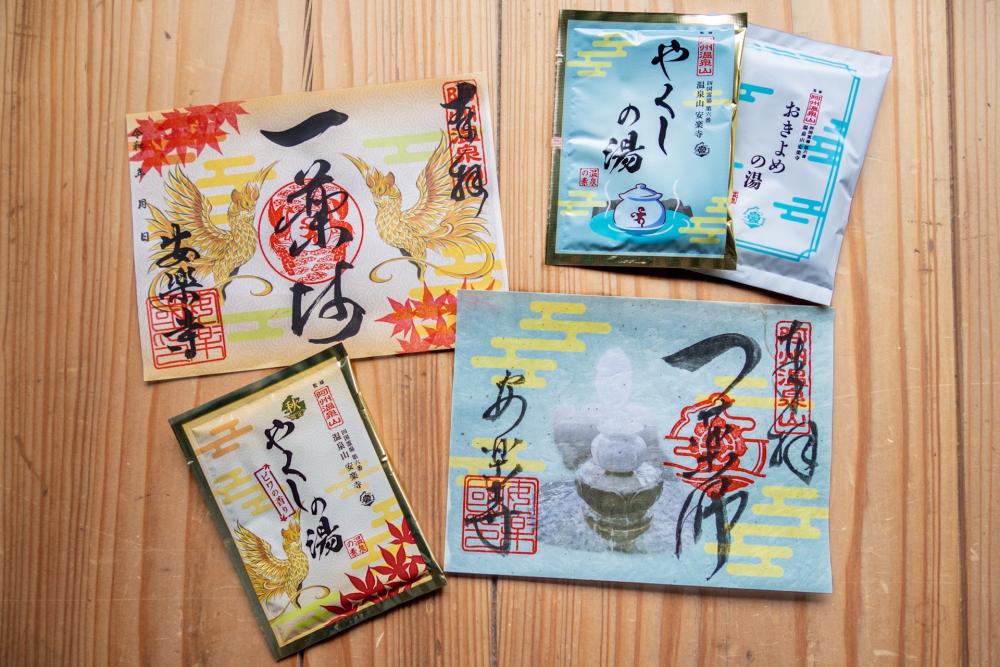 Anrakuji in Kamiita, Tokushima, is the 6th temple of the Shikoku 88 pilgrimage.
Its temple lodgings with a natural hot spring have more than 400 years of history and are still a staple for pilgrims to stay at and recover from their first day of walking.
Its efforts to add new attractions to the temple have gained widespread recognition recently.
---
400 years of devotion to support Ohenro-san at Anrakuji
Anrakuji is the sixth temple of the Shikoku 88 pilgrimage.
It is also known as the first temple lodging, when a pilgrim starts from the 1st temple, Ryozenji, and visits all temples in numerical order.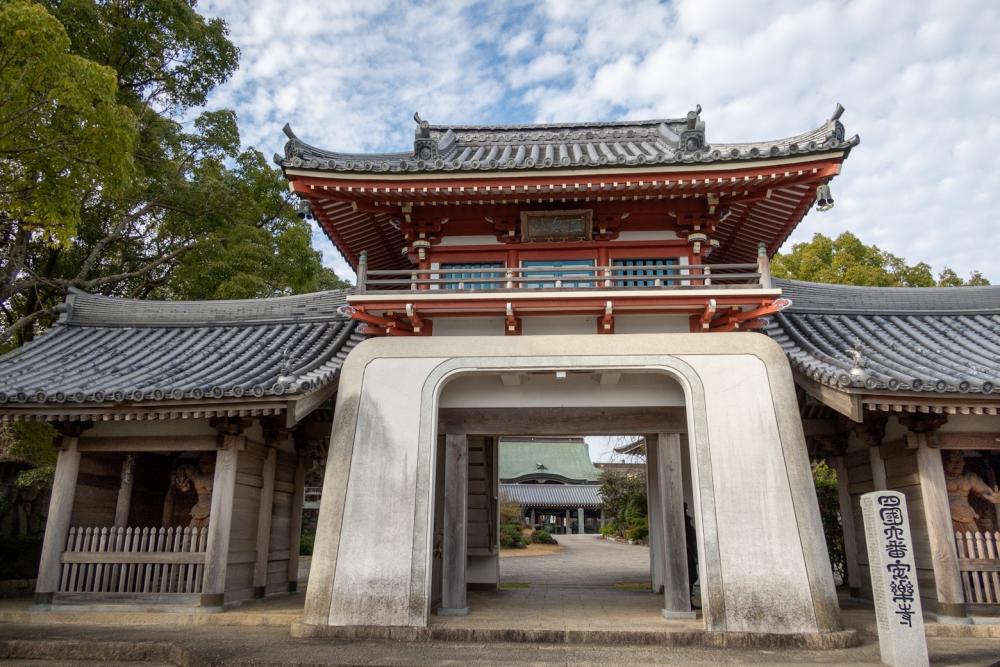 An average pilgrim who visits all 88 temples by foot usually walks 15 to 25 km a day. Since Anrakuji is located at the convenient distance of 16km from Temple#1 Ryozenji, many walking pilgrims, called Ohenro-san in Japanese, set it as their first day's goal and stay at the Shukubo (temple lodging.)
In recent years, an increasing number of non-Japanese pilgrims come all the way from overseas to walk the 1200 km long Shikoku pilgrimage. In their list of "things I want to do while walking Shikoku," staying at a shukubo is ranked high.
It is no surprise that a large percentage of guests at Anrakuji shukubo before COVID were internation

Taking a bath in a hot spring is also a top-ranked activity for international tourists to Japan and Anrakuji shukubo provides that too.
Anrakuji is the only Shikoku 88 pilgrimage temple shukubo that has hot springs. It is said that Kukai, the founding monk of the Shingon sect of Japanese Buddhism 1200 years ago and the iconic figure of the Shikoku pilgrimage, discovered the hot springs.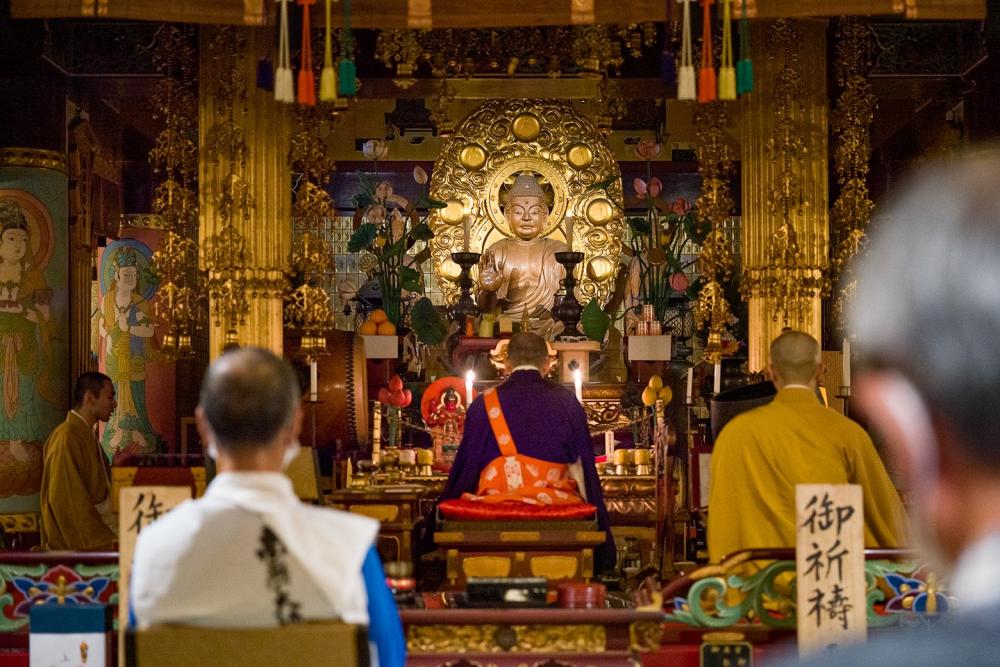 One of the best things guests can do at a shukubo is to participate in prayer services at the temple.
While most of the temples with shukubo throughout Japan invite guests for their morning services, Anrakuji's is the evening service. They don't want to interrupt the busy pilgrims leaving the temple early in the morning
Away from the hustle and bustle of the city, Anrakuji at night is calm and tranquil. After chanting the sutras with the temple monks and listening to the priest's sermon at the Hondo (the main hall), guests are led to the dark hall in the back.
In the cave-like hall, a blue-lit stream flows in the dim candle light. Guests join the ritual by offering a branch of a camphor tree and letting a candlelight in a cup float on the stream to pray for their deceased loved ones or ancestors. Then, they place thin wooden strips on which they write their wishes into the Goma fire ritual to burn them.


Anrakuji shukubo has over 400 years of history, and recently their approach to providing something new to visitors has been getting a lot of attention from the public.
The person who came up with these creative ideas is the assistant priest monk, Yūhō Hatakeda.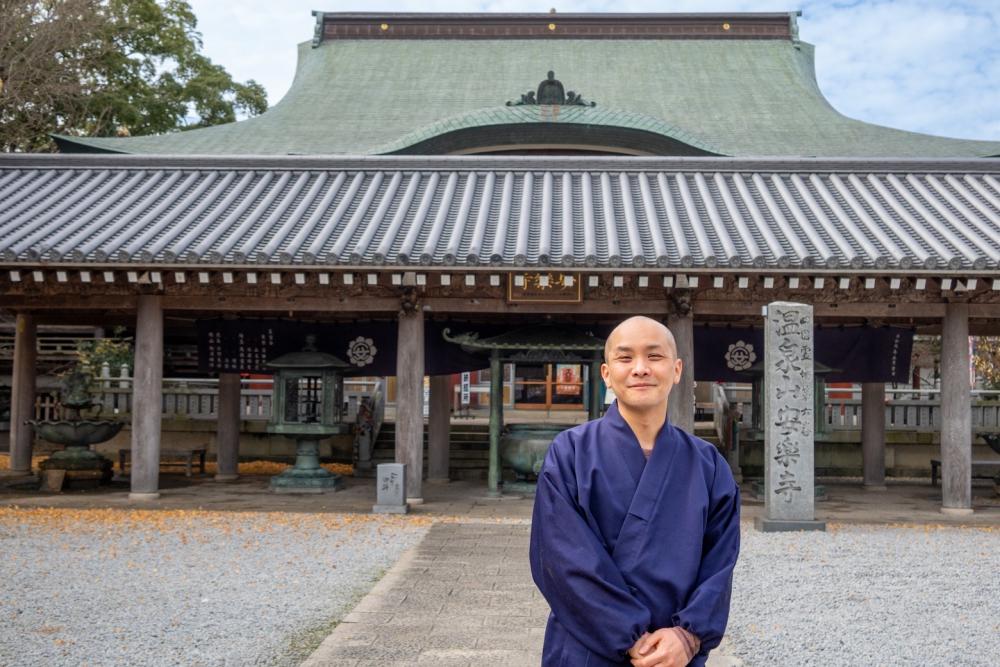 "The shukubos in Shikoku are rapidly closing these days. Kagawa and Ehime have few left and there are only three including my temple in Tokushima now," said Mr. Hatakeda.
Having felt seriously concerned about the situation, Mr. Hatakeda started the temple's Instagram and Facebook accounts to actively spread information on the Shikoku 88 temple pilgrimage and Anrakuji four years ago
Anrakuji original capsule toys in the main hall.
Mt. Hatakeda also came up with a unique idea of selling original capsule toys in the main hall.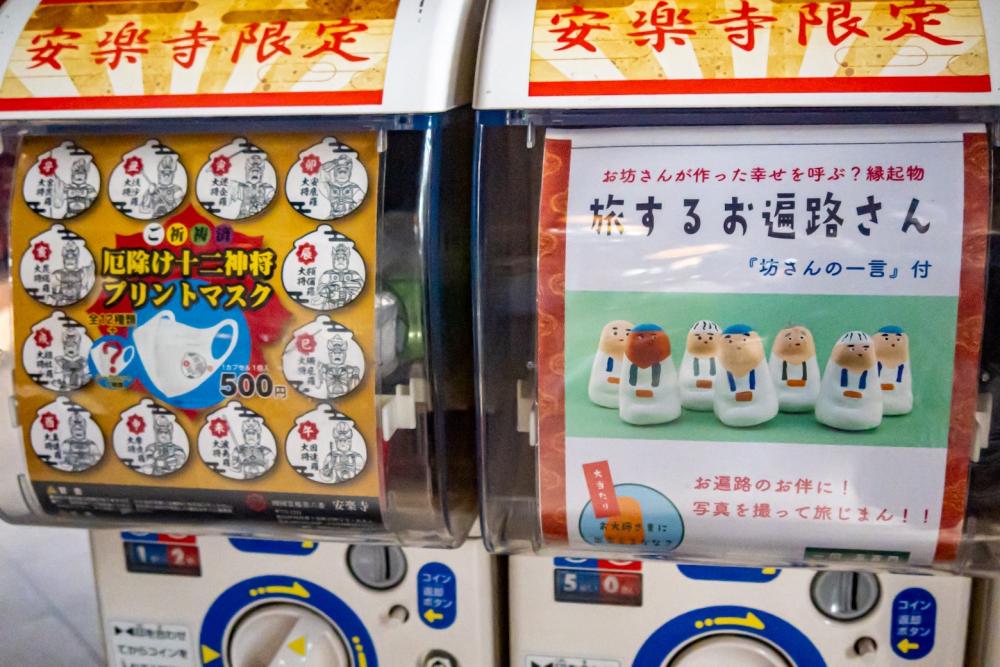 "Nowadays, many temples throughout Japan actively shares information via various channels. To be outstanding and get attention in this environment, I needed to do something unique and different. So, I called for the local young people and started making the capsule toys."
The goods inside the capsules are all original works only available at Anrakuji. Each one was hand-crafted by the artists and is a one-of-a-kind item.
The very first capsule toy was a wooden magatama (carved jewel) made by a local woodcraftsman.
Later, he started asking his social network followers to submit their idea for the capsule toys if they would like. There have been 10 original capsule toys so far from these ideas.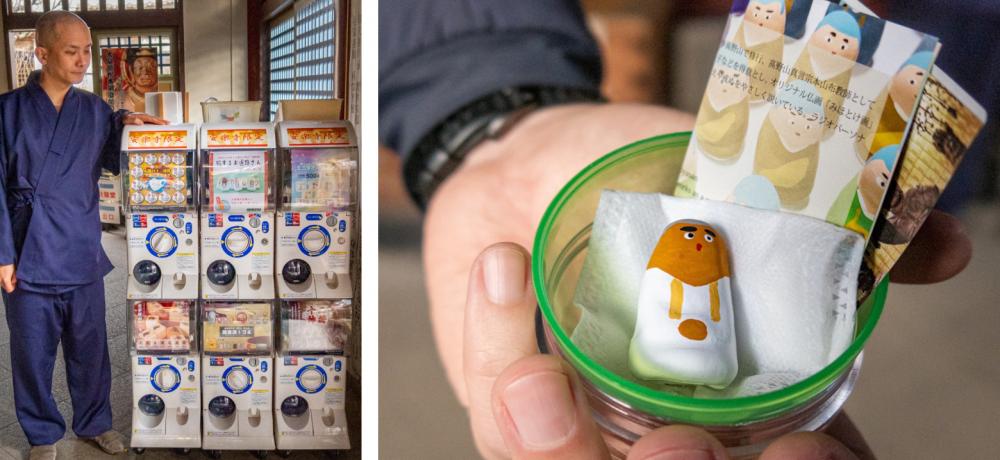 Special temple stamps, collaboration works born from the connection via social networks
Since the COVID crisis began, Shikoku pilgrims visiting Anrakuji temple drastically declined. Still, Mr. Hatakeda didn't stop thinking what he could do in this extremely unusual environment.
He started selling the temple's original special bath salts and decorative stamps.
"I think temples have always played a role in the history as a place artists can exhibit their works," said Mr. Hatakeda. "So, I would like to collaborate with lesser-known illustrators and artists, and I hope to be able to offer them opportunities to make their talents known in the world."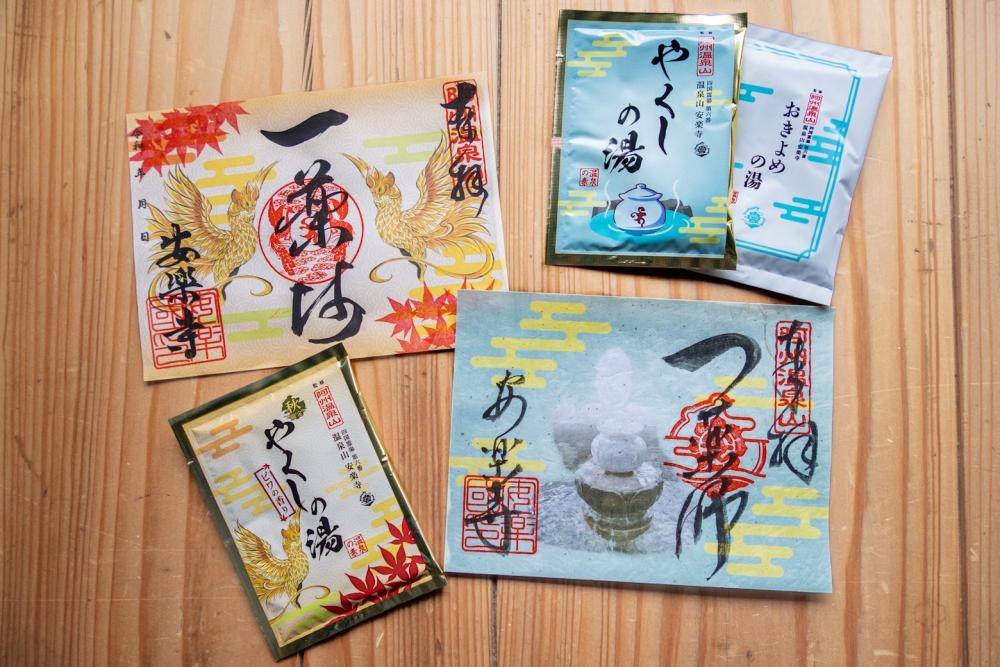 "Through Instagram, I've met a lot of artists living all over Japan and many of them have been kindly offering me their design and drawing skills to help my temple."
The colorful and beautiful artworks on the special temple stamps are done by an amateur illustrator who follows Anrakuji's instagram. Mt. Hatakeda really liked the artworks she posted on her account and sent a direct message to her for the collaboration.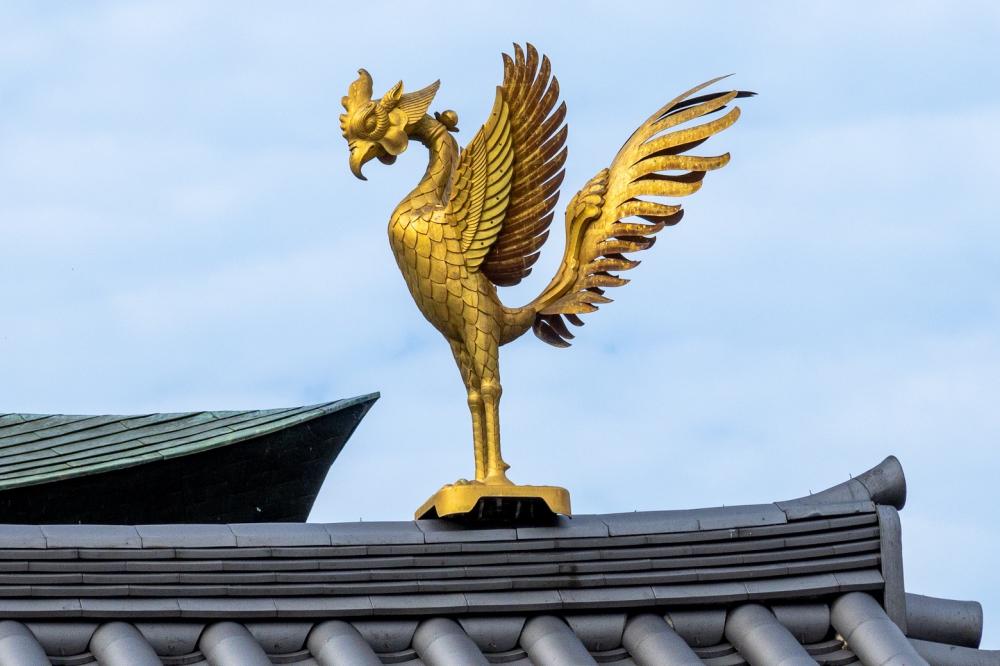 "She can draw in both cool and cute styles. In fact, I believed two different artists drew them at first. When I found it was actually the same person, I was very impressed with her wide-range of techniques and really wanted to ask to use her original works no matter what it takes.
It turned out, she long dreamed of doing the Shikoku pilgrimage and was very happy to collaborate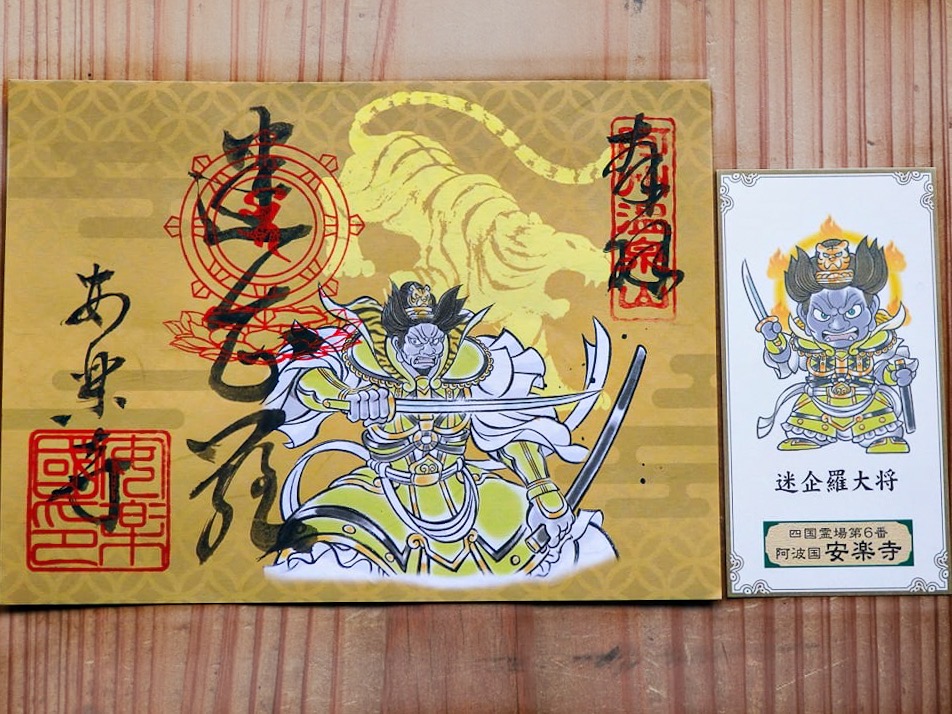 The main deity of Anrakuji, Yakushi Nyorai, is accompanied by twelve guardian deities who are worshipped in association with the 12 animals of the Zodiac. As 2022 is the year of tiger, he asked the illustrator to make a new temple stamp limited to the new year season with the guardian deity for the year of the tiger.
He is also considering making some new capsule toys from the cute illustrations of the 12 guarding deities'. A lot of new projects are going on now.
"I guess that is how the circle of support gradually grows," smiled Mt. Hatakeda.

Original bath salts from the temple of hot springs
"Hot springs are the signature of Anrakuji. In order for more people to know about it, what could be the best tool?
Something that reminds people of hot springs... Yes, original bath salts to make Anrakuji's hot spring at home!"
"Actually, some visitors to my temple are completely unaware of the association between Anrakuji and hot springs. If they see our bath salts sold in the main hall, they would be like 'What? Why this temple sells bath salts?' and probably get interested."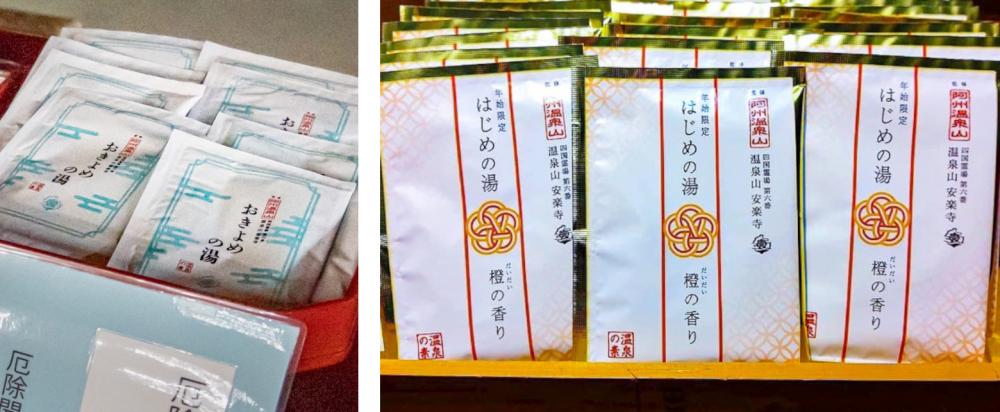 The bath saults contain a mixture of the same hot spring constituents as Anrakuji's.
Aside from the regular type, seasonal limited versions with different colors and scents are occasionally made and sell out very quickly.
"Many people seemed to feel hesitant to come to visit temples in Shikoku during the COVID crisis, even if they really wanted to. For them, I made the special stamps and bath salts available for online purchase through our website. Lately, I have been putting more effort to do something remotely for those who cannot come here under various circumstances as well."

Colorful decorations inside and around the wash basin with a sense of the season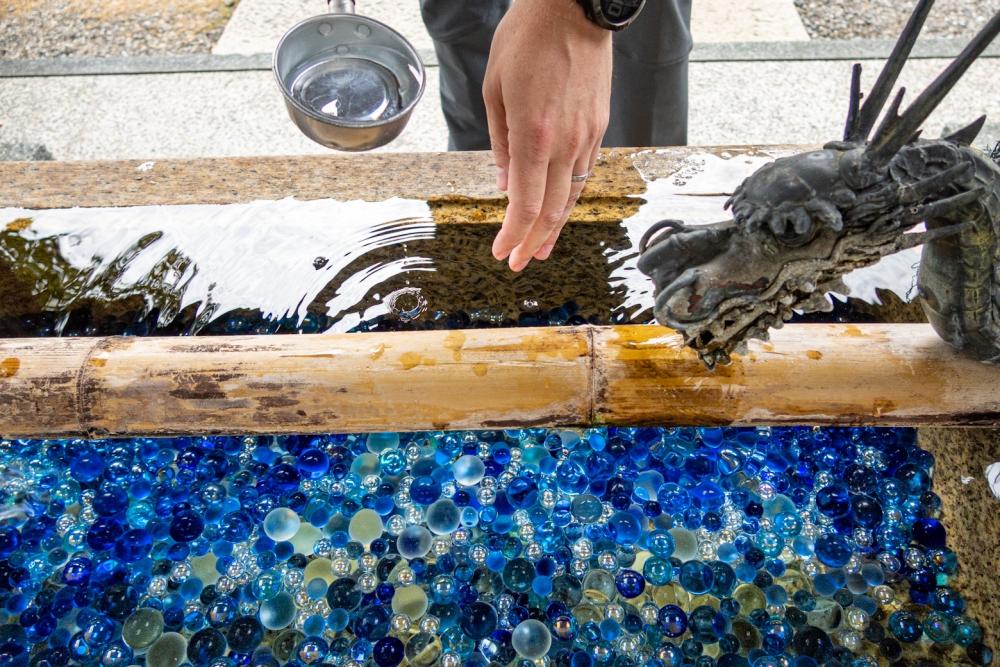 Entering the temple main gate, visitors to Anrakuji will notice many colorfully illustrated tenugui (Japanese traditional cotton towels) are hung and fluttering around the stone wash basin. In the basin itself, various colored marbles are sparkling at the bottom.
The colors and illustrations match the season. It is also Mt. Hatakeda who does all work of changing and re-arranging the design and color of the towels and marbles according to the season.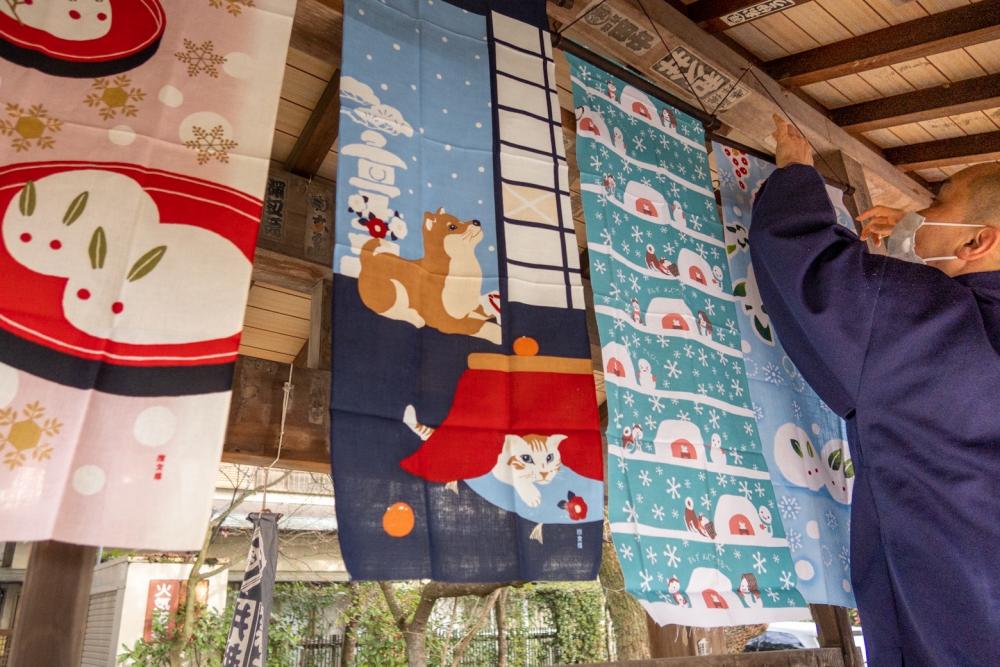 "I hope visitors to my temple can feel the season and like these decorations.
I try to change them not only every season, but also at some well-known traditional seasonal events for the Japanese. For example, during the new year, picking up designs and colors representing new years day. I admit I enjoy myself for thinking and selecting which theme and colors to use next."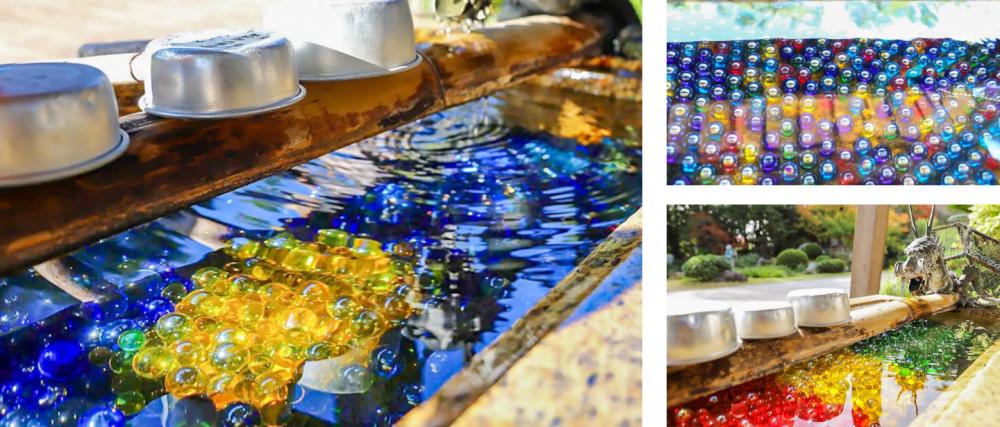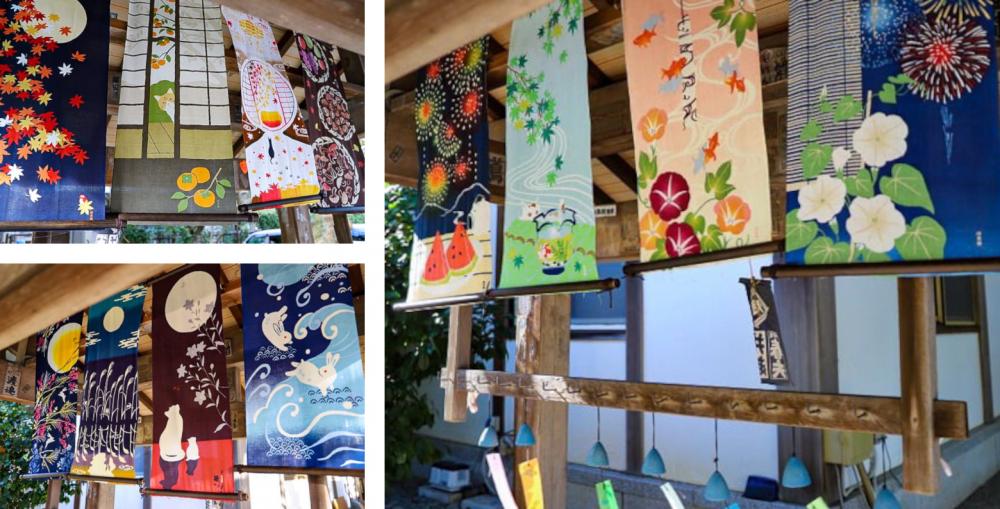 Tenugui cotton towels for summer and fall. Wind chimes in summer too
The special guestroom with the best scenery available now
The shukubo of Anrakuji have special guestrooms which used to be only for special guests such as the priest monks of other temples and high-ranked pilgrim leaders.
Now, these rooms are open to general guests as well.


One of the special guestrooms that has a great view of the carp pond and the two-story pagoda, is now in the process of renovation.
"Since this area is historically the home of indigo dyeing, I would like the shukubo to feature more indigo dyed crafts.
The special rooms will be decorated with indigo dyed items, and I am thinking it would be a good idea to add a private hot spring in the room to be able to see its great views through the hot spring bathroom window," said Mt. Hatakeda, looking excited.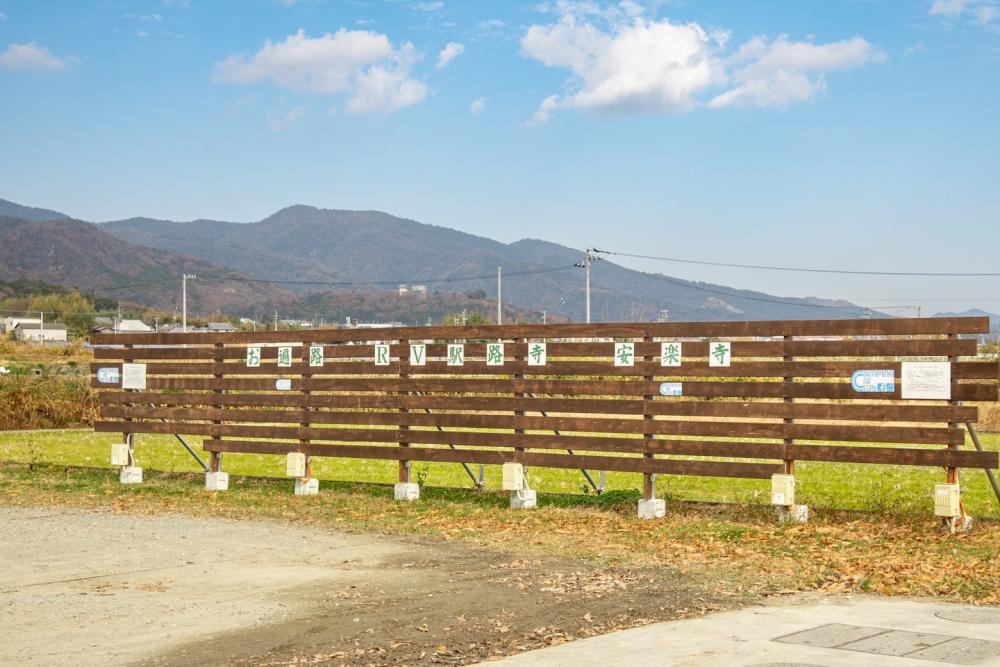 The history of Anrakuji Temple's shukubo can be traced back over 400 years. In the late 16th century, the Tokushima feudal lord appointed the temple as a pilgrim support temple that provided lodging and meals for pilgrims and general travelers to be able to travel safely.
"My temple was the first one to open a shukubo of the Shikoku 88 pilgrimage temples. The lord of Tokushima gave a special protection to Anrakuji for long time for that. Most pilgrims arrive here at the end of their first day of Shikoku pilgrimage and I believe it has been that way since 400 years ago.
For the pilgrims, my temple has been here to provide support, and I believe that all former main priest monks in the history of Anrakuji shared the same pride and passion I inherited.
So, no matter what, we will not just end the history so easily," smiled Mr. Hatakeda, determined.
For the sake of the pilgrims, Anrakuji will never be afraid of trying new ideas to keep providing support and continue its history.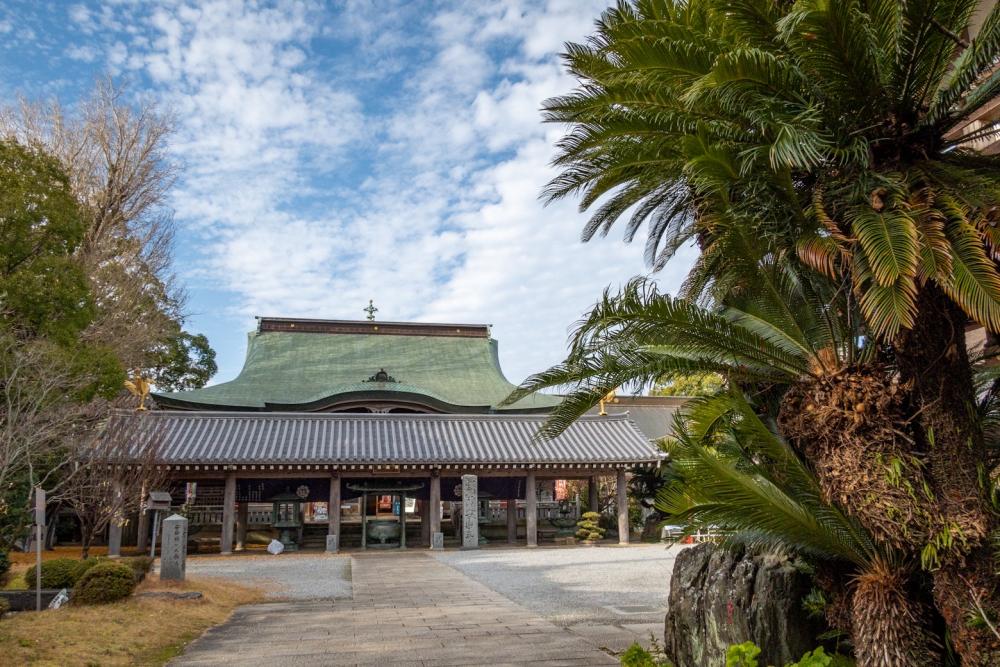 ●Anrakuji, the sixth temple of Shikoku 88 temples pilgrimage
 8 Teranonishikita, Hikino, Kamiita, Itano-gun, Tokushima  Tel:088-694-2046
 https://shikoku6.or.jp/